Nursing Student Honors Late Classmate on Mount Everest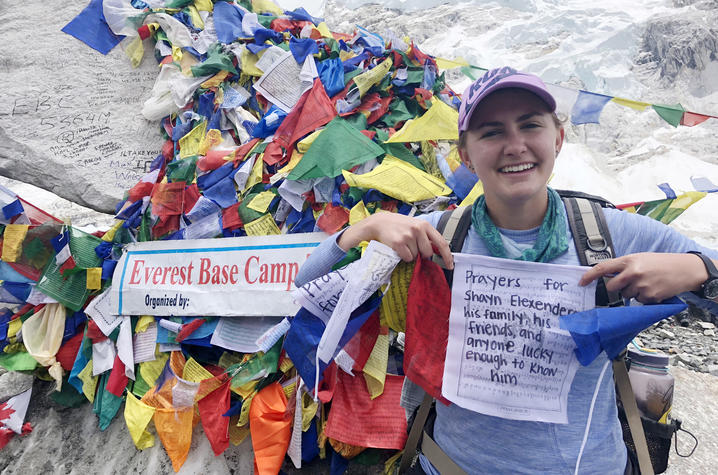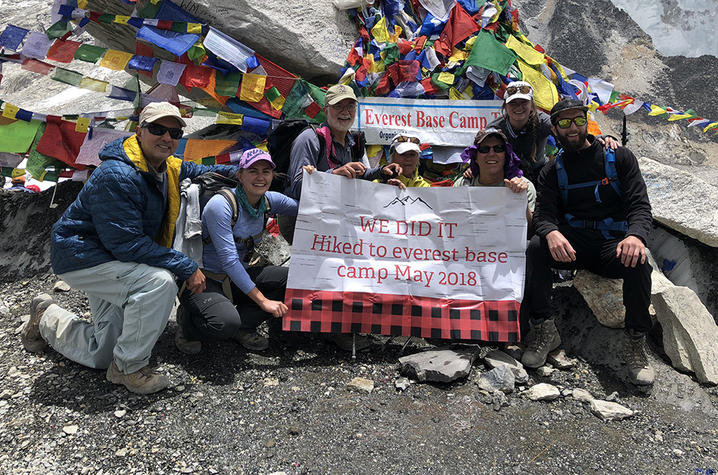 LEXINGTON, Ky (June 12, 2018) —  When University of Kentucky College of Nursing student Maya Husayni told her classmate Shayn Elexendere about her plans to hike to Everest Base Camp, he mentioned it was something he had always wanted to do as well.
Shayn never got the chance. He was killed in a motorcycle accident in 2016 near campus, leaving behind an expectant wife and a legacy of service and selflessness. Maya wanted to pay tribute to her classmate who, just days before his death, threw a thank-you party for the custodial staff of the college.
"I left a string of prayer flags at base camp for Shayn. I thought it was a great way to bring his memory along with me," says Husayni.
Prayer flags are brightly colored pieces of fabric that contain prayers, blessings and images. Buddhists believe the blessings, goodwill and compassion of the prayers are then scattered by the wind.
Shayn was a combat medic in the Army, and enrolled in UK's MedVet program, a track designed for veterans to apply their army medical training towards a bachelor's of nursing degree (BSN). After losing his son Shepherd after complications from a tonsillectomy, Shayn reaffirmed his commitment to nursing, and planned to work UK's Markey Cancer Center.
Maya's compassion goes beyond the symbolic. In 2016, she and her family raised over $17,000 for UNICEF as they biked from Vancouver, British Columbia, to San Francisco. The money raised will benefit children in Syria who were affected by the civil war.