Soldier, Army-UK MSW Grad Motivated to Address Mental Health Stigma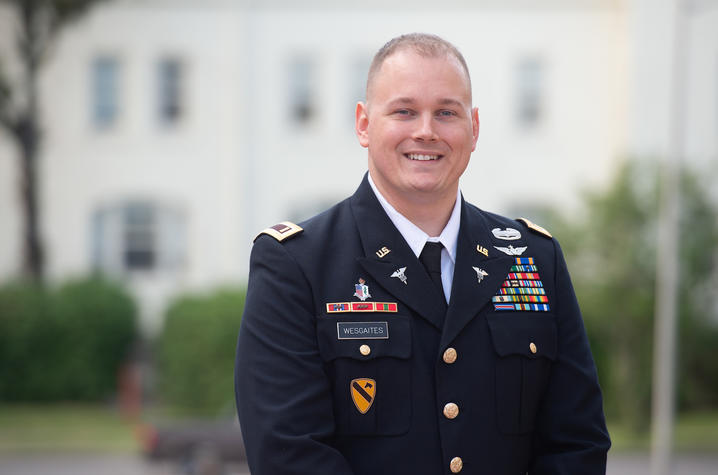 LEXINGTON, Ky. (April 30, 2019) — It's the day that will be forever etched in our hearts and memories. Most likely, you can still recall the exact moment — the moment when it seemed as if time stood still. Some of us lost loved ones, while others were witnesses. Where you were, and the people you were with became instilled with extra meaning.
Americans vowed they would never forget — Sept. 11, 2001. Nearly 18 years have passed, and Larry Wesgaites has kept that promise.
"I was in basic training during the 9/11 terrorist attacks. We didn't have access to televisions and only found out when we were brought together that morning and informed by our command," he said. "We watched a special video from the president, and training changed in scope and focus."
Earlier that year, Wesgaites had his future mapped out. In July 2001, at just 17 years old, he joined the military. The plan was to complete training, attend college, finish ROTC and graduate as an officer. But that fateful September day would alter Wesgaites' path and guide his every decision moving forward — eventually leading him to the College of Social Work (CoSW) at the University of Kentucky.
"I had joined a military in peacetime, and now we were at war. The first chance that I could get to deploy was my priority. College courses, and everything associated with it, would take a back seat."
Wesgaites, eager to play his part, became a soldier. He was deployed to Iraq as an enlisted engineer. His unit would perform varied tasks — everything from escorting convoys to constructing airfields and manning checkpoints.
In 2008, Wesgaites was promoted to warrant officer. These officers specialize in a technical area such as intelligence, aviation or military police. They carry great responsibility, which includes training, organizing and advising soldiers on missions. More specifically, Wesgaites served as a warrant officer Apache pilot in Afghanistan.
"We were called upon to engage enemy forces, escort aviation assets and cover friendly ground forces throughout our tour — many times with only minutes' notice," he explained. "When people ask me, 'what was the greatest thing about being an Apache pilot?' I will always say, that while I was in the air, I never lost a service member, civilian or friend."
But Wesgaites is no stranger to loss. Many who attended training with him in 2001 would lose their lives in combat or die by suicide. "Anger, frustration or possible sadness can come out of losing fellow comrades without being able to do anything about it. Maturity helped me understand. Yet, not everyone was as lucky as I was, and they suffered greatly."
Wesgaites felt as if he was watching from the sidelines while his brothers and sisters battled substance misuse, domestic violence and mental disorders.
This pain would ignite passion.
Wesgaites began looking for ways to help his fellow comrades beyond combat. That's when he discovered the Army-UK Master of Social Work program.
"I saw the potential this program could afford me — to be able to do my part," he said.
In October 2016, the CoSW established a partnership with the Department of Defense to offer a one-of-a-kind master's degree.
A satellite site was established within the Army Medical Department Center and School at Fort Sam Houston in San Antonio, Texas. The satellite implements the full-time, 60-hour CoSW program. The curriculum is delivered in a condensed format over 14 continuous months of study, and all classes are administered face-to-face on the Joint Base San Antonio-Fort Sam Houston campus. The goal is to develop well-qualified clinical social workers to fill positions across military service branches.
"The partnership has been outstanding. UK has provided an excellent curriculum, unwavering support and the flexibility to teach and evaluate military social work competencies producing superb Army social workers, well-qualified to provide clinical interventions to service members and their families," Col. Nathan Keller, director of the program at Fort Sam Houston, said. "The Army-UK MSW program is essential to the success of the Army social work mission, as 75 percent of required active-duty social workers will graduate from this program."
Wesgaites is one of 26 students who recently graduated as part of the inaugural class. Now, he's making a new promise — to eliminate the stigma that, for too long, has been associated with seeking mental health care.
"Armed with the knowledge from this degree, I will strive to provide the care that men and women in uniform deserve," he said.
For more information about the Army-UK program, please visit the CoSW website.