'Student and Academic Life' Enhances the Student Experience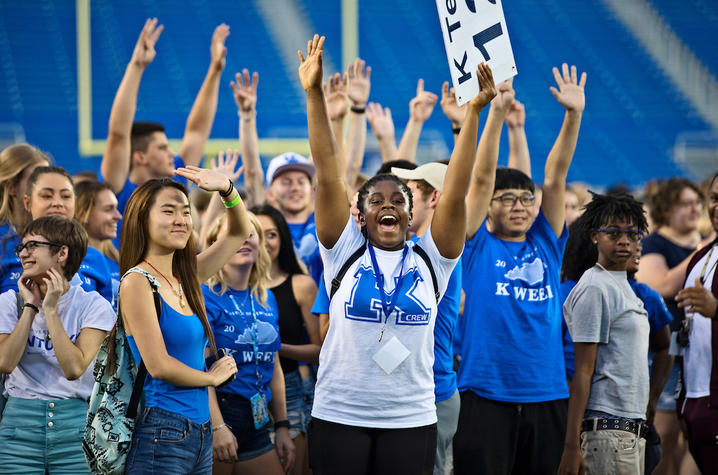 LEXINGTON, Ky. (Aug. 28, 2018) — Student and Academic Life at the University of Kentucky has gone through a significant transformation in recent years, resulting in a "better coordinated, collaborative environment" to serve UK students, according to Greg Heileman, associate provost of Student and Academic Life (SAL).
"We are better coordinated now to serve the needs of our students, which are built around the university's four pillars (of academic excellence): belonging and engagement, student health and wellness, academic success and financial stability," Heileman said.
In order to support the academic aspects of the four pillars, SAL also created a faculty cabinet.
"We pulled together several SAL elements and resources to support six Provost Faculty Fellows this year. Our goal was to integrate the extraordinary faculty expertise that exists on this campus into the various units that make up the SAL division. For instance, we have already incorporated faculty expertise related to assessment into our advising practices, and we have launched a number of projects that use design thinking to find solutions that better fit the needs of students," Heileman said.
Although SAL has only been in existence for a little more than a year, the division has already had a major impact on UK. Last year, Wildcat Foundations, a major university initiative supported by SAL, resulted in many refinements to the university's approach to serving first-year students. This initiative brought together stakeholders from across campus in order to re-examine current practices and suggest improvements that included a more intentional campus coordination of first-year programming activities.
This year a major focus of the division will be on the well-being of UK students. Specifically, SAL will be partnering with numerous groups across campus on a project called Wildcat Wellbeing that is aimed at addressing the wellness needs of the entire UK family — students, faculty and staff.
"Some SAL units, particularly Residence Life, the Counseling Center, Advising and Student Support Services for example, focused on Wildcat Wellbeing for our students, faculty and staff. The goal is to create a national model to support emotional and physical well-being enhanced by a sense of belonging to a community dedicated to learning and respect," Heileman said.
"Student success is our ultimate goal. It's what we focus on every day in SAL, and we're going to keep our focus and keep progressing, even as the higher education landscape shifts," he said.
Student and Academic Life includes services that address the entire spectrum of needs for the whole student body, including:
Bias Incident Support Services (BISS) provides support and advocacy for any student, staff or faculty who have experienced an instance of bias, hatred, racism or any act that made them feel they don't belong at UK. BISS also provides an array of campus and community education, including the highly attended Facing Change Week, which is currently in the planning stages.
The UK Counseling Center: Consultation and Psychological Services (UKCC) offers "Let's Talk" informal, brief confidential consultation at five campus locations; outreach programs (including QPR suicide prevention); and a list of well-being phone apps. At Frazee Hall, students can access The Relaxation Room, which features biofeedback, meditation, two massage chairs and weekly events such as time with Oliver, the UKPD canine ambassador. UKCC also offers drop-in workshops, Koru mindfulness, group and individual therapy, and the eight-hour Mental Health First Aid training. Visit www.uky.edu/counselingcenter/ for more information.
The Disability Resource Center programs include the disability related accommodations consultation, alternative text, assistive technology services, accommodated test proctoring services and more. Visit www.uky.edu/DisabilityResourceCenter/ for more information.
Financial Wellness will celebrate Financial Wellness Month in a big way this April. A Financial Fitness program is being developed to be rolled out this September, offering students monthly, one-on-one financial workout plans with a MoneyCATS peer coach.
Campus Recreation and Wellness installed synthetic grass on the field space behind the Shively Sports Center on Sports Center Drive. The space will be utilized by intramural and club sports.
Violence Intervention and Prevention Center (VIP Center) over the summer trained approximately 30 staff members from across campus in Green Dot, VIP's bystander-intervention program. October is national Domestic Violence Awareness Month, and the VIP Center will host a plethora of events, especially during "Its On Us" Week,  Oct. 22-26. One very special event during this week includes two days in which UK will "Go Purple" for Domestic Violence Awareness and change the lighting on campus to purple.
UK is the University for Kentucky. At UK, we are educating more students, treating more patients with complex illnesses and conducting more research and service than at any time in our 150-year history. To read more about the UK story and how you can support continued investment in your university and the Commonwealth, go to: uky.edu/uk4ky. #uk4ky #seeblue