UK College of Dentistry Volunteers Assist at Kroger Field Vaccination Clinic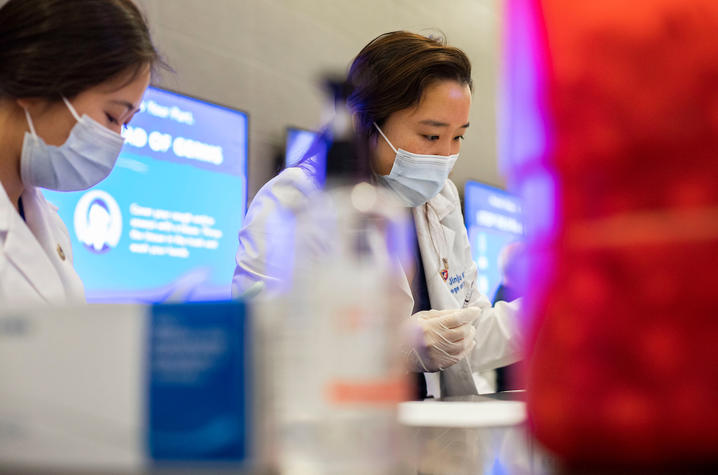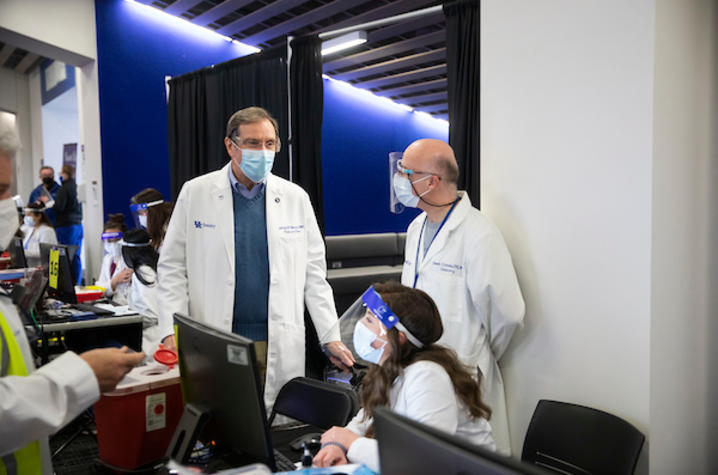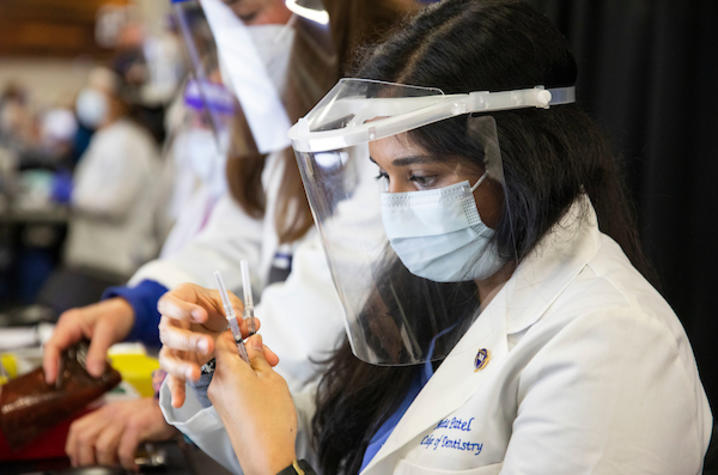 LEXINGTON, Ky. (Feb. 17, 2021) —  Nearly 100 University of Kentucky College of Dentistry faculty, staff and students volunteered their services at the UK COVID-19 vaccination clinic at Kroger Field on Saturday, Feb. 13. The volunteers enabled the clinic to offer expanded Saturday hours and an increased vaccination capacity by about 1,000 people. This is the third of a five-week volunteer effort from UK's health care colleges to extend clinic hours from noon to 6 p.m. each Saturday.
The UK Kroger Field COVID-19 vaccination clinic normally operates from 9 a.m. to 7 p.m. Tuesday-Friday and 9 a.m. to 6 p.m. on Saturdays. Overall, UK HealthCare has vaccinated more than 45,000 people including frontline health care workers, first responders, teachers and school personnel and people over age 70 in phase 1B.
Saturday afternoon at Kroger Field was an unprecedented time for our College, said Dean Jeffrey Okeson. "Not only did we demonstrate a new role for the profession in health care but we also extended our dental school education experiences to new heights," he said.
"From a dental standpoint, nothing like this has been done before in our state and the College of Dentistry should be very proud of this accomplishment."
The college's response to the call for volunteers has been tremendous, a reflection of the outstanding quality of our students, staff and faculty, Okeson added. "We are so pleased to have been able to contribute to hopefully slowing down the pandemic so we can get back to our old normal."
Faculty, staff and students from the college participated by serving in roles from everything from immunizers to wayfinders. In addition to the group from the College of Dentistry, volunteers from the College of Medicine, College of Pharmacy, College of Health Sciences and College of Nursing are taking turns staffing the clinic.
For information about volunteer opportunities, particularly if you are credentialed to help in a clinical role at the Kroger Field Vaccination Clinic, see more information here.
For more information on how to register to receive the COVID-19 vaccine:
A signup tool has been developed where you will answer screening questions and then be invited to consent to be vaccinated, according to the state's prioritized guidelines. The signup is available here.  
For questions about this process, you can call 859-218-0111 or email vaccine@uky.edu. A list of current information and frequently asked questions is available at go.uky.edu/vaccine. 
UK HealthCare is following Kentucky's phased plan. Kentucky and the Centers for Disease Control and Prevention have directed that vaccinations be offered in the following phases:
1A:  Long-term care facilities, assisted living facilities, healthcare personnel.
1B:  First responders, anyone age 70 or older, K-12 school personnel.
1C:  Anyone age 60 or older, anyone age 16 or older with CDC highest risk C19 conditions, all essential workers.
2:   Anyone age 40 or older.
3:   Anyone age 16 or older.
4:   Children under the age of 16 if the vaccine is approved for this age group.