UK College of Pharmacy Volunteers Assist at Kroger Field Vaccination Clinic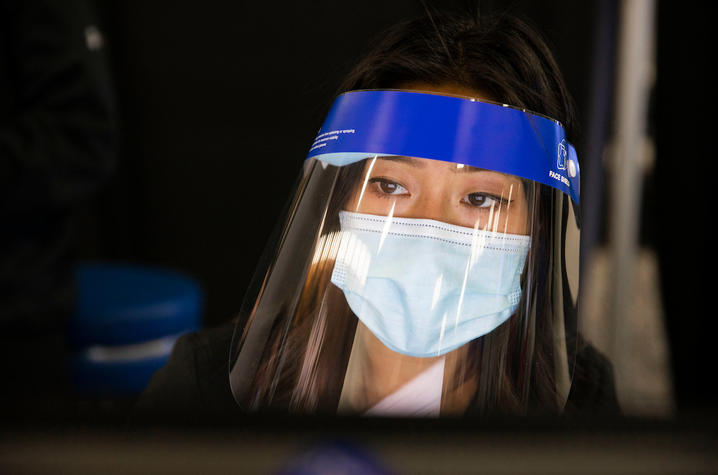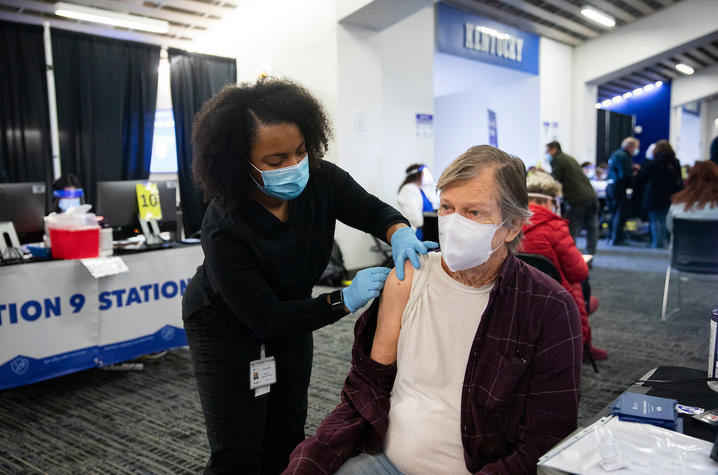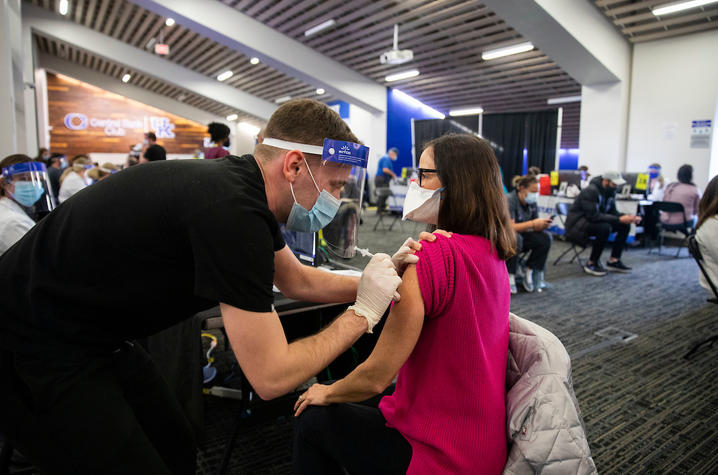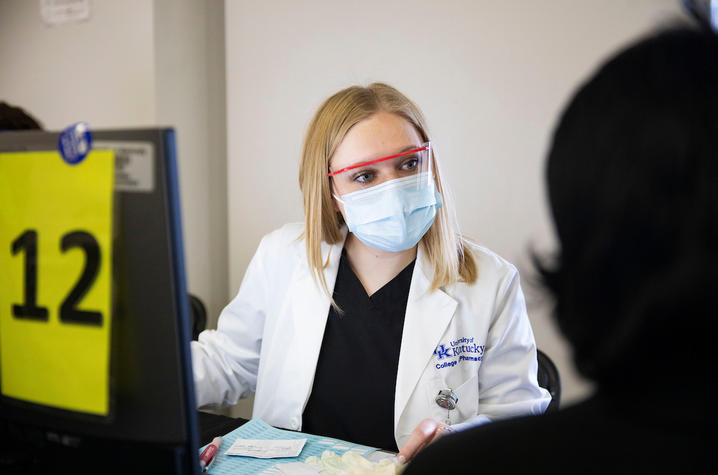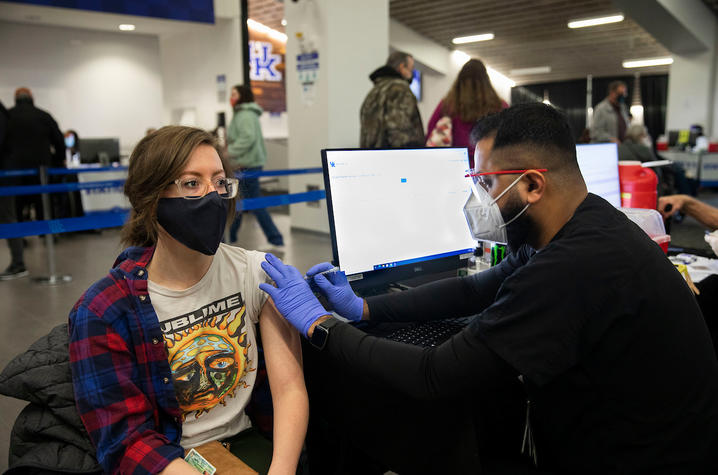 LEXINGTON, Ky. (Feb. 10, 2021) —  About 67 University of Kentucky College of Pharmacy faculty and students volunteered their services at the UK COVID-19 vaccination clinic at Kroger Field last Saturday. The volunteers enabled the clinic to offer expanded Saturday hours and an increased vaccination capacity by about 1,000 people. This is the second of a five-week volunteer effort from UK's health care colleges to extend clinic hours from noon to 6 p.m. each Saturday.
The UK Kroger Field COVID-19 vaccination clinic operates from 9 a.m. to 7 p.m. Tuesday-Friday and 9 a.m. to 6 p.m. on Saturdays. Overall, UK HealthCare has vaccinated more than 41,000 people including frontline health care workers, first responders, teachers and school personnel and people over age 70 in phase 1B.
Faculty, staff and students from the college participated by serving in roles from everything from immunizers to wayfinders. In addition to the group from the College of Pharmacy, volunteers from the College of Medicine, College of Dentistry, College of Health Sciences and College of Nursing will take turns staffing the clinic.
"Our college has been heavily engaged in public health efforts since the pandemic hit," said Kip Guy, dean of the College of Pharmacy. "We knew a vaccine would be coming, so it's been all hands on deck."
The College of Pharmacy ran a flu vaccination campaign in the fall to learn how to best support community-wide vaccination and are now applying those lessons for COVID-19, Guy said.  Over 150 people from the college are currently participating in COVID-19 vaccine efforts across the state, averaging 1,500 hours a week, he said.
"The combination of accessibility of pharmacists and our ability to vaccinate quickly and safely means we will play a critical part of rolling out vaccines statewide," Guy said. "I couldn't be more proud that we're able to play such a pivotal role."
For information about volunteer opportunities, particularly if you are credentialed to help in a clinical role at the Kroger Field Vaccination Clinic, see more information here.
For more information on how to register to receive the COVID-19 vaccine:
A signup tool has been developed where you will answer screening questions and then be invited to consent to be vaccinated, according to the state's prioritized guidelines. The signup is available here.  
For questions about this process, you can call 859-218-0111 or email vaccine@uky.edu. A list of current information and frequently asked questions is available at go.uky.edu/vaccine. 
UK HealthCare is following Kentucky's phased plan. Kentucky and the Centers for Disease Control and Prevention have directed that vaccinations be offered in the following phases:
1A:  Long-term care facilities, assisted living facilities, healthcare personnel.
1B:  First responders, anyone age 70 or older, K-12 school personnel.
1C:  Anyone age 60 or older, anyone age 16 or older with CDC highest risk C19 conditions, all essential workers.
2:   Anyone age 40 or older.
3:   Anyone age 16 or older.
4:   Children under the age of 16 if the vaccine is approved for this age group.