From Ancient Scrolls to Microsoft, UK Grad Finds Success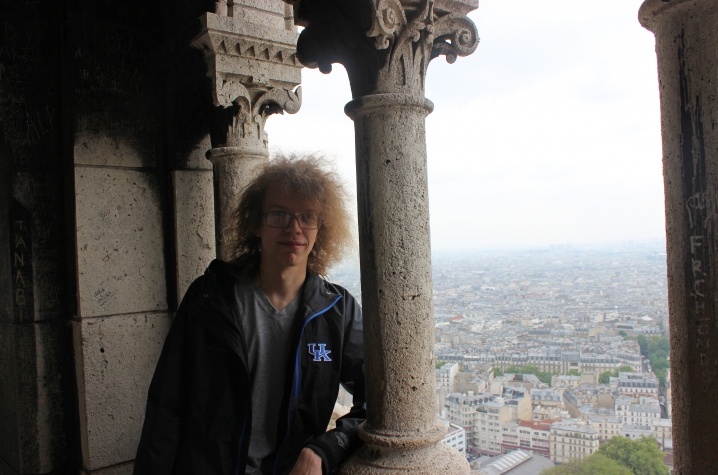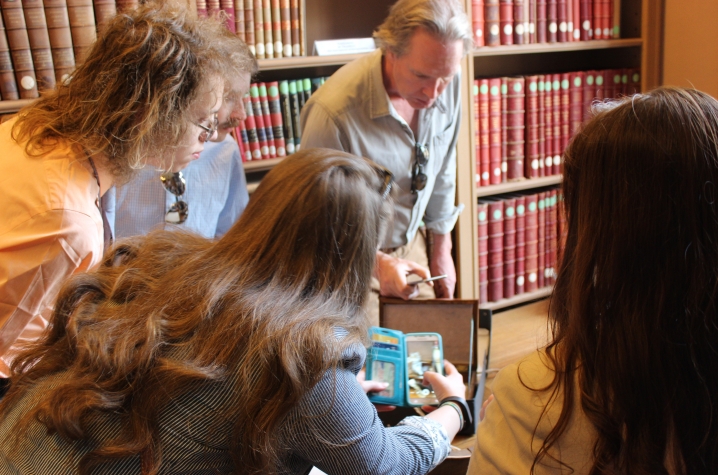 LEXINGTON, Ky. (May 26, 2015) — In July, Nick Graczyk will head off to Redmond, Washington, the "Bicycle Capital of the Northwest," and also home to Microsoft, where he will claim the title of software engineer. Graczyk's most recent titles include "ancient scroll software extraordinaire" and University of Kentucky graduate.
Walking across the stage at Rupp Arena as recently as May 9, Graczyk earned his bachelor's degree in computer science. Two days later, he flew to Paris, France, with the UK College of Engineering team he has been working with all semester.
Led by Brent Seales, professor and chair of the College of Engineering's Department of Computer Science, the team, including several other students, is working to digitally unroll ancient scrolls using CT scans and a first-of-its-kind software tool built by the team. Currently, they are focused on a Herculaneum scroll, carbonized by the 79 A.D. eruption of Mount Vesuvius in Italy.
During his time working on the ancient scrolls project, Graczyk, of Lexington, has focused on the software pipeline.
Because the data the team receives from scans are only image files, they must complete multiple computations on those files to get the information needed to create particle simulations. The team then uses those simulations to segment different layers of the scroll.
"It's a very complex process so if we don't take good notes and we aren't keeping track of what we're doing along each step of the way, it can become very difficult to reproduce our results," Graczyk said.
For Gracyzk, who has worked on the ancient scroll project since August 2014, the project has not only honed his computer science skills, but has also given him insight into a forgotten world.
"We've learned a lot about ancient history and Herculaneum scrolls, which was definitely something I didn't really know much of anything about," he said.
On his trip to Paris, where the Herculaneum scrolls are housed, Graczyk and his team members presented this semester's work at Google, which is supporting the team's project. As they each explained what they worked on throughout the past few months in their own "Google Tech Talk," Graczyk says he realized how great of an honor it was.
"Clearly, Google could fund thousands of research projects, but ... they chose to sponsor this one," Graczyk said.  
Don't let his humble demeanor fool you though; Graczyk is already quite accustomed to working in the big leagues of software engineering.
At Intel, he worked with the Apple Enabling team on a number of tasks. At Hewlett-Packard, Graczyk interned as a core developer, working on HP Exstream. And in between those positions, he led a lab section of CS 221, the computer science course at UK for non-majors.
Even with his commitment to internships and positions in the Department of Computer Science, Graczyk became involved in the UK chapter of the Institute of Electrical and Electronic Engineers (IEEE), the world's largest professional association for the advancement of technology, and Alpha Phi Omega, a national service organization.
Graczyk's interest in the computer science field has also played out in regional, national and international competitions during his time at UK. He was named a semifinalist at PennApps Winter 2015 (a college hackathon), achieved the status of top 10 percent worldwide in the IEEE Xtreme Coding Competition, and received first place in the IEEE Region 3 Technical Paper Competition.
"I've done a lot of interesting things and projects while I've been here at UK," he said. "And I think it's definitely prepared me for a big company, software engineering job."
With millions of people relying on Microsoft software every day, Graczyk says that he is most excited about getting to work on more projects that have a massive reach.
 "Plus, I'm looking forward to seeing other UK grads join me at Microsoft someday," he said. 
MEDIA CONTACT: Whitney Harder, 859-323-2396, whitney.harder@uky.edu