College CHEF Class Educates Students on Nutrition and Healthy Meal Preparation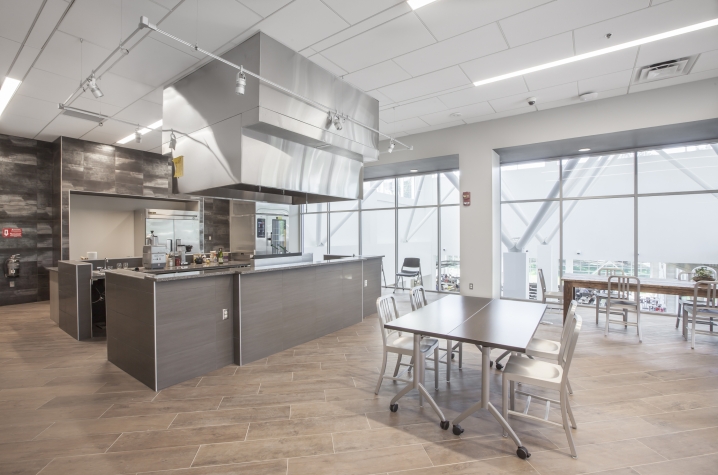 LEXINGTON, Ky. (Dec. 4, 2015) — Cooking and eating healthy on a budget can sometimes pose a challenge, as some University of Kentucky students know. That's why The Food Connection recently hosted its first cooking series — a pilot study entitled "The College CHEF: Cooking Healthfully, Educating for Life-Long Change" — at their new venue and learning kitchen in The 90.
Jennifer McMullen, life fitness teaching assistant in the Department of Kinesiology and Health Promotion, led a pilot study with a culinary nutrition education program. A total of 27 students from various living learning programs (LLPs) across campus participated in the pilot courses. Two groups of students met during the month of October for four consecutive weeks, each group met on a separate day once per week for a two-hour hands-on session.
Throughout the class students learned basic nutrition education in a variety of topics including serving size, reading food labels, protein consumption and the importance of whole grains, fruits and vegetables in the daily diet. The curriculum also included an introduction to fresh, local and seasonal foods.
"The course encompassed objectives which sought to promote long-term behavior change as it related to healthy eating and cooking," McMullen said.
Students also learned ways to manage a college student's budget and nutritional plans for healthy meals. Areas such as grocery shopping, cooking and healthy foods were discussed. McMullen taught the students basic knife skills, cooking techniques and two to three recipes a week.
The class comprised a review of the previous week's session, a 30-minute nutrition education portion outlining specific topics, a demonstration of the knife skills and cooking techniques for the day, followed by students demonstrating and carrying out the skills in order to create the week's recipes. At the end of each session the group was able to enjoy the food they prepared during the class. Students were taught how to prepare chicken salad, chicken tortilla soup, vegetable quesadillas, homemade dressing, salad and more.
The Food Connection serves farmers, food producers, students and consumers through creative strategies for a vibrant, healthy, sustainable food economy. On- and off-campus, they support innovative and interdisciplinary instruction, high-impact service and outreach and cutting edge research on foods and food systems.
To learn more about the Food Connection visit their website.