Financial Wellness Center Cultivates Student Financial Literacy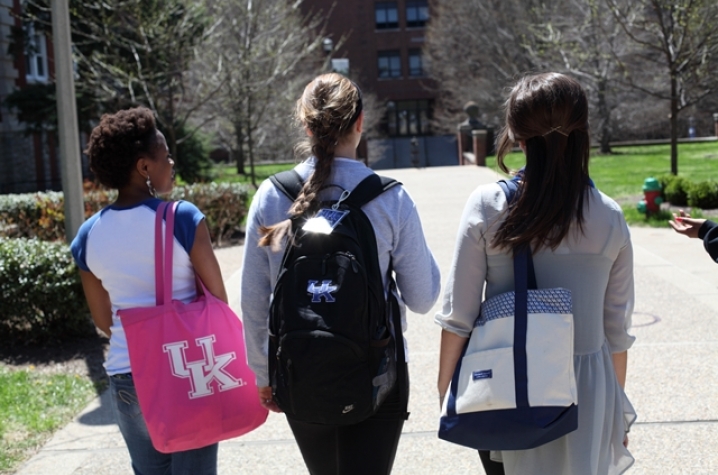 LEXINGTON, Ky. (Jan. 12, 2016) — The University of Kentucky recently launched the UK Student Financial Wellness Center—a program designed to impart financial knowledge upon undergraduate, graduate and prospective students. The center responds to a rising issue within higher education.
The center's efforts to help improve student financial wellness will include strategies such as peer coaching, financial wellness seminars, online education programs, and purposeful collaboration with academic departments.
In the 2013 Health Behavior Study, 16 percent of UK students reported that their academic performance was negatively impacted by finances. Additionally, of the 41.7 percent of students who reported stress, 49.5 percent reported that money and finances were the cause.
"Financial knowledge and financial literacy are crucial issues at institutions nationally," said Eric N. Monday, executive vice president for finance and administration. "We know that whether students return to the university for a new semester, and whether they ultimately graduate, often depends a great deal on successfully navigating financial issues. Therefore, it is incumbent upon us to prepare them for success — for both while they are on our campus and after they graduate."
Drew Smith, director of the Office of Wellness Initiatives for Student Empowerment (WISE), said that site visits, conferences, and training workshops highlighted the fact that the subject of financial wellness among college students is a relatively new area of health promotion.
"Therefore, we are taking a deliberate and pragmatic approach to the issue," Smith said.
Recognizing these concerns, the staff of WISE spent the 2014-2015 academic year broadening its scope of health promotion and prevention to include various areas of wellness. The office established its foundation upon the nine dimensions of wellness, of which finance is included (emotional, career, social, spiritual, physical, financial, intellectual, creative, and environmental).
While some individual offices and programs have provided financial literacy or education for their respective student populations, Smith said that the WISE office identified a need for a centralized program, which provides consistent messaging to a larger population of students.
"The needs of the typical freshman may include a greater understanding of student loans, interest, and basic budgeting." Smith said. "Sophomores are typically moving to off-campus locations, so a spending plan may be more necessary as they will likely be paying for rent, utilities, Internet, transportation and groceries for the first time. As they get closer to entering the job market, upperclassmen and graduate students will see benefit in learning more about retirement, investing, and big-ticket item purchasing such as cars and home-buying."
Smith also hopes to utilize peer financial educators to serve as financial coaches to provide one-on-one consultation for students. This would not serve as financial advising for investment purposes, but rather for a more specific emphasis on individual needs such as income-based budgeting and goal-setting savings plans.
Throughout the fall 2015 semester, under the leadership of the new financial wellness specialist, Tiffany Hornberger, the office focused on determining financial wellness trends and knowledge deficits among UK students. The staff utilized pre-existing programs, such as UK101 and UK201's financial wellness lesson plan, to build upon current best practices while identifying student leaders to serve as the inaugural group of peer financial wellness educators.
In the spring 2016 semester, the staff will focus on training peer financial wellness educators and providing pilot educational programs to UK students. The office also plans to collaborate with Jennifer Hunter in the College of Agriculture, Food and Environment to develop consistent and sustained educational programs, including a Financial Wellness Week, which will also serve as the official "kick-off" for the Student Financial Wellness Center.
The Office of Wellness Initiatives for Student Empowerment also created the Financial Wellness Advisory Board in the spring of 2015. This committee consists of campus leaders from areas including Student Government, EVPFA, Enrollment Management, Undergraduate Education and members of the faculty.
"We look forward to continuing our commitment to student success through this important initiative," Monday said. "Students are, after all, at the center of everything we do at the University of Kentucky."
MEDIA CONTACT: Sarah Geegan, (859) 257-5365; sarah.geegan@uky.edu