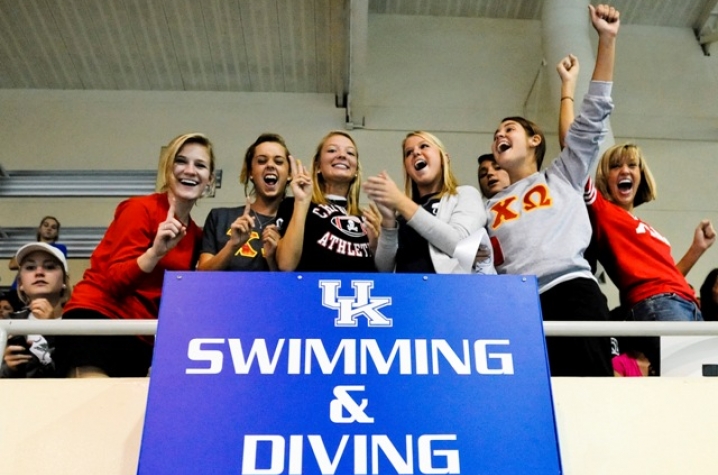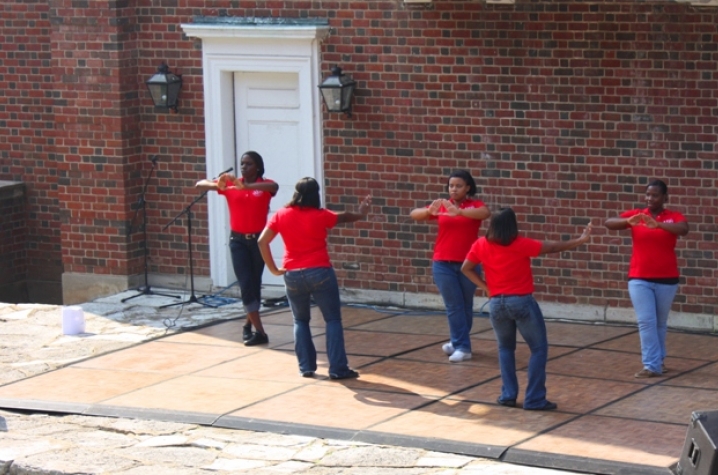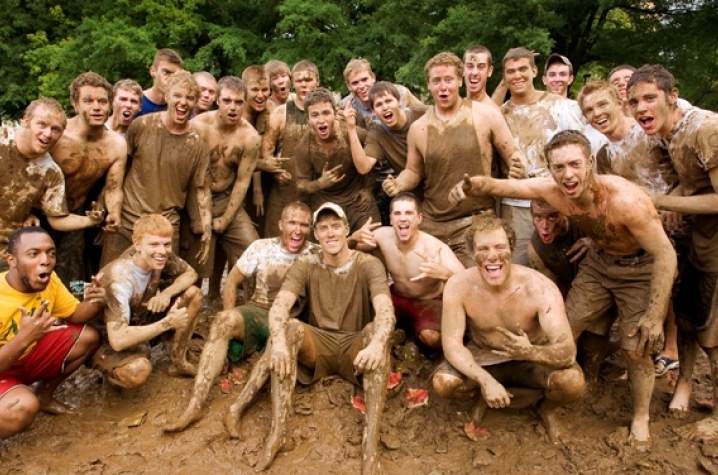 LEXINGTON, Ky. (Sept. 30, 2009) – The sights and sounds of fall on UK's campus are practically a tradition in themselves – students bustling across campus to get to class, hotdogs on a grill before kickoff at Commonwealth Stadium, the drumline's cadence filling the late afternoon air. Another UK fall tradition is Greek Week, a week where all of UK's Greek-letter organizations strive to show the positive impact they have on campus.
"Greek Week is a long tradition at UK which celebrates the values the fraternities and sororities share," said Susan West, assistant dean of students and director of fraternity and sorority affairs. "Not only will there be opportunities for the entire Greek community to come together to have fun but there will also be opportunities for service back to the Lexington community."
Greek Week kicked off Sunday with each chapter participating in the Violence Intervention and Prevention Center's S.E.E.D.S. (Students Educating and Empowering to Develop Safety) training.
"Preventing violence is truly important to our campus," said Catherine Blythe, chairperson of the Inter-Greek Programming Assembly (IGPA). "We felt that this training is valuable to chapters and their members, and we are glad that we could offer it as part of Greek Week."
Monday, chapters were encouraged to wear their letters and representatives participated in the Greek god and goddess competition, where dates were auctioned off to the highest bidder. Half of the proceeds from the event were donated to the winner's chapter philanthropy, while the other half went to Blessings in a Backpack, an organization that provides meals to children who may not have enough food over the weekends and holiday breaks when they are not in school.
Tuesday saw chapters giving back to the Lexington community. Tuesday was designated "Pop-in Philanthropy Day," a day-long opportunity for chapters to be assigned organizations throughout Lexington where they could stop by and volunteer. Seventeen nonprofit groups received help from UK Greeks.
UK's Greek community recently expanded with the addition of Alpha Phi sorority to campus. Today, they will be officially welcomed to campus at a Greek-wide cookout at the Sigma Alpha Epsilon and Sigma Nu houses.

Other Greek Week events include:

Cutest Kid Contest
Vote for the cutest chapter member's childhood photo in this penny war! Change counts as a vote for the photo and bills count as a vote against the picture! All proceeds will benefit Blessings in a Backpack.
Movie Night and Pajama Party
Thursday, Oct. 1
Sorority Circle
9 p.m.–Midnight

A Greeks-only movie party will take place in Sorority Circle. Greeks grab their coziest pajamas and warmest blanket and enjoy free refreshments and entertainment while earning points for their chapters. Individuals will be chosen as winners based on their pajamas in the following categories: most unique, most humorous and most Greek spirited. Winners will earn prizes and 10 bonus points for their chapter!
Greeks Take the Lead
Friday, Oct. 2
Worsham Theater
3–5 p.m.
IGPA welcomes Will Keim to campus. Keim is a well-known speaker who has been actively involved in residence life, Greek affairs, intercollegiate athletics and student activities for more than 20 years. He understands students and the major issues facing them. He will discuss the 10 key steps to chapter success and how to improve individual's leadership abilities. Greek Week points are doubled for this event!
Toga Tailgating
Saturday, Oct. 3
Pieratt Student Recreation Fields
10 a.m.–noon
Food, fun and football with other Greeks before the 'Cats take on the Crimson Tide of Alabama! This alcohol-free event also includes a toga contest.
Winners of Greek Week will be announced on the Greek Week 2009 Facebook page and receive a trophy and recognition in the Kentucky Kernel.
The Inter-Greek Programming Assembly works to coordinate and improve Greek life on the University of Kentucky's campus. Composed of members from the Interfraternity Council (IFC), National Pan-Hellenic Council (NPHC) and Panhellenic Council (PC), the assembly's main purpose can be broken down in three main goals. The first of these purposes is to regulate and schedule all programming that takes place within the Greek community. This includes philanthropies, guest speakers and community outreach. The second purpose is to unify the three Greek governing councils into one governing body.
"IGPA serves the Greek community by overseeing programming of the chapters philanthropic events and providing additional leadership building and service opportunities. We believe these events encourage participants to expand their service involvement while building a sense of community throughout the campus," Blythe said.
Finally, IGPA coordinates the joint-programming efforts of IFC, NPHC and PC. These events include Greek Week, G-Pac, leadership retreats, etc. IGPA works to improve and expand Greek involvement and activities while managing the risks involved. Several IGPA events have been held this semester. In early September, Lambda Chi Alpha and Delta Zeta hosted Watermelon Bust, a messy and fun tradition at UK each fall. The proceeds went to the North American Food Dive, God's Pantry, The Painted Turtle, Lexington Speech and Hearing Association and Gallaudet University.
Kappa Karnival was held on Sept. 23 at Haggin Field. Kappa Kappa Gamma sorority and Kappa Sigma fraternity joined efforts to help raise money for Holly's House and the Children of the Fallen Solider's Relief Fund. The event featured an obstacle course, tug-o-war, relay race and other competitions. Chapters were also encouraged to bring children's books to benefit Brooklawn Child and Family Services in Louisville.
Upcoming IGPA events include Alpha Tau Omega and Alpha Gamma Delta's Twist Off on Oct. 6, Greek Bowl on Oct. 14, Delta Gamma and Delta Tau Delta's Anchor Splash on Oct. 21, Triangle's Greek Siege on Nov. 3 and Sigma Chi and Alpha Delta Pi's Fight Night on Nov. 12 and 13.
For more information about being Greek at UK, visit the Greek affairs office in 575 Patterson Office Tower or visit www.ukgreeklife.com.