Providing Dental Care in Appalachia, Reducing Student Loan Debt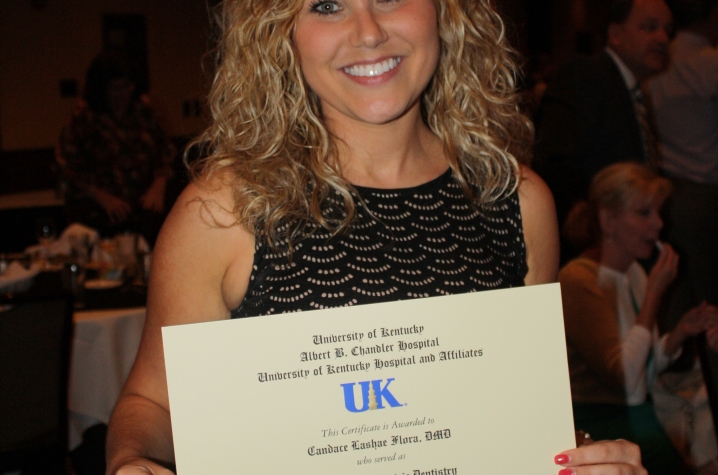 LEXINGTON, Ky. (June 16, 2016) — By supporting a region that desperately needs dental providers, two University of Kentucky College of Dentistry students will have their student loan debt significantly reduced. Drs. Candace Flora and Adam Tackett were each awarded $100,000 through the Appalachian Dental Loan Forgiveness Program.
Started in 2015 through the bipartisan efforts of then Governor Steve Beshear, a Democrat, and United States Representative Hal Rogers, a Republican, this program works to encourage dental providers to practice in Appalachia Kentucky. The dental schools at the Universities of Kentucky and Louisville administer the program.
After completing UK's dental program, Flora will practice pedicatric dentistry and Tackett will begin his work as an orthodontist.
Flora, a native of Whitley County, chose to participate in the program to help the people of a community where she has ties. She welcomes the opportunity to share her skills and knowledge with the people of Eastern Kentucky.
"I want to help take care of the children of Appalachia and help educate parents on how to better their oral health," Flora said. "It has been a goal and dream of mine to return back to the area that I grew up and give to the community."
Tackett, who is originally from Floyd County, is also looking forward to the work he can do in Appalachia and what the award will mean for his family and career.
"I'm excited to return there with my family because the people of these small town communities are so genuinely nice and caring," Tackett said. "I hope to reciprocate those feelings through my orthodontic practice and community service there."
According to the Kentucky Oral Health Coalition's 2015 Overview, Kentucky has the fifth highest rate of toothlessness among residents 65 and over. Additionally, a 2007 survey revealed one in three children experienced one or more oral health problems. The Appalachian Dental Loan Forgiveness Program is part of the Shaping Our Appalachian Region (SOAR) initiative whose goal is to "expand job creation, enhance regional opportunity, innovation, and identity, improve the quality of life, and support all those working to achieve these goals in Appalachian Kentucky."
UK is the University for Kentucky. At UK, we are educating more students, treating more patients with complex illnesses and conducting more research and service than at any time in our 150-year history. To read more about the UK story and how you can support continued investment in your university and the Commonwealth, go to: uky.edu/uk4ky. #uk4ky #seeblue
MEDIA CONTACT: Olivia McCoy, olivia.mccoy1@uky.edu, 859-257-1076