UK ISC Team Takes First Place in National Student Advertising Competition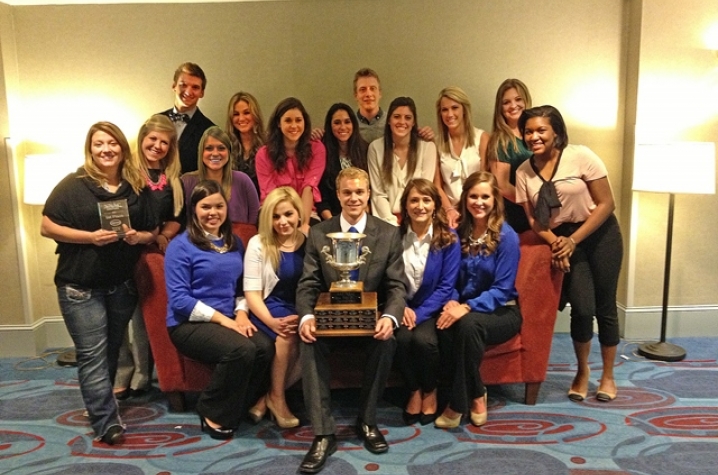 LEXINGTON, Ky. (April 19, 2013) — A student team from the Integrated Strategic Communication program in University of Kentucky's  School of Journalism and Telecommunications won first place in district competition in the American Advertising Federation's National Student Advertising Competition held April 13 in Dayton, Ohio.
The University of Kentucky competes in AAF District 5, which includes schools in Kentucky, Ohio and West Virginia.  Students from more than 150 programs nationwide compete annually in the NSAC.  This is the program's 40th year.  Winners from the 15 AAF districts go on to the national competition, held this year in Phoenix, Ariz., June 5-8. 
This year's sponsor was Glidden Paint, with a specific focus on selling Glidden at Wal-Mart.  Each team developed a 20-page campaign book and made a 20-minute presentation before a panel of industry judges.   Students from UK voted to perform under the team name of Wildcat ISC.
The judges remarked on the UK campaign's focus on multicultural audiences.  They were also impressed by the campaign's strong integration of multiple forms of persuasive communication.  The latter is a hallmark of UK's ISC program.  Unlike programs at other schools that generally focus on only advertising or public relations, the students in the integrated strategic communication major learn about the range of promotional communication techniques and how they can best be used together.
"It shows that UK's integrated approach to persuasive communication is a key reason why our current students and alums are so good at what they do as professional communicators," reflected Alyssa Eckman, the ISC sequence coordinator. "I'm not sure I've ever been more proud of our ISC program. We are going to work very hard for the next seven weeks to bring a national championship trophy home with us from Phoenix."
Team members were also asked to reflect on their experience:
"I was able to see every aspect of ISC — direct mail, public relations, creative and account management — come together in a real-world experience giving me a competitive edge over other students entering the advertising and public relations field," echoed team member, Logan Sparks.
 "Our ability to work as a cohesive unit to tailor a successful campaign plan for our client was entirely dependent on the dedication and cooperation of each team member and the leadership of our advisor, Alyssa Eckman," said ISC student Bryan O'Loughlin.
"What stands out to me most about the whole experience was hearing one of the judges recognize that the University of Kentucky displayed an obvious team unity," said Tessie Bertrams. "It was a reminder that nothing is more important in the recipe of success than teamwork."
 "We had a team of 17 talented individuals and the end result was a collaborative effort from all," senior Rachel McMahan said. "Being a part of the Wildcat ISC team was such a great experience, and I feel even more prepared to graduate next month and take on the working world."
"The University of Kentucky had the strongest support system and fan base of anyone at the District 5 competition," said team presenter, Gabrielle Dudgeon.  "The crowd was full after all the people affiliated with the university (parents, friends, and family) entered the room. No other school had such great support." 
The team members, all ISC majors, are:
 
Mary Kate Anderson, Charleston, W Va.
Tessie Bertrams, Dayton, Ohio
Gabrielle Dudgeon, Lexington, Ky.
Melissa Garrett, Paris, Ky.
Anna Harris, Lewisburg, Ky.
Melanie Horn, Richmond, Ky.
Lauren Kamas, Louisville, Ky.
Rachel McMahan, Hamilton, Ohio
Chelsea Melchor, Lexington, Ky.
Bryan O'Loughlin, Villa Hills, Ky.
Kelsey Organ, Dublin, Ohio
Mandy Parker, Lawrenceville, Ga.
Courtney Quinn, Alpharetta, Ga.
Liz Rodgers, Florence, Ky.
Jonathon Spalding, Bardstown, Ky.
Logan Sparks, Mayfield, Ky.
Stephen West, Concord, N.C.
MEDIA CONTACT: Ann Blackford at ann.blackford@uky.edu or 859-312-3587/