UK Students Finish Near Top at Venture Challenge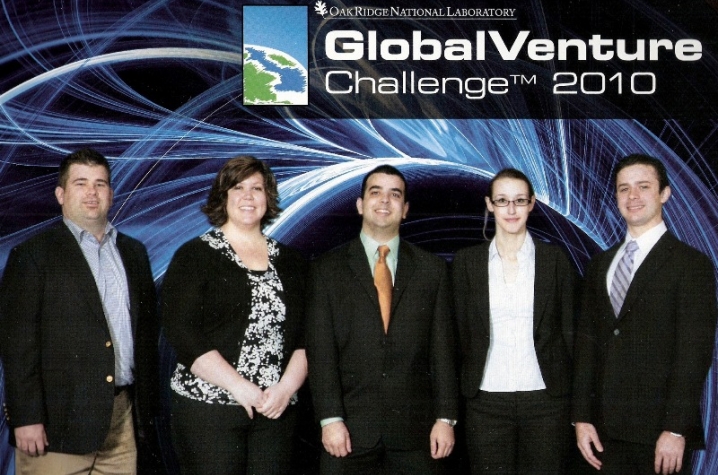 LEXINGTON, Ky. (May 6, 2010) − Graduate students from University of Kentucky's Center for Applied Energy Research (CAER) and undergraduate students from the Gatton College of Business and Economics teamed up to make the finals of the 2010 Global Venture Challenge hosted by Oak Ridge National Lab recently.  The challenge, touted as the Department of Energy's premier commercialization competition, brings together students who are developing new technology with venture capital groups and business development companies. 
The University of Kentucky team, NuForm Thermal Management, included Anne Oberlink (Chemistry), Tristana Duvallet (Materials Science), Dallas Rose (Finance), and Hamid Sheikh (Finance and Accounting). The team developed and presented a commercialization plan for new insulating foam materials manufactured from polyurethane foam and ceramics recycled from coal combustion ash. This technology, developed by UK CAER and NuForm Materials LLC, was judged as part of the advanced materials for sustainable energy track while the other track focused on Homeland Security technologies.
More than 40 teams from around the world applied for the competition, but only a select few were invited to Oak Ridge to present their plans. The University of Kentucky team was one of six finalists to reach the last day of competition in the energy track. The UK team came away with an honorable mention receiving a $1,000 award. Team advisers included Brock Marrs (NuForm Materials LLC), Chris Clifford (Gatton College of Business and Economics), and Rodney Andrews (UK CAER).