UK Venture Challenge Registration Opens for Student Entrepreneurs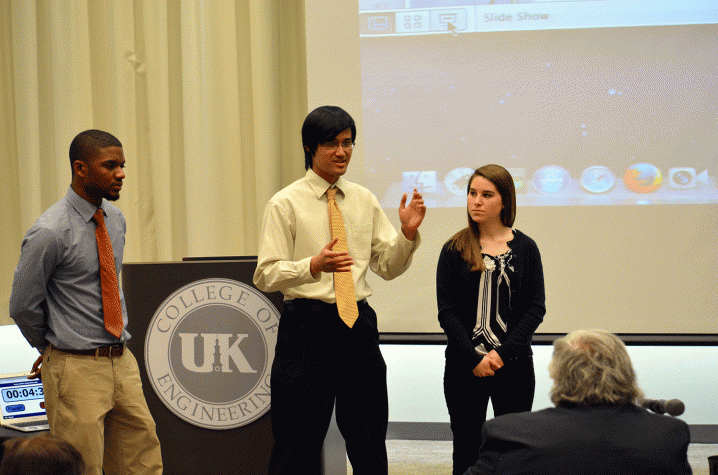 LEXINGTON, Ky. (Jan. 21, 2015) — Student teams can take their ideas to the next level and gain valuable entrepreneurial experience by competing in UK Venture Challenge. Registration is now open for the annual competition to be held Saturday, Feb. 28, at the UK Athletic Association Auditorium in the William T. Young Library.
For Venture Challenge, teams develop their ideas into new ventures, prepare marketing videos and written proposals, and present their business concepts to judges from the local entrepreneurial community. Venture Challenge is open to all UK students with innovation-based ideas for a startup company, an existing business or a nonprofit venture.
"Programs such UK Venture Challenge provide students the opportunity to be innovative and entrepreneurial, which is an important part of their educational experience," said University of Kentucky President Eli Capilouto.
The three winning teams share $3,000 in scholarship prizes, and the top two teams advance to the regional competition for Idea State U.
It is easy for student teams to participate in Venture Challenge.
1.    Register at inet.uky.edu and upload a 60 second marketing video.
2.    Write a 3-5 page proposal by Feb. 12.
3.    Make a presentation on Feb. 28.
A popular feature of Venture Challenge is online voting. The public is invited to vote for their favorite venture (one vote per voter a day!), and the winner receives $50. Last year's online team winner received 6,325 votes!
For the fourth straight year, the lead sponsor of Venture Challenge is the Bluegrass Business Development Partnership, an economic development partnership that includes the Lexington-Fayette Urban County Government, Commerce Lexington and the University of Kentucky. The Gatton College of Business and Economics and the College of Communication and Information are also sponsors.
UK Venture Challenge is organized by iNET, the Innovation Network for Entrepreneurial Thinking, hosted by the College of Communication and Information, with the Von Allmen Center for Entrepreneurship and the Lexington Office of the Kentucky Innovation Network in the Gatton College of Business and Economics.
MEDIA CONTACT: Sarah Geegan; (859) 257-5365; sarah.geegan@uky.edu