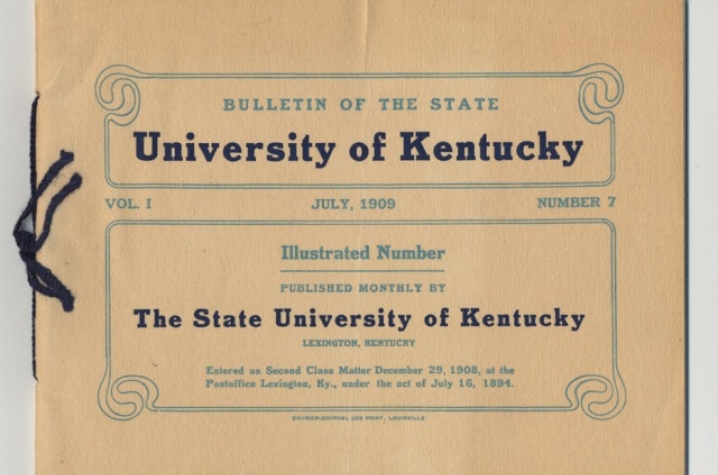 Kentucky A&M, State College and State University – what do all of these monikers have in common? They are all names that UK was known by prior to becoming the University of Kentucky in 1916. The UK Student Development Council and the Class of 2008 will honor that rich history with a Kentucky Historical Society marker Tuesday, Aug. 25, at noon on the walkway between the White Hall Classroom Building and Lafferty Hall on UK's campus.
The marker program is a joint venture of the UK Student Development Council and the Historical Marker Committee. Since 1994, the Student Development Council has solicited gifts from each graduating class to provide a marker as a senior class gift. The class votes on a marker topic from choices provided by the UK Historical Marker Committee. The markers are included in an annual guide for the state of Kentucky and are listed with the Kentucky Historical Society. Previous marker topics have included Thomas D. Clark, Lyman T. Johnson, Stoll Field and the Main Building.
One side will read: "WHAT'S IN A NAME? The Agricultural and Mechanical College of Kentucky (A&M) was established in 1865 as part of the private Kentucky University. In 1878, A&M separated from Kentucky University (now Transylvania University) to become an independent public institution. Lexington donated a 52-acre park south of downtown for a new campus, which is the present site of UK. Class of 2008."
The other side will read: "WHAT'S IN A NAME? By 1880, the A&M College was commonly known as State College. A&M achieved university status in 1908 and was named State University, Lexington, Kentucky. In 1916, the legislature officially changed the name to University of Kentucky. Class of 2008."
"The markers help beautify campus as well as provide today's students and staff with a glimpse of what university life was like in the past," says Director of Archives Deirdre Scaggs. "I think it's wonderful that so many students give to this important cause."
For more information, contact Greg Casey at (859) 257-1345.