'An embrace between the past and future' — student pens Black History Month op-ed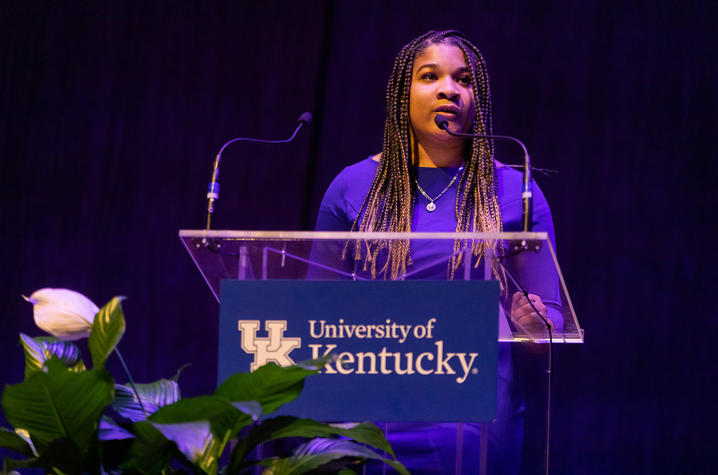 Kiarah Raglin, a student in the College of Social Work at the University of Kentucky, reflects on the meaning of Black History Month in the following op-ed.
LEXINGTON, Ky. (Feb. 1, 2023) — Black History Month marks an occasion of solemn remembrance and promising prospects — a reminder of where we came from and the path we'll forge.
February is also a dull reminder of the dishonor a single month gives. We owe more stories of the individual, the group and the world than a mere 28 days (sometimes 29) allows. This allotment of time does not set the stage for the impact of a narrative — let alone the full picture. Everybody has a story that deserves to be told and heard.
The chronicle that is Black history is worthy of an intentional stage.
The story of an individual is meticulous, personal and uniquely crafted. My own journey, a Black woman's growth into success, is one that came with time and patience.
I was born into a white world — in my hometown of Lexington, Kentucky. I was curls among straight hair. My skin multiple shades darker than my classmates. I felt as if I was always standing in front of the structures of a past hardly acknowledged.
I constantly watched the waters of my ever-changing future flow around my feet — the cemented sands of a distant past behind. But they were much closer than I had believed them to be.
Eventually, I learned you cannot fully appreciate the beach without the full picture, which includes the complicated sands.
After 20 years of waiting for my stage to be set, my image is finally aligning into a single sentence:
I am a proud Black woman.
This used to not be my story. I had to repeat those six words until I felt them for myself. My reality consisted of being viewed as "too Black" to be white and "too white" to be Black — an obvious contradiction ruling my actions and my thoughts.
I used to think, "how could I be anything else when all I see is this world?"
The answer lies in the art of discovery — an embrace between the past and future. The farther backward you look, the farther forward you are likely to see.
I found myself searching for the answer to who I was at 18-years-old, after arriving at the University of Kentucky. Suddenly, there were more of me — a wider understanding of me.
The most striking change came from working at the Martin Luther King Center. The personal development that came with the affirmation of one's birthright is understated — sharing a common identity beyond my Lexingtonian world birthed a confidence I could only dream of.
I also found myself through leadership with the College Democrats of UK and the College Democrats of Kentucky. Expanding my want for human connection and civil disagreement, I created an award-winning political debate series.
Reflecting on my love for people and politics, I was able to create something lasting. This action bled into my passion for social justice, so I decided to tie them together by representing the College of Social Work as a senator for the Student Government Association.
I've discovered what I enjoyed through experiences, such as working for the Congressional App Challenge in Washington, D.C., attending the Ignite Retreat through the Sullivan Foundation and meeting other changemakers from many different colleges and forging forever connections.
I was no longer hiding from these passions that were overshadowed before — now I am fully leaning into them. I have come so far, because I remembered the adventurous, creative history I had, and this propelled me forward, unashamed. Drawing from strengths I suppressed for the sake of conformity, I'm proudly watching all these paths converge into one.
Thank you for allowing me to read part of my script on this stage — sharing the truth that we so often run from. The past can be difficult, vague and foreign. Mine was awkward, unclear, yet full of potential.
The Black stories and figures from the past all had histories filled with pain and uncertainty, and they used their realities to drive their convictions forward.
I can only continue to believe in my abilities, build from my reflections and welcome the beauty of my seashores.
                                                                              ***
Throughout the month of February, the University of Kentucky is celebrating Black History Month with a series of events and programs for the campus community and the public. Learn more here. UK's social media channels and UKNow are also featuring Black students, faculty, staff and alumni who have shared their stories of what Black History Month means to them. Follow along on Facebook, Twitter and Instagram, and on digital signage across campus.
For more information on the university's diversity, equity and inclusion efforts, visit the DEI website. The DEI website is home to information about DEI-related resources available to faculty, staff and students; events and organizations; news and campus messages; and updates on DEI efforts around campus.