Flu shot, COVID-19 booster available for UK students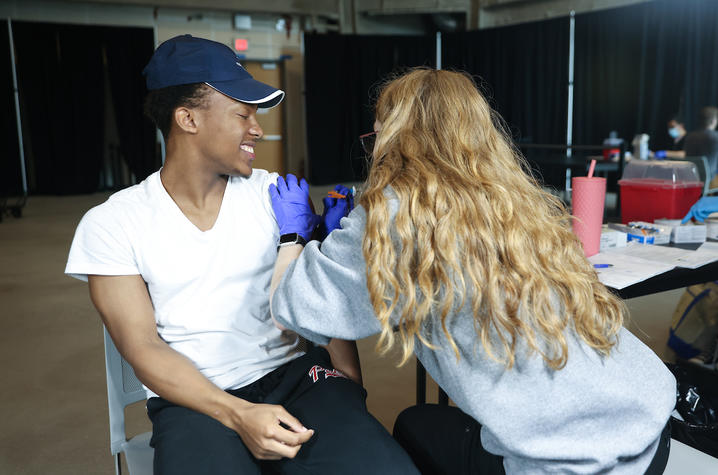 LEXINGTON, Ky. (Sept. 25, 2023) — 'Tis the season for coughing and sneezing, and there's a lot out there to prepare for this season. Flu shots and the COVID-19 booster are both available now for students at several different clinic locations on campus this semester.
Flu shots are available:
Sept. 24 from 8 a.m.-1 p.m. at the

Gatton

Student Center in the Cats Den
Sept. 27 from 1-3 p.m. at Wellapalooza in the Blue Box Theater, on the second floor of the

Gatton

Student Center
Oct. 17 from 3-7 p.m. at William T. Young Library in the Gallery Room
Nov. 9 from 3-7 p.m. at William T. Young Library in the Gallery Room
Routine annual flu vaccination is recommended for everyone 6 months of age and older — it is the best way to reduce the risk of the flu and its complications. Anyone can get the flu, so in addition to getting vaccinated it is important to take everyday precautions like frequent handwashing, covering your cough and sneeze, and staying away from those who are sick.
If students are unavailable for one of the flu shot clinics, they can make an appointment at University Health Service (UHS) for their vaccine by calling 859-323-2778 or using the MyChart app. Students can also make an appointment at The Apothecary or with UK Retail Pharmacy.
COVID-19 booster
The FDA recently approved a new monovalent COVID-19 vaccine for people 12 years and older. The booster is available through UK Retail Pharmacies. The new vaccine's formulation was created to target virus strains that are currently most common in the community, helping to boost immunity and fight severe infection.
It is advised that patients continue receiving boosters as they are eligible. For additional help regarding the timing of your vaccine series, you can call the Pharmacist Care Team at 859-562-2018.
The COVID-19 vaccine may be received at the same time as the flu shot; just let your pharmacist know.
UK HealthCare is the hospitals and clinics of the University of Kentucky. But it is so much more. It is more than 10,000 dedicated health care professionals committed to providing advanced subspecialty care for the most critically injured and ill patients from the Commonwealth and beyond. It also is the home of the state's only National Cancer Institute (NCI)-designated cancer center, a Level IV Neonatal Intensive Care Unit that cares for the tiniest and sickest newborns, the region's only Level 1 trauma center and Kentucky's top hospital ranked by U.S. News & World Report.  
As an academic research institution, we are continuously pursuing the next generation of cures, treatments, protocols and policies. Our discoveries have the potential to change what's medically possible within our lifetimes. Our educators and thought leaders are transforming the health care landscape as our six health professions colleges teach the next generation of doctors, nurses, pharmacists and other health care professionals, spreading the highest standards of care. UK HealthCare is the power of advanced medicine committed to creating a healthier Kentucky, now and for generations to come.