UK to Host 65th Annual Kentucky Foreign Language Conference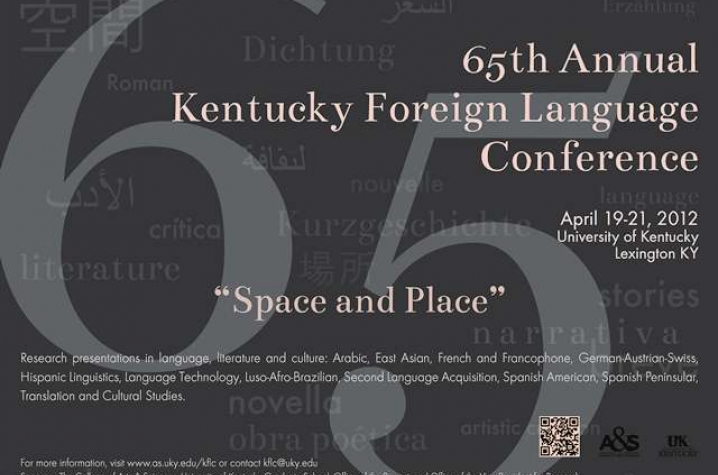 LEXINGTON, Ky. (April 17, 2012) —The University of Kentucky will host the 65th annual Kentucky Foreign Language Conference (KFLC), an internationally esteemed colloquium for scholars of language, literature and culture, beginning Thursday, April 19, across the UK campus.
The event will unite scholars from across the world, as the largest U.S. conference dedicated to all aspects of the study of language and its peoples, from technology to teaching, from film to literature, from linguistics to cultural studies. With keynote speakers, discussion panels, research presentations and exhibits, the conference will address issues pertaining to language through multiple platforms.
Doug Slaymaker, executive director of the KFLC and associate professor of Japanese, called the conference one of the intellectual highlights of campus life at UK, as it has been held exclusively at UK throughout its 65 years.
"It is one of the truly international claims to fame that UK has," Slaymaker said, "It is a real international conference, and people have known about this conference for almost a century. It is very important as one of the main gatherings of current research and scholarly activity."
Keynote speakers and other presenters will travel to UK from across the globe; nearly 700 participants from Europe, South America, Asia and elsewhere have registered to partake in the events. 
The conference's focus will span over multiple languages and disciplines, including: Arabic studies; East Asian studies; cultural and translation studies; French and Francophone studies;  German-Austrian-Swiss studies; Hispanic Linguistics; Hispanic Studies: Spanish American; Language Technology; Luso-Afro-Brazilian; and Second Language Acquisition.
Slaymaker said he anticipated that people from multiple fields would find the events relevant and applicable to their interests.
"It's a literature, language and scholarship conference, so I also expect language teachers at the high school level and in the college of education to find an interest," Slaymaker said. "But it's also fluid; scholars of anthropology, sociology, music, etc., will also find interest. It should have a very broad appeal."
The different keynote speakers will also provide broad topics of discussion. While these various keynote addresses will focus upon specific areas of language and culture, their applications will be wide-ranging and applicable to other languages. Slaymaker said, although his primary personal interests lie in the realm of Japanese studies, that he looks forward to attending Hispanic studies events as well, for example.
Events will also focus upon pedagogical issues such as how to teach language in the classroom at different levels and what research supports those methods.
Outside of research discussion, speeches and panels, the conference will also host presentations and exhibits.
The Department of Modern And Classical Languages, Literatures and Cultures will present a poster session, displaying student work in the Student Center's Frank H. Harris Grand Ballroom on Friday afternoon, and the Department of Hispanic Studies will host a poetry recital in the Bingham Davis House, an event itself with 34 years of tradition at the KFLC.
Slaymaker recommended that students attend the various keynote addresses, or find panels specifically tailored to their interests.
"I would recommend students to go to the keynotes, because these are the really high-profile, interesting talks that should have multiple ramifications," Slaymaker said. "Or, another way to do it is to get on the website and find a specific topic that is very interesting, or perhaps aligns well with the student's area of study."
The Plenary Keynote Lecture is another high-profile event, which Slaymaker recommended.
Mary Sheriff, from  the Department of Art at the University of North Carolina at Chapel Hill, will deliver the Plenary Keynote Lecture Thursday, April 19, at 5:15 p.m. in Worsham Theater in the Student Center.
Her lecture is titled, "Enchantment and its Discontents: Representing the Island in Text and Tableauboth."
Sheriff, who previously taught at UK, is W.R. Kenan Distinguished Professor of Art History at the University of North Carolina at Chapel Hill. A specialist in the culture and visual arts of 18th-century France, she has received numerous grants and awards, including a fellowship from the prestigious John Simon Guggenheim Memorial Foundation and the National Endowment for the Humanities.
"She is a scholar of French art history, 17th and 18th century to be precise, but within that, she will really be speaking not about France, but about South East Asia," Slaymaker said. "So she'll start by talking about French art history, but she'll talk about travel and movement, and that's truly what this conference is about, especially this year. Space and place is one of the sub-themes. So she will explore how these languages, cultures, products, and literature are moving and have moved."
Slaymaker, in his first year as executive director, said he is very excited for the conference to begin, as it took a full year of planning and development.
Jeanmarie Rouhier-Willoughby, chair of the Department of Modern and Classical Languages, Literatures and Cultures and the previous executive director, said this year's event will continue to enhance the conference's legacy.
Last year was extremely successful," Rouhier-Willoughby said. "We had a very large group of scholars from across the globe, and headlined by the distinguished specialist in globalization and language, Mary Louise Pratt, noted professor of Spanish and Portuguese languages and literatures at New York University. I expect that this year's conference will continue in the fine tradition of the KFLC."
As the various events begin across campus, Slaymaker said that it will continue to display UK's excellence, locally, nationally and globally.
"This is one of the feathers in our cap," Slaymaker said. "For lots of scholars, universities, this is what UK means — this conference. So that is a big part of our prestige and our promise."
To view the official 2012 KFLC program of events, click here.
To view the official 2012 KFLC website, click here.
MEDIA CONTACT: Sarah Geegan, (859) 257-5365; sarah.geegan@uky.edu