Journalism Alums Return to Share Insight, Tips with UK Students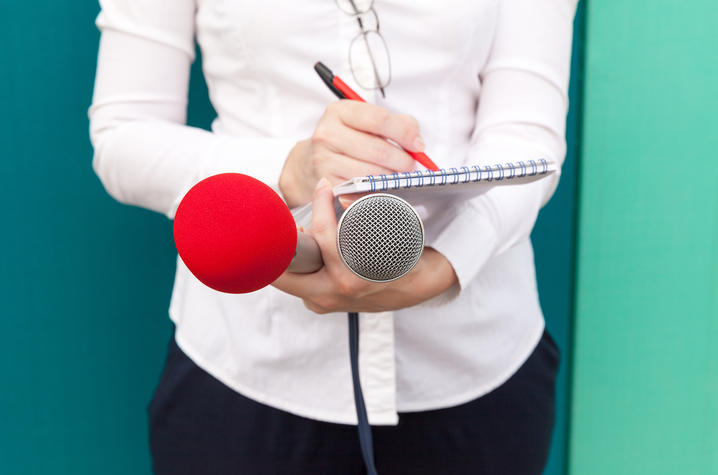 LEXINGTON, Ky. (April 6, 2017) — University of Kentucky journalism majors will learn about "Taking the Right Steps to That First Job" on Thursday, April 6, at the annual Richard G. Wilson Journalism Alumni Symposium. Six graduates of the School of Journalism and Media in the College of Communication and Information will discuss their job search and their careers at the symposium, which begins at 6 p.m. today, in the UK Athletics Auditorium of the William T. Young Library.
"We look forward to our graduates returning and sharing their experiences and perspectives with our students," said Lars Willnat, director of the school. "Faculty have told me how this event really resonates with our students as they gain insight from other young journalists."
The program this year features five graduates working in journalism-related fields. Another graduate, who is a lawyer, will moderate.
Eric Lindsey, who graduated in 2008, has just completed his ninth year working with UK Athletics and his third season as the primary contact for the men's basketball program.
Lindsey manages the overall publicity and promotional efforts for Kentucky's men basketball program, which includes coordinating with Coach John Calipari and his coaching staff and making players available for interviews. Kentucky's social media presence — under the direction of Lindsey — is regarded as one of the nation's leaders in popularity, ingenuity and creativity. 
Before joining Kentucky's media relations staff full time, Lindsey served as the editor of CoachCal.com from 2011-14. Lindsey managed all social media content. Site traffic increased by more that 400 percent. He worked directly with Calipari in providing exclusive content, while also assisting in the production of The New York Times best seller "Players First: Coaching From the Inside Out." 
As an undergraduate, he served as a reporter and editor for the Kentucky Kernel. Lindsey was honored in 2009 by the Kentucky Press Association for the Best College Sports Story, Best College Sports Column and Best Sports Feature in the state. A story he wrote placed fourth nationally in the Associate Collegiate Press Newspaper Awards in 2009. 
Casey Parker-Bell works as part of Kentucky Educational Television's public affairs team. He reports on the General Assembly for "Legislative Update" on Kentucky's statewide Public Broadcasting System (PBS) network. He has produced "Comment on Kentucky" and "Kentucky Tonight," where newsmakers and journalists discuss the issues confronting Kentuckians, and continues to produce special programming on Kentucky's politics, government and important topics.
He graduated from the University of Kentucky in 2015, earning a degree in journalism with an emphasis on broadcasting and a minor in business. Before becoming a journalist he had a variety of careers, most notably working as a general contractor in charge of multiple construction projects in Western Kentucky. He said he could not be prouder of his decision to change careers.
Sabirah Rayford, a 2016 graduate, started working for WKYT in October 2015 as a multimedia journalist. She had worked an internship at the station during her sophomore year and interviewed former UK stars John Wall, Anthony Davis and Darius Miller when she helped cover the Pelicans vs. Wizards NBA preseason game.
In 2015, she won Feature of the Year at the Kentucky Associated Press Broadcaster Awards for a story about a former state Supreme Court justice who transitioned from a man to a woman at the age of 65. She also received Best in Show for her work that year.
Racial tensions at the University of Missouri led Rayford to Frankfort, Kentucky, where she found the first black student to attend the University of Missouri. She talked to him about racial issues during his time at the university and compared them to the diversity concerns students have today at UK.
Ben Roberts, who graduated in 2005, covered the UK men's basketball team for two seasons while at the Kentucky Kernel. He won a Hearst Award in 2006 for his story on the legacy of former University of Kentucky basketball coach Adolph Rupp.
He has been a sports reporter for the Lexington Herald-Leader since 2012, primarily covering recruiting, UK men's basketball and football.
He has worked for the Herald-Leader in various roles since 2005, starting as a freelance sports reporter, spending four years as a sports copy editor and also creating the "Next Cats" recruiting blog, which chronicles the latest news on UK's basketball and football recruits. In 2012, he was hired as the newspaper's first full-time recruiting reporter.
Roberts worked in Washington, D.C., from 2010 to 2012 as a sports copy editor and designer for Stars and Stripes, the newspaper serving the U.S. military community. He was also part of the Washington Center for Politics & Journalism in the fall of 2005, reporting on local and national politics out of the Washington, D.C., bureau of the St. Louis Post-Dispatch.
Roberts, a Frankfort native, graduated with a degree in journalism and political science.
Adam Sichko, who served as editor-in-chief of the Kentucky Kernel in 2005-2006, is senior reporter for the Nashville Business Journal. He covers the booming real estate and economic development scene in the city. Before that he reported for the Albany (N.Y.) Business Review for six years. Both newspapers are owned by the American City Business Journals, one of the nation's largest employers of business journalists.
He has twice won national awards from the Society of American Business Editors and Writers for his reporting.
Kate Carpenter will moderate the symposium discussion. She is an attorney in Louisville with Fulton and Devlin. She graduated from UK in 2012 with a bachelor's degree in journalism. She is licensed to practice law in Kentucky and is a member of the Kentucky Bar Association. Her interests include cycling, reading and spending time with family and friends.
The first Journalism Alumni Symposium was held in 2003 and organized by Dick Wilson, at the time the interim director of what was then the School of Journalism and Telecommunications. Wilson, one of the school's distinguished graduates, brought successful graduates back to connect with current students. He raised money so that the program could continue and this is the 15th annual symposium. The UK Journalism Alumni Association named it the Richard G. Wilson Journalism Alumni Symposium in appreciation for his many contributions to the school.
UK is the University for Kentucky. At UK, we are educating more students, treating more patients with complex illnesses and conducting more research and service than at any time in our 150-year history. To read more about the UK story and how you can support continued investment in your university and the Commonwealth, go to: uky.edu/uk4ky. #uk4ky #seeblue