Kentucky SkyTalks to Discuss 50 Year Anniversary of Apollo Moon Landing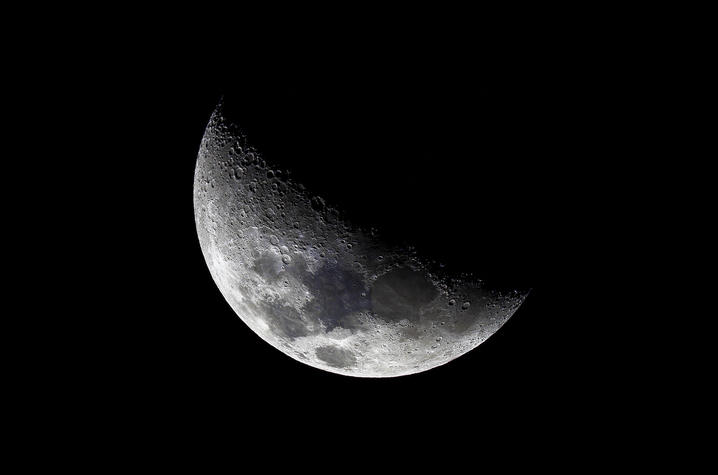 LEXINGTON, Ky. (July 10, 2019) — Tomorrow evening, the MacAdam Student Observatory at the University of Kentucky will celebrate the 50 year anniversary of America visiting the moon.
Tim Knauer, director of the observatory, will give a presentation as part of the Kentucky SkyTalks program at 8 p.m. Thursday, July 11, in Room 121 Jacobs Science Building. Afterward, attendees will have an opportunity to observe the moon through a powerful 20-inch telescope at the observatory across the street atop the Rose Street parking garage. The event is free and open to the public. Please note, the upper deck of the garage is under repair. Access instructions will be posted on Thursday afternoon at https://pa.as.uky.edu/skytalk.
On May 25, 1961, U.S. President John F. Kennedy gave a speech to Congress challenging America to land a man on the moon and return him safely to Earth before the end of the decade. That goal was accomplished in 2,982 days, on July 20, 1969. The Kentucky SkyTalk presentation will cover a story of intense Soviet competition, setbacks and successes. There are now commitments to return to the moon. Knauer will discuss the impact this will have if completed successfully, and what the next steps and advancements in science will be.
The UK Department of Physics and Astronomy and the observatory present Kentucky Skytalks as an outreach program. Each SkyTalk begins with a 50-minute presentation followed by the interactive portion where guests are invited to visit the observatory across the street.
Since the opening of UK's MacAdam Student Observatory in 2008, the observatory has served UK students and astronomy enthusiasts of all ages and experience levels throughout Kentucky. Located atop Parking Structure #2 on the center of UK's campus, its dome houses a high-quality 20-inch reflecting telescope and a variety of state-of-the-art optical instruments. The first SkyTalk was hosted Nov. 12, 2009, and since that inaugural presentation, SkyTalks have covered a range of topics from black holes to planets to galaxies and stars. Many experts have been featured as guest speakers, including C. Robert O'Dell, chief scientist for the Hubble Space Telescope, before he retired. Prior to the August 2017 eclipse, UK Professor of Physics and Astronomy Tom Troland spoke about the total solar eclipse.