NPR's Jad Abumrad Explores a 'More Perfect' Supreme Court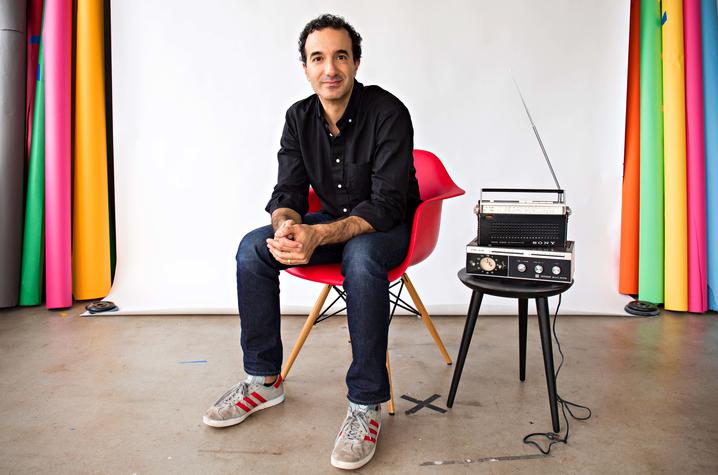 LEXINGTON, Ky. (Nov. 12, 2018) —  University of Kentucky Libraries, home to the Wendell H. Ford Public Policy Center and The John G. Heyburn II Initiative for Excellence in the Federal Judiciary, will present a talk on the nation's highest court by MacArthur Fellow and NPR host Jad Abumrad. The 2018 Edward F. Prichard Lecture, which is free and open to the public, will begin 5:30 p.m. Friday, Nov. 16, in the Kincaid Auditorium in the Gatton College Building. 
Many NPR listeners are familiar with Abumrad's Peabody Award-winning program "Radiolab," which is devoted to investigating the strange world we inhabit. But more recently, listeners and critics alike are raving about its spinoff series "More Perfect" that tells the stories behind some of the Supreme Court's biggest rulings. The New York Times described the series as "possibly the most mesmerizing podcast." 
During his talk at UK, Abumrad will explore his work on this popular podcast series, now in its third season. Supreme Court decisions shape everything from marriage and money to public safety and sex. Using testimony, archival recordings, interviews and experts, "More Perfect" connects listeners to these decisions made inside the court's hallowed halls and explains what those rulings mean for "we the people" who exist far from the bench.
It is how Abumrad presents his stories that makes him a perfect fit for the Prichard Lecture. "I was listening to the 'More Perfect' episode, 'The Heist,' one night while traveling. Its connections between the archival record and the judiciary resonated with me on so many levels," Interim Dean of UK Libraries Deirdre Scaggs said. "'More Perfect' tells the judicial story in a way that connects all of us. Making these connections is critical in the work of archivists and present in the UK Libraries Heyburn Initiative to collect the archival record and oral histories of the third branch of government. I knew right then that I had to bring Jad Abumrad to campus to share the power of storytelling with our community."
Abumrad did most of his growing up in Tennessee, before studying creative writing and music composition at Oberlin College in Ohio. Following graduation, he wrote music for films, and reported and produced documentaries for a variety of local and national public radio programs.
In 2002, Abumrad began tinkering with an idea for a new kind of radio program, an open-ended radio "laboratory." "Radiolab" has since evolved into one of public radio's most beloved programs. Abumrad hosts the program with Robert Krulwich and serves as its lead producer, composer and managing editor. "Radiolab" is broadcast on 524 stations across the nation and downloaded more than nine million times a month as a podcast. Locally, listeners can tune in to "Radiolab" at noon Saturdays, on WUKY 91.3, UK's NPR station.
Abumrad employs his dual backgrounds as composer and journalist to create what's been called "a new aesthetic" in broadcast journalism. He orchestrates dialogue, music, interviews and sound effects into compelling documentaries that draw listeners into investigations of otherwise intimidating topics, such as the nature of numbers, the evolution of altruism, or the legal foundation for the war on terror.
The Prichard Lecture is made possible, in part, by an endowment created by the family of Edward F. Prichard Jr.
The Ford Public Policy Research Center supports research and public and educational programming dealing with issues relating to public policy, politics and Congress. The center provides UK faculty, involved in teaching and research in these areas, the opportunity to work closely with the Ford Center on specific or general topics. Exhibits are made available on the UK campus as well as at other institutions and agencies throughout Kentucky. In addition, the Ford Center works closely with the UK Libraries' Special Collections Research Center to support digitizing primary source materials pertaining to public policy, politics and Congress and placing them on the internet. The center also supports interns in processing related collections.
The John G. Heyburn II Initiative for Excellence in the Federal Judiciary is a national, non-partisan program devoted to improving the federal legal system, with a focus on Kentuckians' contributions to American legal discourse and the interaction of our three branches of government. Inspired by Judge John G. Heyburn II of the Western District Court of Kentucky, the Heyburn Initiative is a partnership between UK Libraries and College of Law. Archival collections and oral history interviews anchor the Heyburn Initiative and document Kentuckians who have served in the third branch and provide insight into interactions among the judicial and the executive and legislative branches.
UK is the University for Kentucky. At UK, we are educating more students, treating more patients with complex illnesses and conducting more research and service than at any time in our 150-year history. To read more about the UK story and how you can support continued investment in your university and the Commonwealth, go to: uky.edu/uk4ky. #uk4ky #seeblue