Poet, Art Journalist, LGBT Icon Eileen Myles to Speak at UK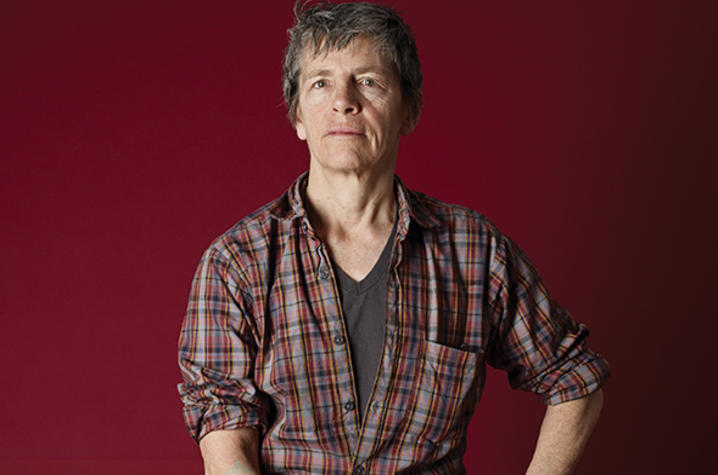 LEXINGTON, Ky. (March 24, 2017) — The University of Kentucky Art Museum in collaboration with UK's Department of English and MFA in Creative Writing program will present a free public lecture by poet, novelist, performer and art journalist Eileen Myles 6:30 p.m. Wednesday, March 29, in Gatton College of Business and Economics' Kincaid Auditorium.
Eileen Myles has become a feminist icon whose literary and artistic work has, in the words of the New York Review of Books, "set a bar for openness, frankness, and variability few lives could ever match."
"Eileen Myles is a revelatory writer — about desire, friendship, city life, art, politics and pop culture. She is fierce and funny, and her visit is a big deal. I hope the UK campus and Lexington community come to hear her read and talk about a range of topics," said UK Art Museum Director Stuart Horodner.
Myles is the author of more than 20 books, including "I Must Be Living Twice: New and Selected Poems" and "Chelsea Girls." A character based on Myles appeared in two seasons of the Emmy Award-winning Amazon show "Transparent," and her poems were recited by several characters throughout a number of episodes.
Myles has toured and read all over North America and Europe since the early 1980s. She is the recipient of a Guggenheim Fellowship in Nonfiction, an Andy Warhol/Creative Capital Art Writers Grant, four Lambda Book Awards and the Shelley Prize from the Poetry Society of America. Myles was named to the Slate/Whiting Second Novel List in 2015 and received a poetry award from the Foundation for Contemporary Arts. In 2016, she received a Creative Capital grant and the Clark Prize for Excellence in Art Writing as well as the Lambda Pioneer Award for contributions to the LGBT literary community.
The lecture with Myles is being presented as part of UK's Visiting Writers Series, organized by the MFA in Creative Writing program in the Department of English.