Cheever, Brown Appointed to Leadership Positions at UK College of Medicine ̶ Bowling Green Campus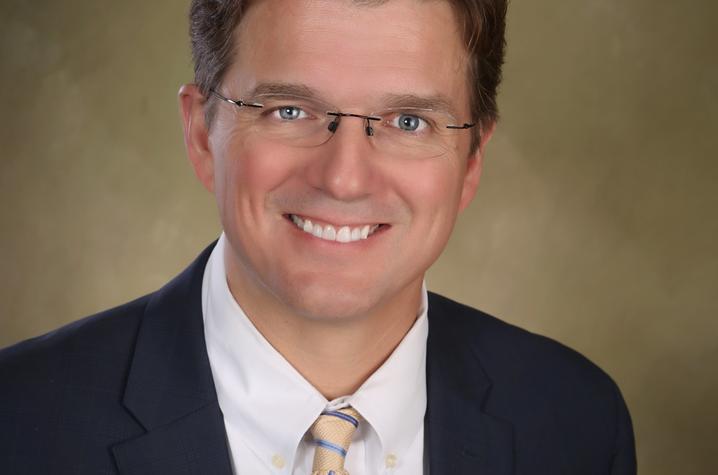 LEXINGTON, Ky. (April 27, 2017) – University of Kentucky College of Medicine Dean Dr. Robert DiPaola, in conjunction with UK Provost Dr. Tim Tracy, has announced the appointment of two key positions at the new UK College of Medicine - Bowling Green Campus.
Longtime UK faculty member and administrator Dr. Todd Cheever will serve as the first associate dean for the Bowling Green campus. Cheever has been serving as the college's associate dean for student affairs for the past 16 years.
Dr. Don Brown, a vascular surgeon and Bowling Green physician, who also serves as director of medical education at the Medical Center in Bowling Green, has been named assistant dean for the Bowling Green campus.
In February 2016, the UK College of Medicine announced plans to develop a four-year medical school program in Bowling Green. The regional campus, in partnership with The Medical Center at Bowling Green and Western Kentucky University, is planned to host 30 medical students per year for a complete four-year curriculum beginning in Fall 2018. 
The UK College of Medicine also has recently announced plans for regional campuses in Morehead and in Northern Kentucky. In Morehead, it is being planned that UK's successful Rural Physician Leadership Program will be expanded to a four-year curriculum through a partnership with Morehead State University, St. Claire Regional Medical Center and King's Daughters Medical Center in Ashland. In Northern Kentucky, a four-year regional campus is being planned through a partnership with Northern Kentucky University and St. Elizabeth Healthcare. Start dates and enrollment for these two programs could be as early as Fall 2019 and will be announced at a later date.
"The new regional campus in Bowling Green – along with campuses in Morehead and Northern Kentucky – allows the UK College of Medicine to expand enrollment in a manner that effectively and efficiently utilizes existing resources throughout the state," said Tracy. "Through this initiative, we will be taking a major step in addressing the need for more physicians in our Commonwealth," Tracy said.
The UK College of Medicine-Bowling Green Campus will be a fully functioning four-year campus, utilizing the exact same curriculum and assessments as UK's Lexington campus. On-site faculty will have UK College of Medicine appointments and teach in small groups and provide simulation/standardized patient experiences with lectures delivered on-site from Lexington utilizing educational technology. Additionally, clinical experiences will occur at the Medical Center of Bowling Green and surrounding community practices.
"Dr. Cheever has been a tremendous asset and contributor to the success of the UK College of Medicine and its students serving as the associate dean for student affairs and working with future physicians from matriculation through graduation and beyond," DiPaola said. "We also look forward to working with Dr. Brown who already is a community leader in Bowling Green and will be a valuable part of our team as we strengthen our ties and our role in Western Kentucky."
Cheever attended Western Kentucky University from 1983-1987 graduating with a Bachelor of Science degree in biology. Since then he has maintained strong connections to Western Kentucky University and Bowling Green both professionally and personally for more than 30 years.
"WKU is delighted to be working with one of our graduates, Dr. Todd Cheever, on this exciting project," said David D. Lee, provost and vice president for academic affairs at Western Kentucky University. "He's an outstanding choice for associate dean of the Bowling Green campus and we look forward to working with him and Dr. Brown on this very important initiative."
After finishing medical school at UK, Cheever completed a residency in adult psychiatry at the UK College of Medicine. For the past 22 years, he has served as a faculty member in the Department of Psychiatry and as an associate adult psychiatry program director. His clinical work focuses on treating individuals with chronic mental illnesses at both UK Chandler Hospital and Eastern State Hospital.
"I value watching those around me grow and succeed professionally and I am committed to helping the College of Medicine create the premiere regional campus system in the country," said Cheever. "I am honored to have the opportunity to lead this new program. Both WKU and UK have meant a great deal to me and have played a critical role in my development. I'm excited to be going home to work in a position that will play a pivotal role in addressing the physician shortage in our state."
Brown is a native of Oklahoma and has made his home in Kentucky for the past 15 years. During this time, he has filled multiple positions at The Medical Center including president of the Medical Staff and Chief of Surgery.
"It is a great privilege to join forces with the University of Kentucky to bring a new medical school to Southcentral Kentucky," said Brown. "We are proud of our hospital and the quality of our medical staff and it will be a great place to train for students."
Additionally, Brown is board certified in vascular surgery and earned his medical degree at Oklahoma State University College of Osteopathic Medicine and completed his residency in general surgery at Cleveland Clinic Foundation/South Pointe Hospital in Cleveland, Ohio, and a fellowship in vascular surgery at Botsford General Hospital in Farmington Hills, Michigan.
"Dr. Brown has an extraordinary passion for medical education, and he is committed to ensuring that all learners – medical students, residents, and fellows – are provided an opportunity to receive the very best in education and training here in Bowling Green," said Connie Smith, president and CEO of Med Center Health in Bowling Green. "He has shown exceptional leadership as director of Medical Education for Med Center Health over the past three years and we are excited for Dr. Brown as he assumes his new role as assistant dean and focuses his efforts, alongside Dr. Cheever, on opening the UK College of Medicine – Bowling Green campus."