A CHS Student's Passion: Educate Kentuckians About Health Care Legislation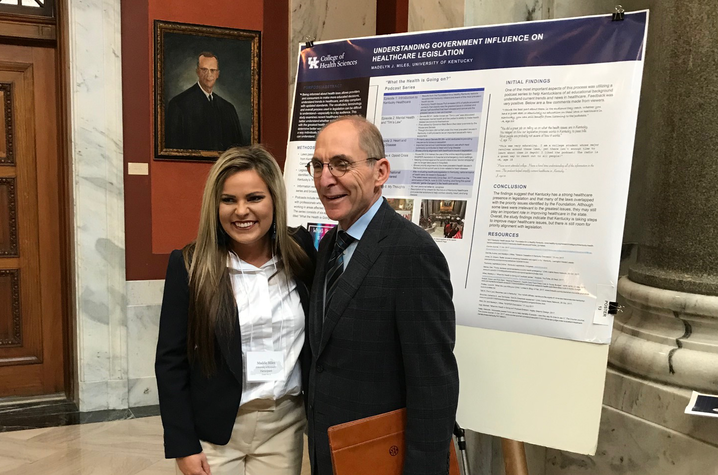 LEXINGTON, Ky. (March 2, 2018) — As the latest health care headline flashes across the news, it can be difficult to make heads or tails of what exactly is happening in our state legislatures, and how these changes in policy impact the average citizen. That's why Maddie Miles, a junior human health sciences major at the University of Kentucky College of Health Sciences, decided to spring into action by creating her podcast series, "What the health is going on?"
Miles's podcast covered national topics of interest and focused on how the government works, how bills become law, and then discussed three of the most important Kentucky health care laws: Senate Bill 91 ("Tim's Law," addresses mental health and the patient's ability to make health related decisions), Senate Bill 89 (a bill dedicated to providing insurance for tobacco cessation), and House Bill 314 (made the use of the online reporting system, KASPER, mandatory in hospitals and emergency rooms).
"I wanted people to understand what was happening in the state of Kentucky, and to be presented the facts in a neutral fashion," Miles said. "So much of the information we read is full of technical jargon that is not helpful for everyday Americans. I created this podcast for people like my own parents, who wanted to know more but did not understand the majority of reporting on the topic."
It's not just consumers who will benefit from Miles's endeavor. When it comes to health care, an informed public allows providers to partner with patients to make more educated decisions, understand trends in health care, and stay compliant with updated standards.
"One of the turning points in my academic career is when I realized I didn't know what was going on outside of the human body," Miles said. "I decided I needed to be informed about health care in the news and in the government. There was so much happening in Kentucky that I wasn't even aware of."
That turning point happened in Sarah Kerscmar's health law and policy class. Kercsmar, an assistant professor with the College of Health Sciences, was excited to watch her student take initiative.
"Working with Maddie on this podcast was a fun experience," Kerscmar said. "It was inspiring to see her dig into a topic that interested her and figure out how to best share her findings with a lay audience. These skills will serve her well as she moves forward into her career as a health care provider."
After starting the podcast in 2017, Miles submitted her project for Posters-At-The-Capitol, a showcase of more than 100 undergraduate scholarly research and creative projects at the Kentucky State Capitol in Frankfort.  It was there that University of Kentucky President Eli Capilouto viewed her poster.
Impressed by Miles's dedication to serving her fellow Kentuckians, he invited her to present before the University of Kentucky Board of Trustees about the importance of undergraduate research.
It's this passion for research that is driving Miles's academic career. She is a member of the College of Health Sciences undergraduate research certificate program and also serves as an undergraduate research mentor for the College. She encourages all students to consider research during their education.
"You definitely need to get involved with something that inspires you," she said. "I knew that I loved health law and policy and social media. Creating a podcast fit seamlessly into both my academic and personal interests."
Additionally, this research interest complements Miles's goal to pursue a professional degree. "I was drawn to the College of Health Sciences because I liked the rigor of it," she continued. This college is the gateway to professional programs. My major, human health sciences, has done a wonderful job helping me network and gain real-world experience shadowing practitioners in my desired field."