College of Health Sciences Alumna Serves Her Community; Fulfills Olympic Dream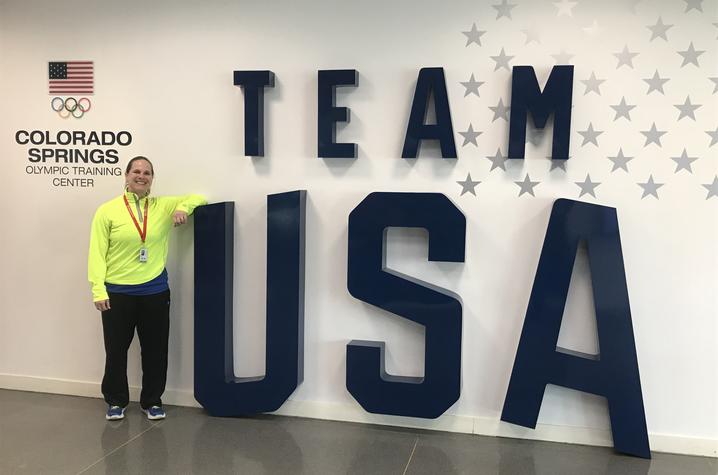 LEXINGTON, Ky. (March  20, 2018) — Jaclyn Kaylor Donovan has always loved the Olympics. At age 16, she tried out for the 1996 Olympic softball team but unfortunately did not earn a spot. More than two decades later, her Olympic dream finally came to fruition through working with Olympic athletes as an athletic trainer.
According to the National Athletic Trainers' Association, athletic trainers (AT) are multi-skilled health care professionals who collaborate with physicians to provide preventive services, emergency care, clinical diagnosis, therapeutic intervention, and rehabilitation of injuries and medical conditions. Most athletic trainers are employed in university settings, high school/sports medicine or professional sports.
Donovan, who earned her M.S. in Athletic Training from the University of Kentucky College of Health Sciences, currently lives in southwest Georgia and runs a sports medicine program that deploys athletic trainers to serve high schools in the surrounding rural communities.
"I was the first athletic trainer hired by this hospital. Before I began this program, most of the high schools we work with had never hired an athletic trainer or were even aware of what an athletic trainer is," she said. "I love my job because we give schools and athletes access to health care opportunities that may not have been possible outside our program."
As more students participate in sports, the number of athletic injuries is increasing sharply. This is why Donovan believes every school should have access to an athletic trainer. "We are seeing a large jump in musculoskeletal injuries, concussions, and heat-related illnesses," she said. "To make the athletes' experience safe, they deserve an athletic trainer to take care of them professionally."
"Having an athletic trainer on staff also takes the pressure off of coaches," Donovan continued. "Now the coach no longer has to worry about working as medical personnel in addition to coaching. Having a full-time athletic trainer allows us as health care professionals to treat athletes more effectively. Kids are going to play sports, they should be able to do it safely."
It's this passion for her athletes that inspired Donovan to volunteer as an athletic trainer with the United States Olympic Training Center in Colorado. There, she worked with high-caliber athletes who compete in gymnastics, boxing, and wrestling; among other sports. "I was unable to participate in the Olympics as an athlete, so serving as an athletic trainer was the next best thing," she said.
Upon her acceptance into the program, Donovan packed her bags, flew to Colorado, and was assigned to serve a two-week rotation at the training center's sports medicine clinic. Her January assignment meant she was able to work with several Team USA athletes before the 2018 Winter Olympics in PyeongChang and athletes who will compete at the 2020 Summer Olympics in Tokyo.
"It was incredible to be around athletes who do nothing but train for the sport 24/7," Donovan said. "These athletes are so attuned to their bodies and what they needed from me as an athletic trainer. It was a tremendous learning experience for me because I gained insights directly from the athlete."
But, the insights that left the biggest mark on Donovan weren't made by household Olympic names. The training center in Colorado also houses a large number of para-athletes (athletes with disabilities). Working with this population was Donovan's favorite part of her Olympic experience.
 "It was rewarding to watch many para-athletes — some with single or double amputations — perform difficult tasks with ease and do things I can't do," she said. "They excel at their sports. A lesser person would never attempt what they succeed at every day. It was humbling to help them in any small way that I could."
Donovan said the exceptional curriculum of the College of Health Sciences athletic training program prepared her to treat the athletes she worked with in Georgia and at the U.S. Olympic Training Center. "There is so much wisdom from the faculty in this program," she said. "I improve every day as a practitioner and professional — able to successfully evaluate, assess, and treat athletes of all levels — because of what I learned at the University of Kentucky."