Fowlkes Returns to UK to Lead Barnstable Brown Diabetes and Obesity Center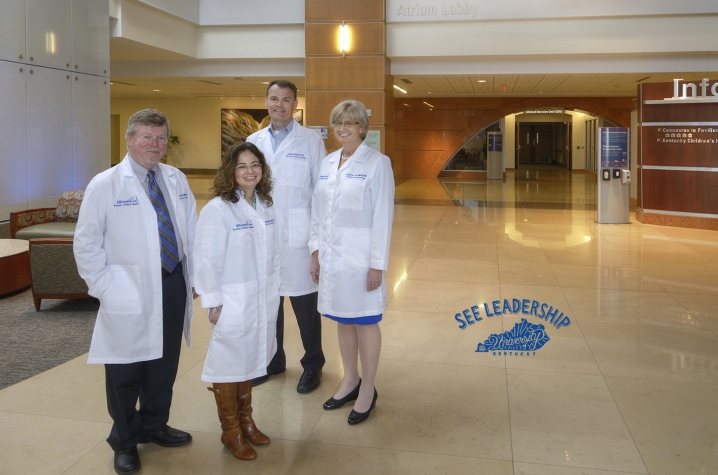 LEXINGTON, Ky. (May 4, 2015) -- Dr. John Fowlkes took the helm as new director of the University of Kentucky's Barnstable Brown Diabetes and Obesity Center earlier this year with a vision to build upon the center's past work and develop a robust and comprehensive adult and pediatric center providing research, education and patient care for the thousands of Kentuckians diagnosed with diabetes. But the Texas native who has spent the last decade at the University of Arkansas Children's Hospital, has found himself in familiar territory.
Fowlkes, who succeeds Dr. Philip Kern who served as the Center's inaugural director and who had been performing a dual role as director of the UK's Center for Clinical and Translation Science, previously held the Barnstable Brown Gala Professorship in Diabetes Research at UK in 2000-2001 and was part of the UK Department of Pediatrics from 1996 until 2001.
"Having that prior life here and knowing the expertise that already exists at UK, provided the excitement and impetus for me to return to UK to develop a comprehensive diabetes center," said Fowlkes. "I think there is a potential to organize research, education and patient care in a way that we can see some real accomplishments and do some things that are very innovative."
However, Fowlkes, a nationally recognized clinician scientist funded by the National Institutes of Health (NIH) who is intimately involved in patient care, realizes some challenges lie ahead.
Fowlkes' primary goal is to begin the work of "rethinking the clinical care model" and developing a new way of delivering state-of-the-art patient care.
"Right now we are looking at how to get the team in a collaborative environment and to develop operational clinic space that is much more than just seeing patients and prescribing drugs," he said. "We want to be able to see a patient, educate them and most importantly, serve as a medical home that addresses all of their needs in a one-stop shop."
The team he refers to includes Dr. Kathryn M. Thrailkill, professor of  pediatrics and the newly named Barnstable Brown Chair in Pediatric Diabetes Research; Dr. Alba E. Morales Pozzo, an associate professor of pediatrics; and Clay Bunn, Ph.D., who will direct pediatric research laboratories. All three joined Fowlkes in coming to UK from the University of Arkansas.
In Kentucky and in the U.S., diabetes is one of the leading causes of death and disability. Besides leading to premature death, both types 1 and 2 Diabetes are associated with complications that threaten quality of life. It is also the leading cause of adult blindness, end-stage kidney disease and nontraumatic lower-extremity amputations.
Already UK has a sizable diabetes patient population in both pediatrics and adults, but Fowlkes wants to better coordinate care throughout the various ambulatory clinics where those patients are treated and wants to provide educational opportunities. Additionally, the clinical care will be complemented with intellectual questions looking at outcomes, quality and providing fertile material for research. Increasing the number of clinical trials available for both pediatric and adult patients is also a big focus for the future, he said.
"Diabetes is perhaps the greatest scourge assaulting Kentuckians. It kills indirectly through heart attack, strokes, kidney failure, nerve damage and blindness but there is an explosion of new therapeutic treatment modalities," said UK College of Medicine Dean Frederick de Beer "The Barnstable Brown Center under Dr. Fowlkes' leadership has the potential to be developed to lead and integrate our assault on diabetes."
Currently, the Center has approximately $24 million per year in research funding focusing on prevention and treatment of the disease and various complications of diabetes. Funding comes from the NIH, the American Diabetes Association (ADA) and other funding agencies, as well as the Barnstable-Brown family.
Patricia "Tricia" Brown and Priscilla "Cyb" Barnstable, together with their mother Wilma Barnstable, have been hosting a Derby eve gala to raise money for diabetes research in Kentucky for nearly 25 years with celebrities coming from around the globe to attend the famous Barnstable Brown Gala in Louisville -- with the most recent event being held this past Derby weekend.
Tricia Brown's late husband, Dr. David Brown, was diagnosed and later died of diabetes was the inspiration for the establishment of the Barnstable Brown. Since 2008, all proceeds from the gala go to the center at UK. 
"The Barnstable-Brown family made not only the essential initial investment but provides continuous support and a consistent presence that is an incredible and immeasurable asset to our center," said Fowlkes. "Their enduring commitment is something that makes a true impact and we are very appreciative."
Media Contact:  Kristi Lopez, 859-806-0445