Heart Surgeon Creates Legacy of Research Excellence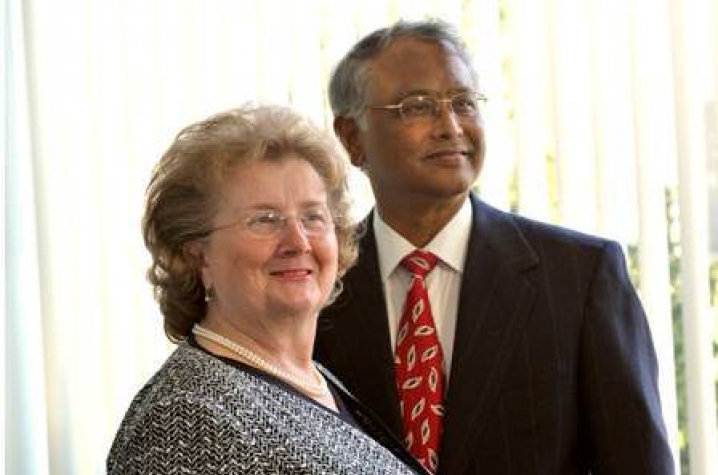 LEXINGTON, Ky. (July 20, 2010) – As a cardiothoracic surgeon serving Central and Eastern Kentucky, UK HealthCare physician Dr. Sibu Saha understands the need for advanced cardiovascular research to serve the people of a state struggling with high levels of heart disease. Over the course of his career, Saha has established surgery and cardiology programs where none had existed previously in rural Kentucky, founded a cardiopulmonary rehabilitation program, and created an endowment to fund nursing education to address a shortage of cardiology nurses in Eastern Kentucky. Now a generous gift from the Saha family to support cardiovascular research at the University of Kentucky has resulted in the naming of the Dr. Sibu and Becky Saha Cardiovascular Research Center.
The Saha Cardiovascular Research Center (CVRC) is a major center for the research of cardiovascular diseases. Closely associated with the UK HealthCare Gill Heart Institute, the CVRC focuses on the prevention, diagnosis and treatment of diseases affecting the heart and blood vessels – including but not limited to atherosclerosis, aneurysm, stroke, heart attack, obesity and hypertension.
"Dr. Saha represents what our physicians are about – helping their patients in every way possible," said Dr. Michael Karpf, UK Executive Vice President for Health Affairs. "
"Here we have a surgeon at the top of his profession who has chosen not only to work in our hospital, but to travel many miles into the state to see his patients. And now the generosity of the Saha family will enable us to continue to bring internationally known researchers to UK, to continue the process of discovering how best to prevent, diagnose and treat heart disease in Kentucky and around the world."
In the most recent fiscal year, the Saha CVRC totaled $8.157 million in NIH funding, $271,000 in American Heart Association Awards, $159,975 in American Diabetes Association Awards, $600,000 in Veterans Administration funding and an additional $50,000 from other sources, the CVRC is a powerhouse in the field of cardiovascular research.
The gift from the Saha family will primarily support the infrastructure needed to attract and retain top cardiovascular researchers – who will compete with other scientists across the nation and around the world for major grants and funding awards. In many cases, CVRC researchers already collaborate with physicians and scientists at other institutions.
"This gift from Dr. Saha and his wife Becky is forward-thinking," said Dean Emery Wilson of the UK College of Medicine.
"Donors are key members of our research team – through their support we are able to provide the resources necessary for world-class researchers to do world-class work here at the University of Kentucky.
Led by director Dr. Alan Daugherty and associate director Dr. Dennis Bruemmer, the Saha CVRC is home to 20 core faculty, along with 75 associated faculty, five American Heart Association Fellows, 40 research staff, four administrative staff and 20 students (pre- and post-doctoral). These faculty and staff work on an array of research related to the prevention, diagnosis and treatment of cardiovascular disease.
The ranks of Saha CVRC faculty include physicians and scientists drawn primarily from the fields of cardiology, nutrition, endocrinology, physiology and pharmacology. Many faculty hold joint appointments with the Gill Heart Institute, the Barnstable Brown Kentucky Diabetes and Obesity Center, the Graduate Center for Nutritional Sciences, the College of Medicine, and other areas across the healthcare campus - exemplifying the university's commitment to interdisciplinary research.
Saha, a native of India, has studied and practiced at universities and hospitals including: Rajshahi Medical College (Bangladesh), the University of Florida, the Medical University of South Carolina, the University of St. Francis (Ill.), Veterans Administration Hospital, University of Virginia(Salem, Va.), Central Baptist Hospital (Lexington, Ky.) and the University of Kentucky. He performed the first open heart procedure at the Baptist Heart and Vascular Institute, Lexington Ky, and at St. Joseph Hospital - London (formerly Marymount Medical Center, London, Ky. He served as a founding consultant for the open heart surgery programs now in place at Pikeville Methodist Hospital, St. Joseph East Hospital (Lexington, Ky.), Marymount Hospital (London, Ky.) and Lake Cumberland Regional Medical Center (Somerset, Ky.). His work as a heart surgeon has taken him around the world, even consulting at Memorial Hospital in Istanbul, Turkey.
With ties to so many institutions, Dr. Saha and his wife Becky had many options when it came to supporting cardiovascular research – but they chose to make their gift close to home, in the state where Saha has lived over half of his life.
Says Saha: "I come from a simple angle – to give whatever I can to the place that has nurtured me. I have been at many universities, but this is my home."
Additional information about the center is available at the Saha CVRC website: http://SahaCVRC.uky.edu