UK Football Great Tim Couch Honored on 2012 Commemorative Marker's Mark Bottle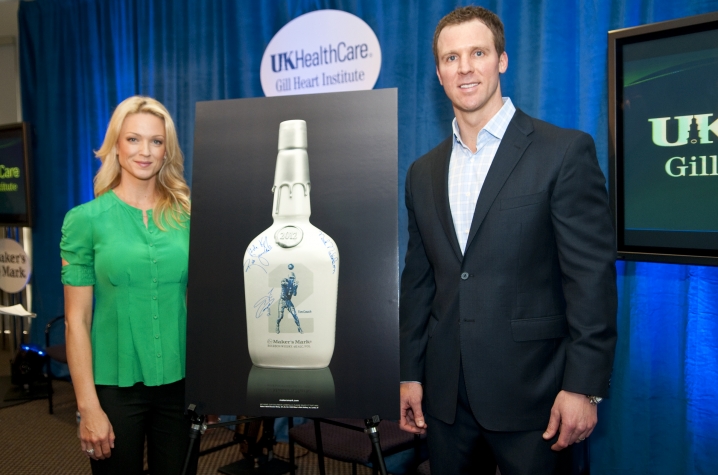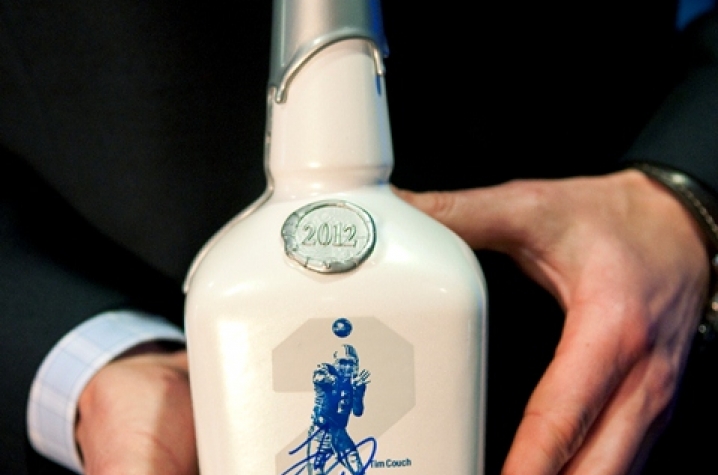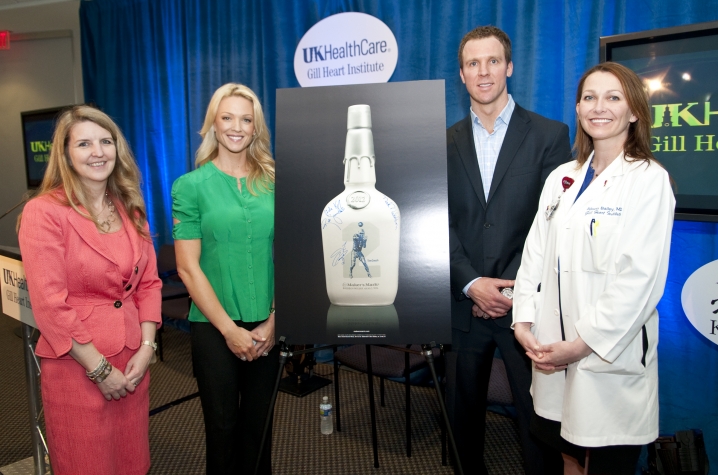 LEXINGTON, KY (March 20, 2012) – As Keeneland and Maker's Mark embark on the 16th edition of its signature charitable bottle series to raise money for charity, the two are once again teaming up to honor and support their friends at UK HealthCare. This year's bottle will celebrate UK football great Tim Couch, whose likeness will be featured on the bottle this spring. Proceeds from the bottle sales will benefit the Gill Heart Institute at UK HealthCare.
"The most important thing about this bottle is that the proceeds from it will go to help my fellow Kentuckians fight and win the battle of heart disease ­especially in Eastern Kentucky," Couch said.  "Winning this is very near and dear to my heart and more important than any football game. My father passed away from heart disease, and everyone has a family member that this terrible disease has affected."
Maker's Mark will donate proceeds from the sales – estimated to be about $200,000 from 20,000 bottles sold statewide – to the Gill Heart Institute, which will utilize these funds to grow and develop high-quality clinical heart care services in rural Eastern Kentucky.
The 65 healthcare providers at the Gill Heart Institute saw an estimated 15,500 outpatients in 2011, including those seen in 51 monthly outreach clinics covering much of Eastern Kentucky.  The Gill staff reads 25,000 images annually.
"Reaching patients in Eastern Kentucky is a critical component of the mission of UK's Gill Heart Institute," said UK Executive Vice President for Health Affairs Dr. Michael Karpf. "Outreach clinics help us touch patients who may not have access to the high level of care we provide. By continuing these services, we are helping to improve the lives of these individuals. We are thankful to Keeneland and Maker's Mark for providing us with this opportunity."
"Keeneland is a company that is a kindred spirit of Maker¹s Mark - original, true to its roots and a model corporate citizen that exemplifies what Kentucky can do and is a force to be reckoned with on the world stage," said Rob Samuels, Maker's Mark COO. "UK Healthcare is much the same - a world-class medical facility in the heart of Kentucky, bringing leading cutting edge research in the field of medicine and bringing advanced medical treatment to all of us."
Born in Hyden, Ky., Couch played football for the University of Kentucky where he was selected as an All-American and number one pick in the 1999 NFL Draft by the Cleveland Browns. During his time at UK − from 1995 to 1998 – Couch set several school records was a Heisman Trophy finalist. His career totals at Kentucky included completing 795 of 1,184 passes for 8,435 yards and 74 touchdowns. He still holds the NCAA record for completion percentage in one game and for completions per game.
Maker's Mark will produce 20,000 numbered, limited edition bottles honoring Couch, and they should be available statewide Friday, April 6, opening day of Keeneland's Spring 2012 meet. The bottle should retail for about $49 if retailers take their normal markup.
"We are very proud that Maker's Mark, UK HealthCare and Keeneland have come together once again for this very worthy project," said Keeneland President and CEO Nick Nicholson. "We congratulate Tim Couch as this year's honoree. This initiative will be very important to people back home and many years from now, they will remember Tim Couch as not only an outstanding athlete but as a good person who works hard to make a difference in his community."
 
A bottle signing, scheduled the day of the $300,000 Maker's 46 Mile (G1) (formerly known as the Maker's Mark Mile), will be held Friday, April 13, trackside at Keeneland, with Couch, Samuels and Nicholson. For more details about the signing, visit Keeneland.com