UK Gill Heart Institute, Whitesburg's MCHC, ARH Cardiology Associates Join Forces to Provide Heart Care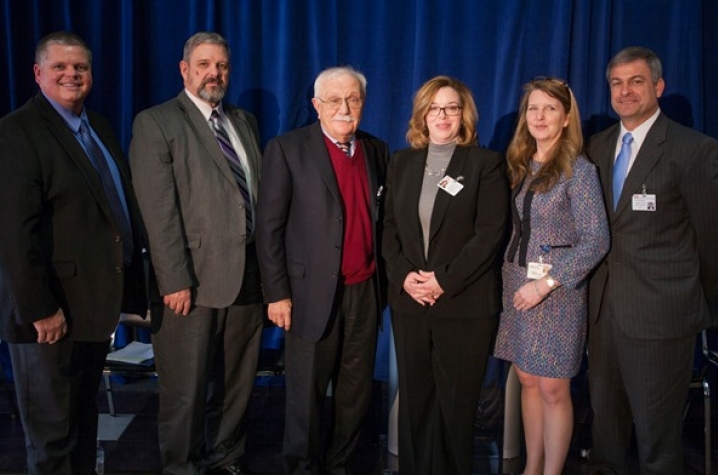 WHITESBURG, Ky. (Jan. 27, 2014) -- Letcher County community leaders and health care providers gathered in Whitesburg on Jan. 23, to celebrate a new partnership among Mountain Comprehensive Healthcare Corporation (MCHC), Appalachian Regional Healthcare (ARH), and UK HealthCare's Gill Heart Institute.
Dena Sparkman, CCEO of Whitesburg ARH, welcomed more than 100 invited guests to the event held at the Pine Mountain Grill in Whitesburg. Remarks were provided by Joe Grossman, president and CEO of Appalachian Regional Healthcare;  University of Kentucky Vice President for Health Affairs Dr. Michael Karpf; Mike Caudill, CEO at MCHC; Dr. Van Breeding, MCHC director of clinical affairs; and Dr. Susan Smyth, chief of cardiovascular medicine at the Gill Heart Institute.
Beginning earlier this month, ARH Cardiology Associates, in affiliation with UK Healthcare's Gill Heart Institute, began offering cardiology services at MCHC in Whitesburg, allowing patients the ability to stay close to home for the highest quality and state-of-the art cardiovascular care. 
"MCHC has been providing generations of patients access to quality medical care for more than 40 years and we are happy to now offer our patients advanced cardiology services through our affiliation with the ARH Cardiology Associates and the Gill Heart Institute," Breeding said.
"ARH is proud to be extending our cardiac services into the MCHC family. This partnership builds upon the solid foundation of quality health care services already available in Letcher County," added Grossman. "By joining together we are able to extend even further our residents' ability to receive exceptional care from some of the most skilled and extensively trained physicians without having to incur the financial and logical burden of traveling out of the area."
ARH and UK HealthCare's Gill Heart Institute joined forces last year in a collaboration aimed at improving access to UK's expertise and resources offered by a regional academic medical center while maintaining the familiarity of community health care providers. 
"This partnership furthers the UK HealthCare mission to improve access to high quality health care for all Kentuckians in a cost effective manner," Karpf said. "But the greatest impact for patients and their loved ones will be the ability to stay close to home for complex cardiology care."
Mountain Comprehensive Health Corporation (MCHC), is a Federally Qualified Health Center designed to provide quality, affordable health care to the people of Letcher, Harlan, Perry, Owsley, and contiguous counties, and has been in operation since June 1971. MCHC is a non-profit Kentucky Corporation.
MCHC's Central Office, Whitesburg Medical Clinic, Respiratory Clinic, and Wellness Center are located in Whitesburg. The Buckhorn and the Leatherwood/Blackey Medical Clinics are located in Perry County, the Harlan Medical Clinic is in Harlan near the Harlan ARH Hospital, and the Owsley County Medical Clinic is located in Booneville. The Buckhorn, Leatherwood/Blackey and Owsley County Clinics each provide a Wellness Center for their patients. MCHC also operates 16 school-based clinics in Letcher and Perry counties.
Media Contact: Kristi Lopez, 859-806-0445