UK HealthCare, ARH and AHC Celebrate Partnership in Eastern Kentucky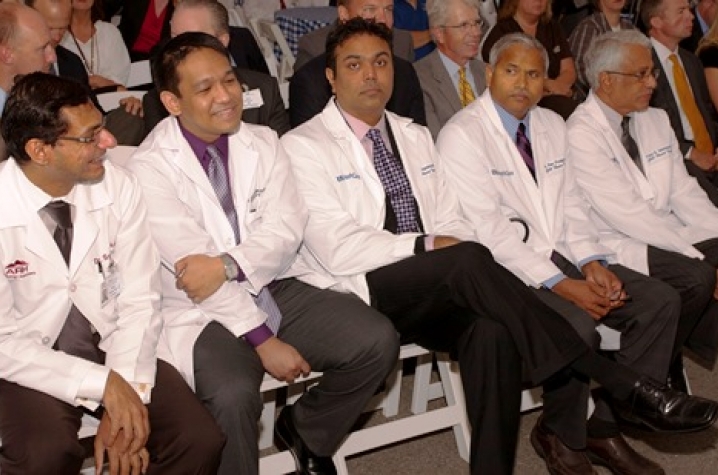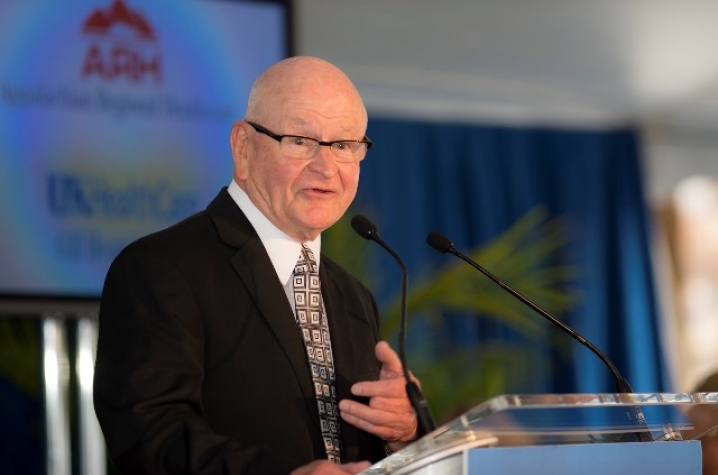 LEXINGTON, Ky. (Sept. 16, 2013) -- Community leaders and local health care providers joined representatives of Appalachian Regional Healthcare (ARH), Appalachian Heart Center (AHC), and UK HealthCare's Gill Heart Institute Monday  to celebrate a new partnership that will deliver the highest quality and state-of-the art cardiovascular care to residents of Eastern Kentucky. 
Hazard Mayor Nan Gorman welcomed more than 150 people to the event held at the ARH Medical Mall. Remarks were provided by UK President Dr. Eli Capilouto;  Joe Grossman, president and CEO of Appalachian Regional Healthcare;  UK Vice President for Health Affairs Dr. Michael Karpf; Dr. Susan Smyth, chief of cardiovascular medicine at the Gill Heart Institute; Dr. Edward Setser, UK cardiothoracic surgeon based in Hazard; and James Sluss of Hazard, a cardiology patient.  In addition, Donna McClure from U.S. Sen. Mitch McConnell's office, read a letter congratulating the teamwork to enhance cardiac care in the region.
In the collaboration announced earlier this month, UK HealthCare and ARH have agreed to jointly administer and manage cardiovascular services at Hazard ARH Regional Medical Center, Harlan ARH Hospital, Whitesburg ARH Hospital, McDowell ARH Hospital, Mary Breckinridge ARH Hospital, and Williamson ARH Hospital.
In addition, Hazard cardiologists Dr. Vidya Yalamanchi, Dr. Rao Podapati and Dr. Srini R. Appakondu from the Appalachian Heart Center (AHC) -- which also has clinics in Harlan, Hyden, and Cumberland -- will team up with the Gill Heart Institute for advanced treatment options not readily available in the local area. 
The AHC cardiologists will join the Gill Heart Institute team providing services in Hazard that includes UK's specialty cardiologists as well as Dr. Setser, who began performing cardiothoracic procedures including coronary revascularization and heart valve replacements in Hazard in 2011.
"We are excited about the new partnership ARH has formed with such a renowned organization as UK HealthCare's Gill Heart Institute to expand the services it provides to those in need of cardiac care," Gorman said. "We are proud of ARH and look forward to seeing it continue to grow and expand the healthcare services to the people of Hazard, Perry County and the surrounding communities of Eastern Kentucky."
For Sluss who was diagnosed with heart disease and received cardiology services from AHC and then underwent an open heart procedure performed by Setser, without ever having to travel from his hometown, today's ceremony was truly a celebration.
" I have personally experienced the quality of heart care provided by the heart specialists at ARH," Sluss said. "The new initiative between ARH and the Gill Heart Institute will serve to raise the quality of heart care to a new level for the people of our area."  
MEDIA CONTACT: Kristi Lopez, (859) 323-6363 or kristi.lopez@uky.edu