UK HealthCare Physicians Named to 2015-16 Best Doctors List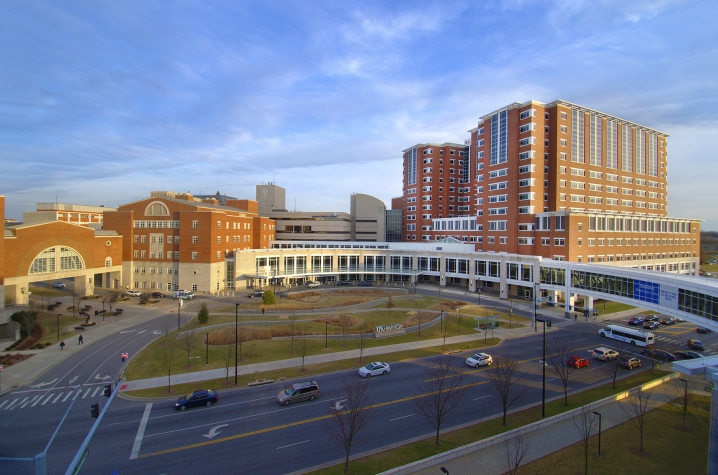 LEXINGTON, Ky. (Oct. 7, 2015) – UK HealthCare has more than 125 physicians practicing medicine with UK Albert B. Chandler Hospital, Kentucky Children's Hospital, UK Good Samaritan Hospital and Shriner's Hospitals for Children who appear on the Best Doctors in America list for 2015-16 – more than any other hospital in Kentucky. Only 5 percent of doctors in America earn this honor, decided by impartial peer review.
The Best Doctors in America list, assembled by Best Doctors Inc. and audited and certified by Gallup, results from polling of more than 40,000 physicians in the United States. Doctors in more than 40 specialties and 400 subspecialties of medicine appear on this year's List. 
The experts who are part of the Best Doctors in America database provide the most advanced medical expertise and knowledge to patients with serious conditions – often saving lives in the process by finding the right diagnosis and right treatment.
2015-16 Best Doctor's List:
Sadiq Ahmed                            Nephrology
Kenneth B. Ain                         Endocrinology and Metabolism
Michael I. Anstead                    Pediatric Specialist
Rony K. Aouad                         Otolaryngology
Susanne M. Arnold                   Medical Oncology and Hematology
Henrietta Salvilla Bada             Pediatric Specialist
Hubert O. Ballard                     Pediatric Specialist
Robert J. Baumann                   Child Neurologist
Louis Bezold                             Pediatric Specialist
Peter James Blackburn             Ophthalmology
Christopher A. Boarman           Pediatrics
David C. Booth                         Cardiovascular Disease
Edwin A. Bowe                         Anesthesiology
Robert A. Broughton                Pediatric Specialist
Raeford E. Brown, Jr.               Pediatric Specialist
Scottie B. Day                           Pediatric Specialist
Christopher P. DeSimone         Obstetrics and Gynecology
Philip A. DeSimone                  Medical Oncology and Hematology
David J. DiSantis                      Radiology
John Draus                               Pediatric Specialist   
John H. Eichhorn                     Anesthesiology
Eric D. Endean                         Vascular Surgery
Deborah R. Erickson                Urology
B. Mark Evers                           Surgery
John L. Fowlkes                        Pediatric Specialist
Peter J. Giannone, Jr.               Pediatric Specialist
Jacqueline S. Gibson               Internal Medicine
Larry B. Goldstein                    Neurology
Donna G. Grigsby                     Pediatrics
John C. Gurley                         Cardiovascular Disease
Wendy Fetterman Hansen       Obstetrics and Gynecology
Andrew Hoellein                       Internal Medicine
Robert Hosey                            Family Medicine
Joseph A. Iocono                      Pediatric Specialist
Mary Lloyd Ireland                   Orthopaedic Surgery
Henry Iwinski                           Pediatric Specialist
Gregory A. Jicha                       Neurology
Darren Lee Johnson                 Orthopaedic Surgery
Raleigh O. Jones                      Otolaryngology
Jamshed F. Kanga                    Pediatric Specialist
Dennis Karounos                      Endocrinology and Metabolism
Edward J. Kasarskis                 Neurology
Douglas G. Katz                       Ophthalmology
Philip A. Kern                           Endocrinology and Metabolism
Stefan G. Kiessling                   Pediatric Specialist
Mahesh R. Kudrimoti               Radiation Oncology
Cheri D. Landers                      Pediatric Specialist
Philip B. Latham                       Pediatrics
Steve W. Leung                       Cardiovascular Disease
Robert W. Lightfoot, Jr.           Rheumatology
Richard Lock                           Anesthesiology
Grace F. Maguire                     Pediatrics
Scott D. Mair                            Orthopaedic Surgery
Hartmut H. Malluche                Nephrology
Jeremiah T. Martin                   Thoracic Surgery
Erich C. Maul                           Pediatrics
Hanna W. Mawad                     Nephrology
Ronald Charles McGarry          Radiation Oncology
Patrick C. McGrath                   Surgical Oncology
Adrian W. Messerli                  Cardiovascular Disease
Todd Milbrandt                         Pediatric Specialist
David J. Minion                         Vascular Surgery
Amr El-Husseini Mohamed      Nephrology
David J. Moliterno                    Cardiovascular Disease
Alba E. Morales                        Pediatric Specialist
Peter E. Morris                         Critical Care Medicine
Timothy W. Mullett                    Thoracic Surgery
Kevin R. Nelson                        Neurology
Nicholas J. Nickl III                   Gastroenterology
M. Elizabeth Oates                   Radiology
John M. O'Brien, Jr.                  Obstetrics and Gynecology
Hatim A. Omar                          Pediatric Specialist
Amit Patel                                 Plastic Surgery
Kevin A. Pearce                        Geriatric Medicine
P. Andrew Pearson                   Ophthalmology
Luther C. Pettigrew, Jr.             Neurology
Barbara A. Phillips                    Sleep Medicine
Thomas Pittman                        Pediatric Specialist
Andrew R. Pulito*                      Pediatric Specialist   
Marcus E. Randall                     Radiation Oncology
Annette Rebel                           Critical Care Medicine
Hassan K. Reda                        Thoracic Surgery
Aru Reddy                                 Pediatric Specialist
L. Raymond Reynolds              Endocrinology and Metabolism
Julie Ribes                                Pathology
Scott A. Riley                            Hand Surgery
John J. Rinehart*                      Medical Oncology and Hematology
Kimberly Ringley                      Pediatrics
William C. Robertson, Jr.         Child Neurologist
David W. Rudy                         Clinical Pharmacology, Internal Medicine
Sarah S. Rugg                         Cardiovascular Disease
Sibu P. Saha                            Thoracic Surgery
Sheila P. Sanders                    Ophthalmology
B. Peter Sawaya                      Nephrology
Douglas J. Schneider               Pediatric Specialist
Jeffrey Bryan Selby                  Orthopaedic Surgery
Lori Shook                                Pediatric Specialist
Michael Sekela                         Thoracic Surgery
John Slevin                               Neurology
David A. Sloan                          Surgical Oncology
Charles D. Smith, Jr.                Neurology
Mikel D. Smith                          Cardiovascular Disease
Susan Smyth                            Cardiovascular Disease
Vincent L. Sorrell                     Cardiovascular Disease
William Henry St. Clair             Radiation Oncology
Carol Steltenkamp                   Pediatrics
Julia C. Stevens                       Pediatric Specialist
Stephen Strup                           Urology
Lisa R. Tannock                        Endocrinology and Metabolism
Vishwas R. Talwalkar               Pediatric Specialist
Alice C. Thornton                     Infectious Disease
Kathryn M. Thrailkill                  Pediatric Specialist
Phillip A. Tibbs                         Neurological Surgery
Dale E. Toney                          Internal Medicine
Fred Rand Ueland                    Obstetrics and Gynecology
Joseph Valentino                      Otolaryngology
Craig Van Horne                       Neurological Surgery
Woodford S. Van Meter            Ophthalmology
John R. van Nagell                    Obstetrics and Gynecology
Henry C. Vasconez                   Pediatric Specialist, Plastic Surgery
Lars M. Wagner                        Pediatric Specialist
Carmel Wallace                         Pediatrics
Gretchen Lois Wells                  Cardiovascular Disease
Thomas French Whayne, Jr.     Cardiovascular Disease
Michael L. Wittkamp                  Pediatric Specialist
Thomas L. Young                     Pediatrics
Khaled M. Ziada                       Cardiovascular Disease
Joseph B. Zwischenberger       Critical Care Medicine, Thoracic Surgery
   *recently retired