Hazard ARH, UK HealthCare Partner to Enhance Cardiovascular and Stroke Care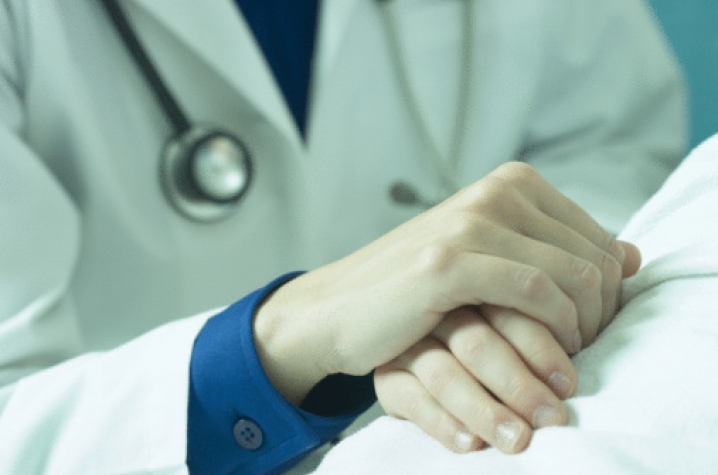 HAZARD, Ky. (June 24, 2011) -- The Hazard ARH Regional Medical Center and UK HealthCare announced today they are partnering to provide cardiothoracic (CT) surgery in Hazard and that the Hazard ARH Regional Medical Center will become the newest member of the UK Stroke Affiliate Network, a community-based stroke initiative providing the highest quality clinical and educational programs to hospital staff and the community.
UK HealthCare CT Surgery will be located inside the North Fork Valley Community Health Center at the Bailey-Stumbo Building. Dr. Edward Setser, recently appointed as a University of Kentucky faculty member in the Department of Surgery's Division of Cardiothoracic Surgery, will be seeing patients and performing cardiothoracic procedures including coronary revascularization and heart valve replacements, at the Hazard ARH Regional Medical Center.
"At UK HealthCare we have a mission and a responsibility to improve access to high-quality care for all Kentuckians," said Dr. Michael Karpf, UK executive vice president for health affairs.  "Thanks to partnerships with community health care providers such as the Hazard ARH Regional Medical Center, we are able to team up to make this a reality benefiting the people of Eastern Kentucky."
"The ARH mission is to improve the health and promote the well-being of all of the people in Central Appalachia in partnership with our communities," said Jerry W. Haynes, ARH President and CEO.  "This partnership with UK HealthCare will greatly enhance our ability to carry out our mission."
Dr. Setser specializes in vascular and cardiothoracic surgeries. He received his medical degree from East Carolina University in Greenville, N.C., and completed a general surgery residency at Eisenhower Army Medical Center in Fort Gordon, Ga. He completed a cardiothoracic surgery residency at Brooke Army Medical Center in Fort Sam Houston, Texas.
"We welcome Dr. Setser to our UK team and look forward to the collaboration with the Hazard ARH Regional Medical Center," said Dr. Joseph "Jay" Zwischenberger, chair of the department of surgery and director of the UK Transplant Center. "Not only will we be able to provide cardiothoracic procedures close to home for many patients, but all the advantages and expertise of our comprehensive academic medical center will be readily available when needed."
In addition to the CT surgery program, the Hazard ARH Regional Medical Center has become the newest member of the UK Stroke Care Affiliate Network. As part of the network, UK's Comprehensive Stroke Center partners with community and regional hospitals to develop community-based stroke programs for hospital staff and to community members.
"By educating members of the community and Emergency Medical Services personnel in the region, we work together to provide valuable information about recognizing the signs of stroke and the importance of early treatment," said Dr. Michael R. Dobbs, director of the UK Comprehensive Stroke Program and director of the UK Stroke Care Affiliate Network. "Our affiliate hospitals teach us about their communities and their patients. Meanwhile, we provide access to the resources and knowledge we have as an academic medical center."
When signing on to be a part of the UK Stroke Affiliate Network, a hospital agrees to maintain the capacity to serve as a first-line stroke treatment center.
"Many patients who go to their regional hospitals will still need to be referred to the UK Comprehensive Stroke Center- but the relationships built through the UK Stroke Affiliate Network mean patients will get optimal emergency care in their hometowns, and if they are transferred to UK Chandler Hospital we work as a team with their local physicians to ensure the patient receives the best treatment possible," said Dobbs.
The other hospital members of the Comprehensive Stroke Affiliate Network are Georgetown Community Hospital, Harrison Memorial Hospital, Pattie A. Clay Regional Medical Center, Rockcastle Regional Hospital and Respiratory Care Center, Lake Cumberland Regional Hospital, St. Claire Regional Medical Center, and the Norton Hospital System. 

Media Contacts:  Kristi Lopez, Director, UK Medical Center Public Relations,
(859) 806-0445 or kristi.lopez@uky.edu; and Melissa Cornett, ARH Communications,
(606) 487-7534 or mcornett@arh.org.