Integrative Approach to Chronic Pain Management Gives New Hope to Patients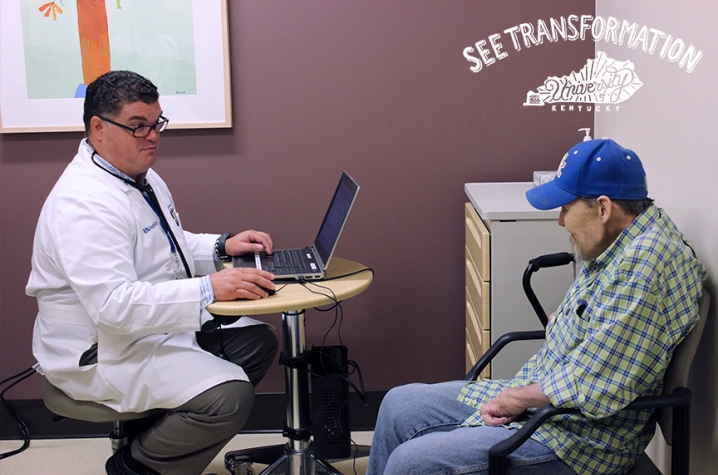 LEXINGTON, Ky. (Aug. 11, 2015) — The debilitating pain of tophaceous gout, a chronic form of arthritis, has shackled William Tincher from a decent quality of life since he was a young man.
Eager to serve his country, 18-year-old Tincher enlisted in the Marine Corps only to be sent home because of his chronic medical condition. After participating in Future Farmers of America as a teenager, Tincher bought a small farm in Carlisle, Kentucky, where he owned horses, cattle and chickens.
"I used to pick up a 100-pound sack of feed and bale of hay and off I'd go," Tincher said.
Eventually, the excruciating pain, manifested in the form of nodules on his hands and feet, prevented him from performing regular farm duties or working any job. He once enjoyed walking down to his fence line to watch the baby calves, but even walking short distances became unbearable. Today, with massive nodules on the bottom of his feet and swelling in his legs, Tincher can't wear shoes and rarely leaves his house.
As the pain intensified through the years, Tincher continued to receive higher doses of anti-inflammatories and opioids. Fifteen years ago, surgeons removed three-quarters of Tincher's stomach because of an ulcer attributed to years consuming high dosages of the drug. He's suffered from many other serious medical conditions, including blood clots, and had surgeries to replace his hip and remove cartilage in his knees.
Then, two years ago, Tincher met the "man who saved" his life. After seeing countless pain specialists through the years, Tincher was referred to Dr. Roberto Cardarelli, the chief of the Division of Family and Community Medicine at the University of Kentucky. While Cardarelli couldn't completely erase the pain of an incurable and late-stage disease, he knew of interventions to improve Tincher's quality of life that weren't limited to writing a prescription.   
"He is the only one who's ever sat down, looked me in the eye, and talked to me and helped me," Tincher said of Cardarelli.
Rather than examining a single organ or treating a definitive disease, Cardarelli focuses on addressing his patients' whole being, taking into account many environmental, physical and lifestyle factors influencing wellness. This holistic approach to managing pain relies on a team of multidisciplinary health professionals and involves adjunctive therapies, such as medical massage, behavioral medicine and physical therapy. Cardarelli puts his patients in control of their wellness decisions, allowing them to take the lead during conversations regarding their care. The integrative health care team supports patients suffering from chronic pain by helping them set realistic goals and providing both pharmacological and non-pharmacological interventions to optimize their function and comfort in daily life.
In addition to gout, Tincher suffered from a number of secondary health complications, including high blood pressure, kidney disease and a swelling in the legs caused by lymphedema. Cardarelli prescribed a regimen for Tincher accounting for all the complexities of his physical body, as well as mental and emotional state. He eliminated all medications for one month to delineate each of Tincher's symptoms and the trace the cause of those symptoms. Through this holistic wellness evaluation, Cardarelli discovered Tincher's blood pressure medication was causing inflammation exacerbating the pain from the gout. Instead of raising his dosage of opioids to fight the pain, Cardarelli included a non-opioid medication to relieve the inflammation caused by the other drug.
"Having everything balanced and controlled contributes to him and his overall wellbeing, but also helps him feel better knowing that his physical health is balanced," Cardarelli said. "We are trying to take care of his whole being."  
As part of his treatment philosophy, Cardarelli strives to keep care as close to home for his patients. Cardarelli and his team arranged for a local home health service to visit Tincher on a daily basis and provide physical therapy services. Cardarelli also found a health care provider locally to change bandages on Tincher's legs. Tincher performs exercises in his home and keeps a journal of all the activities he completes during a day. Working with Cardarelli and the entire health team, Tincher has gained a renewed sense of hope.  
"I told the doc, they aren't going to close the lid on me because of you," Tincher said.
Cardarelli and Dr. William Elder, a faculty member and behaviorial specialist in Family and Community Medicine, have worked with colleagues around the region to develop a training program based on the pain management principles effective in helping Tincher. The Central Appalachia Inter-Professional Pain Education Collaborative (CAIPEC) provides educational resources centered on chronic pain management for heath providers in the Appalachian region. Divided into several online modules, the program addresses important pain management questions, including when to prescribe opioids, how to reduce the risk of opioid abuse, when to incorporate adjunctive therapies and more.
Funded by an unrestricted educational grant from Pfizer, CAIPEC is a collaborative effort uniting the University of Kentucky and the Kentucky Ambulatory Network, West Virginia University, Kentucky All Schedule Prescriptions Electronic Reporting Agency (KASPER), West Virginia RxDataTrack Controlled Substance Automated Prescription Program (CSAPP) prescription monitoring agencies, Pikeville Kentucky College of Osteopathic Medicine, Kentucky and West Virginia Area Health Education Centers (AHECs), and various Kentucky and West Virigina professional organizations.
CAIPEC is offered through the University of Kentucky's CECentral website (www.cecentral.com/CAIPEC), which provides free continuing education for health professionals. Emphasizing the interdisciplinary team approach, the trainings are targeted to a variety of professionals including doctors, nurses, nurse practitioners, physicians assistants, behavioral scientists, massage therapists, and physical therapists. The modules address topics such as managing the risks of opioid addiction, psychosocial factors influencing chronic pain, involving the patient in care decisions, and applying the team-based approach to clinical workflow. The program highlights the benefits of non-pharmacologic adjunctive therapies, which are scientifically proven to help mitigate pain in patients.
Cardarelli has led the implementation and distribution of the toolkit, hosting live roundtable sessions and talks on chronic pain management in both Kentucky and West Virginia. Since the program launched in February, more than 350 health care providers have participated in conference trainings. The online modules are available to any health care professional around the nation.
According to the Institute of Medicine, chronic pain affects 100 million Americans and costs the U.S. government more than $635 billion annually. More Americans suffer from chronic pain than diabetes, heart disease and cancer combined.
Tincher attests to the effectiveness of the integrative approach to pain management implemented by Cardarelli and his colleagues. For the first time in years, he's regained his strength and is able to do 25 pull-ups. He said he feels like "Hulk Hogan." He acknowledges some level of pain from his disease will always be with him, but he's relieved it's under control with the help of Cardarelli and his medical team.  
"I'm not healthy, but I'm in a whole lot better shape than I was," he said.
MEDIA CONTACT: Elizabeth Adams, elizabethadams@uky.edu