Cancer Survivor Named 2012 Children's Miracle Network Hospitals Kentucky Champion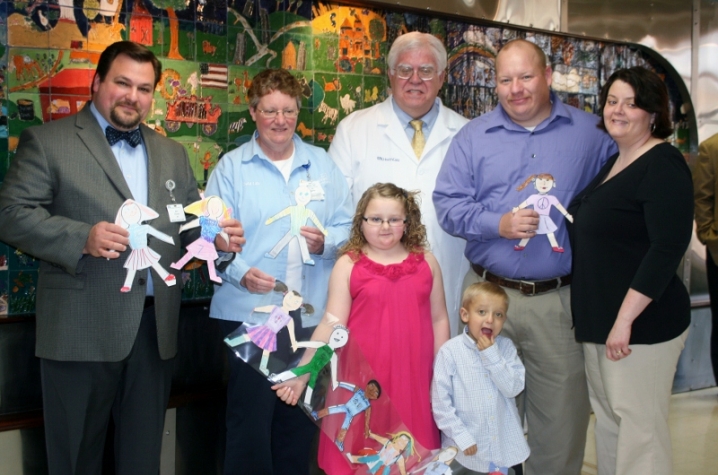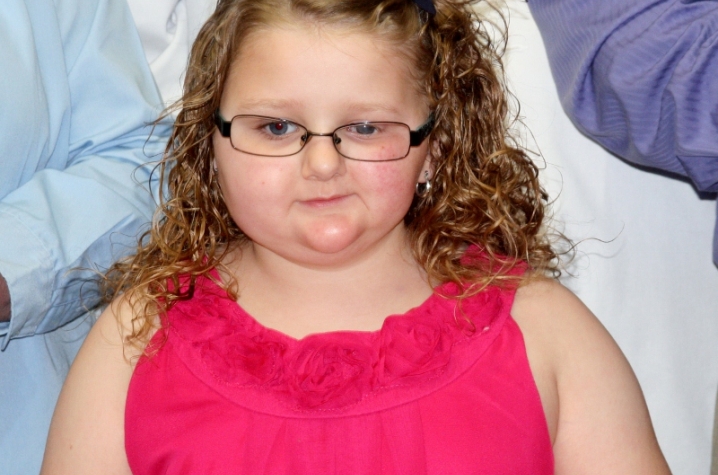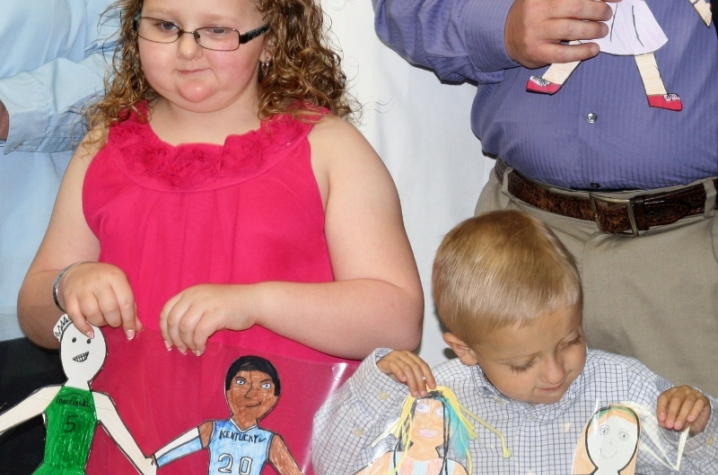 LEXINGTON, Ky. (April 16, 2012) -- In her pink dress and matching pink painted fingernails, 8-year-old Sydney Dover darts around the Kentucky Children's Hospital showing her younger brother Noah the monkeys in the kinetic sculpture and a chain of paper dolls decorated by schoolchildren in her honor.
She also stops to give a quick hug to Dr. John D' Orazio, pediatric hematologist and oncologist at Kentucky Children's Hospital and Markey Cancer Center.
A picture of health today, at age 2, Sydney was diagnosed with a type of cancer called rhabdomyosarcoma. She underwent six weeks of radiation and 42 weeks of chemotherapy. During treatment she contracted two very serious blood infections requiring isolation. Her last treatment was in November of 2006.
Every year, the Children's Miracle Network Hospitals Champions program identifies a child with a remarkable medical story from each state.  There is no question that for her family and friends, her doctors and her health care team, Sydney more than meets the qualifications of a champion and a miracle.
On Friday, Sydney, daughter of Robert and Melissa Dover of Eastview in Hardin County, Ky., was officially announced as the 2012 Children's Miracle Network Hospitals Kentucky Champion. As Kentucky's representative, Sydney and her family will travel to Orlando and Washington D.C. in September to meet with delegates and media to highlight the vital work taking place at children's hospitals.
It will be a big trip for a second grader, but Sydney has already experienced a great deal in her young life.
Three weeks after her second birthday, her mother discovered a dime-size place in Sydney's mouth along her gum. In seven days, and after the initial biopsy, the lump had turned into a mass about half the size of a softball on her left cheek. Eight days later she was diagnosed with rhabdomyosarcoma and the stage 4 cancer had spread and made a secondary tumor on the lining of her right lung.
As she inspects the paper dolls that schoolchildren have decorated and mailed to Kentucky Children's Hospital to be displayed in her honor as Kentucky's representative, it is amazing to think of how far she has come. Today, Sydney is cancer free but is not free of some of the "scars" from her battle with cancer. She has nerve damage to the side of her face, her vision was compromised and she has a speech articulation disorder.
She knows that she has challenges other children do not have. But according to Sydney, "this is the way God made me." She is incredibly confident and happy despite her challenges, said her mother, Melissa. "She is my little hero and in many ways I look up to her."
Media Contact: Kristi Lopez, kristi.lopez@uky.edu or (859) 323-6363