Art Therapy Brings Fun, Stress Relief to Markey Patients and Families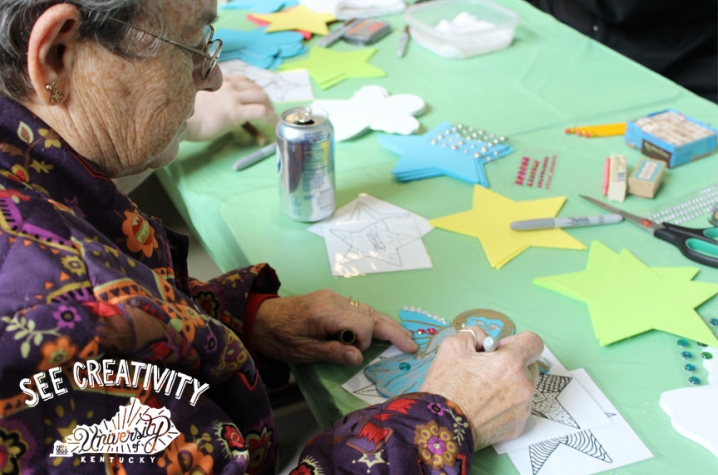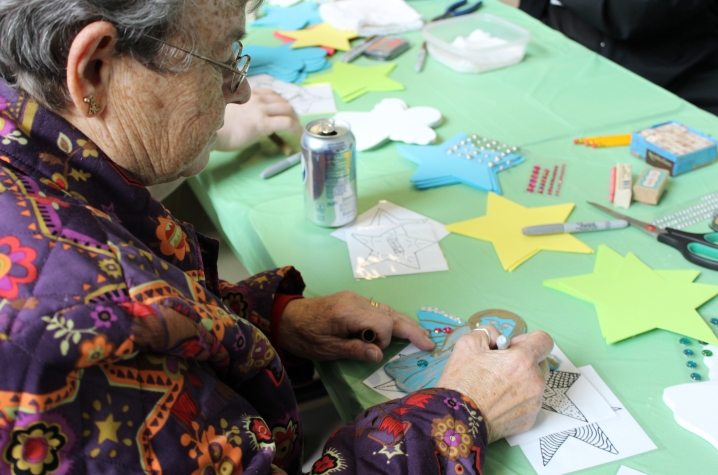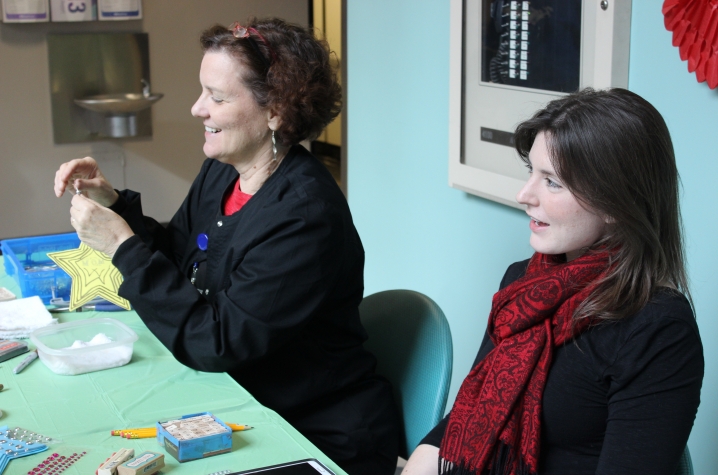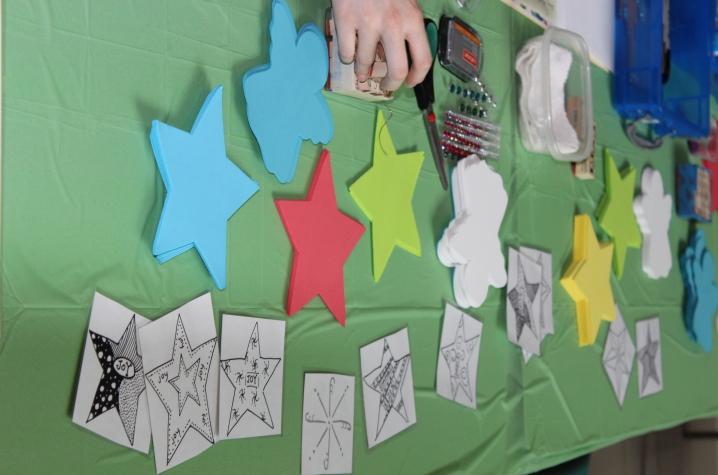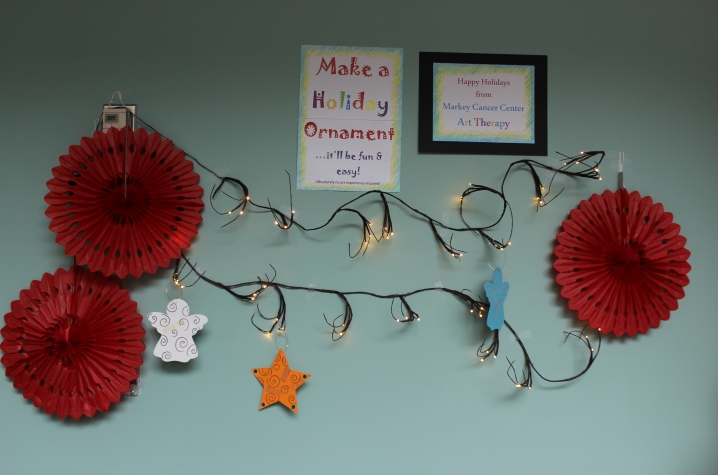 Video by UK Public Relations.
LEXINGTON, Ky. (Dec. 10, 2014) – With a table stacked full of pre-cut foam patterns, markers, stamps, and various creative accoutrements, University of Kentucky Markey Cancer Center Art Therapist Fran Belvin is determined to bring a little holiday cheer to the patients and visitors coming through Markey's outpatient clinics.
As patients and visitors walk past her table, many stop to check it out, hesitant. Belvin and her student assistant, Kalin Wilson, welcome them with broad smiles and a simple question: "Would you like to decorate an ornament today?"
Those that say yes sit down and begin to work. Once their creative project is under way, many of the participants begin to tell Belvin about themselves: the treatment they or their loved ones are going through, their struggles, their backstories.
As Belvin notes, there's something about sitting down to work on a creative project that helps people open up and share their feelings. She sees similar reactions from the chemotherapy patients she works with on a daily basis.
"Art therapy is a way for patients to express themselves… a way to explore fears, hopes, and talk about their cancer journey," Belvin said. "Making art and talking about it feels a little less formal, less threatening than if a counselor were to sit down and say, 'Tell me how you're feeling today.'"
Belvin, who began working for Markey as an art therapist in June, spends most of her time visiting patients one-on-on in the chemotherapy suite – or "curtain-to-curtain," as she describes it.
"In addition to helping patients process the emotional effects of their illness, it's also a way to relax and reduce stress," Belvin said. "Chemotherapy can be uncomfortable, it can be boring, and it can be frightening – especially at first. Getting engaged in a creative activity is not only a fun distraction, it puts people in touch with their strengths and increases their positive feelings. In fact, research has shown that art making significantly reduces the stress hormones in the brain and elevates mood."
The ornament table is the second "art event" she's held at the cancer center. Earlier this year, she hosted a "Healing Symbol" table, where she invited participants to create their own personal symbol that represented healing.
Because art therapy is a new addition to the UK Markey Cancer Center's complementary therapy services, Belvin hopes her art events will help spread the word about the services she offers, not just to patients and visitors, but also to healthcare providers who may like to refer their patients to her. Research shows that "creative arts" therapies – including music, art, dance, drama, and writing – significantly reduces anxiety, depression, and pain and improved the quality of life in cancer patients.
Ultimately, Belvin's current ornament table is meant to bring a little levity and stress relief to those passing through the Markey Cancer Center's doors.
"I hope to offer a little bit of brightness while you're going to the doctor's office, where you're not expecting to have a fun, relaxing thing to do," Belvin said. "So I'm hoping this provides a way for people to kind of relax and have a little fun in the middle of their day."
Belvin is hosting two more art therapy ornament-making tables at Markey, both in the first floor lobby of the Whitney-Hendrickson Building. The table will be up again 1-2:30 p.m. today and next Wednesday, Dec. 17, 1-2:30 p.m. Patients, visitors and staff are all welcome to attend and participate.
MEDIA CONTACT: Allison Perry (859) 323-2399 or allison.perry@uky.edu