Coker Receives Visionary Voice Award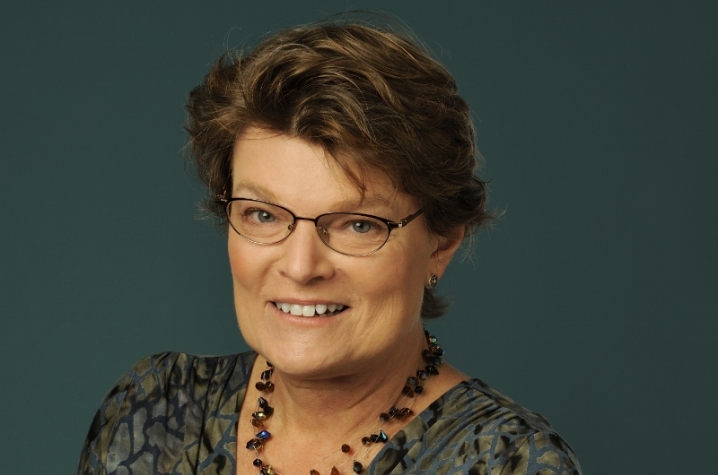 LEXINGTON, Ky. (March 3, 2014) -- Ann L. Coker, professor at the University of Kentucky College of Public Health and College of Medicine, is the recipient of a Visionary Voice Award, a national award that recognizes the creativity and hard work of individuals who have demonstrated outstanding commitment to end sexual violence. The award is sponsored by the National Sexual Violence Resource Center.
The award was presented to Coker by the Kentucky Association of Sexual Assault Programs (KASAP) at their Sexual Assault Awareness Month Awards Dinner on Feb. 26, 2014. The event followed a ceremony at the Kentucky State Capitol proclaiming March as Sexual Assault Awareness Month.
Coker says that she shares KASAP's vision that preventing sexual violence is possible and that public health approaches can play an important role.
"We are evaluating the first statewide, randomized intervention trial in 26 high schools across Kentucky," she said. "The intervention, Green Dot, is a bystander–based program to increase awareness of sexual violence and dating violence and empower high school students to safely and effectively intervene with their peers to change attitudes and behaviors and thereby reduce risk of violence. I am honored to have the opportunity to be a partner in this important research. Working on this project clarifies the importance of rigorous public health training and matched with the opportunity to make a difference in the lives of others."
KASAP Executive Director Eileen Recktenwald says that it's becoming easier for people to talk about sexual violence, and that is making a difference. "It's gotten a lot easier to talk about, because – from the White House down – we are seeing a straightforward response to the problem," she said.
Coker joined UK in 2007, when she became the inaugural Verizon Wireless Endowed Chair in the UK Center for Research on Violence Against Women. She is nationally recognized as an expert on the effects partner violence on women's health. Coker has worked extensively in the field of women's health, particularly in areas of intimate partner violence, interventions to reduce the risk of violence that impact both men and women's health, women's chronic diseases, and reproductive and sexual health. Among other projects, she is currently investigating whether violence against women results in disparities in cancer care for women. 
The Kentucky Association of Sexual Assault Programs is the coalition of Kentucky's 13 Regional Rape Crisis Centers. The representatives of each of the 13 Rape Crisis Centers make up KASAP's board of directors. Since it was established in 1990, KASAP has served as a central point of contact on sexual violence issues in Kentucky. KASAP provides technical assistance to member programs and other professionals, advocates for improvements in public policy, fosters coalition building among members and those with common concerns, and promotes prevention and public awareness regarding sexual violence and related issues. 
MEDIA CONTACT: Mallory Powell, mallory.powell@uky.edu