Markey is First in Kentucky to use Tomosynthesis for Breast Cancer Detection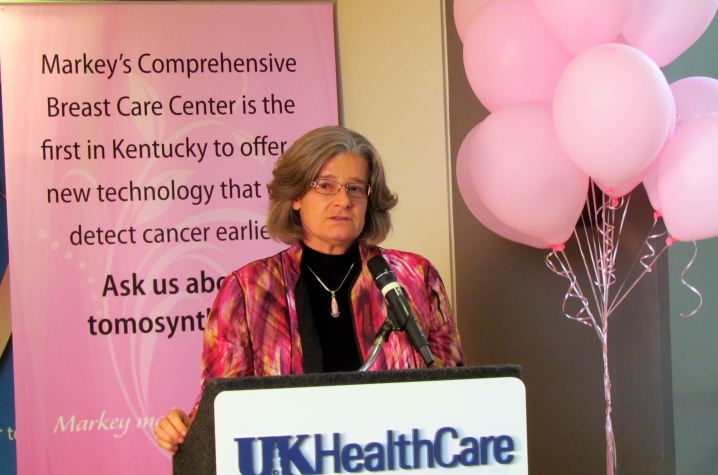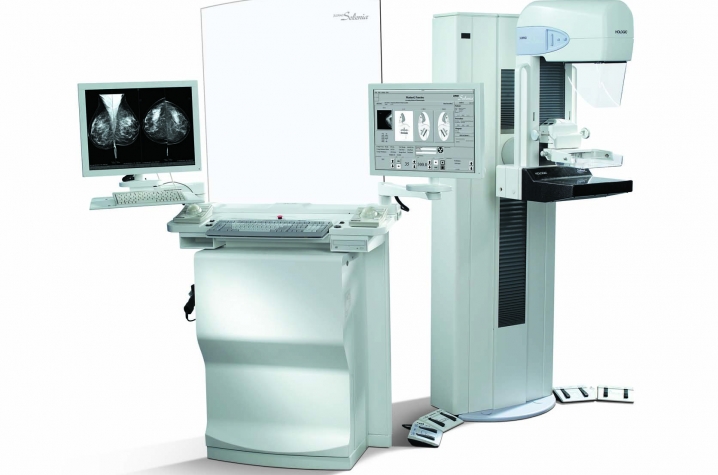 LEXINGTON, Ky. (Dec. 19, 2011) — The Comprehensive Breast Care Center at the University of Kentucky Markey Cancer Center will begin offering state-of-the-art digital tomosynthesis for breast cancer screening. UK will be the only medical center in the state with this new technology.
Tomosynthesis is 3-D technology that allows radiologists to see individual breast structures without the confusion of overlapping tissues. In addition to providing the traditional top and side images of the breasts taken during a regular mammogram, tomosynthesis also allows the technician to take multiple X-ray pictures of each breast from many angles. A computer then combines all this information into one 3-D image.
Because a scan with tomosynthesis is more comprehensive than a regular mammogram, it is able to find much smaller and earlier-stage cancers. A tomosynthesis exam will feel no different from a usual mammogram, except that it takes just four seconds longer.
The technology will be especially useful for women with dense or fatty breast tissue. On a traditional mammogram, dense tissue can sometimes be mistaken for cancer. More than 50 percent of women under the age of 50 and more than 30 percent of women over 50 have dense breast tissue.
Dr. Margaret Szabunio, associate medical director of the Comprehensive Breast Care Center (CBCC) and division chief of women's radiology at UK HealthCare, specializes in using tomosynthesis for the early detection of breast cancer.
"Tomosynthesis produces images in tiny slices that can be reconstructed into a 3-D image of the tissue, similar to way a CT scanner works," Szabunio said. "It allows us to look at breast tissue in a way we've never been able to before."
Dr. Mark Evers, director of the UK Markey Cancer Center, says the new technology, along with Szabunio's expertise, will have a significant impact on patients.   
"Dr. Szabunio's experience with tomosynthesis digital breast imaging will be of great benefit to our patients when it comes to detecting breast cancer in its early stages," Evers said. "The earlier a cancer is detected, the higher a patient's chances are for a full recovery. This technology has the potential to save many, many lives."
The CBCC plans to begin using tomosynthesis on patients beginning in February. Szabunio says her team will initially implement the technology for diagnostic mammograms, meaning that women who have had an abnormality on a regular mammogram will come in for tomosynthesis as their follow-up. The team will then begin using tomosynthesis as a regular screening tool for women who are at a high risk for breast cancer or who have dense breast tissue.
MEDIA CONTACT: Allison Perry, (859) 323-2399 or allison.perry@uky.edu.