Medicine, Pharmacy Students Learn Teamwork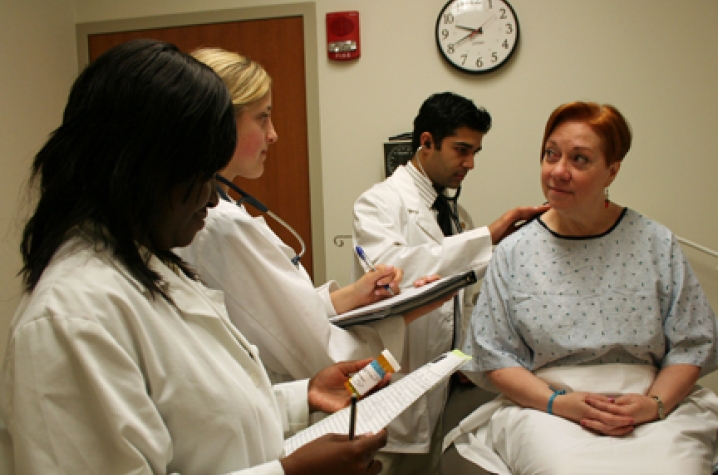 LEXINGTON, Ky. (April 5, 2010) — Every day in hospitals and patient care facilities, physicians, nurses, pharmacists and other health professionals work as teams to treat their patients. However, most of them had little or no experience interacting as part of an interdisciplinary team until they were already on the job.
Today, students at the University of Kentucky colleges of medicine and pharmacy are learning to work as team members in a unique interprofessional education experience that is now a required component of their curriculum.
"Although research has shown that interdisciplinary teams are the safest way to provide patient care, health professions students often are educated in silos and do not have the opportunity to understand the roles and expertise of other professionals until they are out in a practice environment," said Trish Freeman, clinical associate professor in the Department of Pharmacy Practice and Science at the UK College of Pharmacy. "Ultimately, we hope this experience helps students develop team communication skills and recognize the value of providing team-based care."
In February, second-year medical students and third-year pharmacy students were divided into 60 groups with members from each discipline.  Then, in March, students participated in two simulated patient sessions where they provided care for a "patient" who was being admitted to the hospital. The sessions included interviewing and conducting a focused physical assessment and medication reconciliation. Each team was then charged with determining the patient's diagnosis and a treatment plan.  
"This activity provides students the opportunity to practice their assessment and interview skills in a structured environment," said Mikael Jones, Department of Pharmacy Practice and Science at the UK College of Pharmacy.  In addition, faculty can observe team dynamics and effectiveness, and provide feedback on improvement.
For Joshua McAfee, a second-year medical student from Yorktown, Va., and Dominque Comer, a third-year pharmacy student from Lexington, it was the first time they had worked with students from other areas of UK's academic medical campus in a formal patient care learning activity.
 "Before I came to medical school I thought once you started practicing medicine you were expected to know everything. But now I see that there is no way for anyone to do that, and it is better for you and the patient to have other health professionals," McAfee said.
Comer said the activity gave her added insight into how her future role as a pharmacist affects the patient's overall care. 
"It was a great experience and I think everyone learned about each other, what they bring to the team as far as strengths, and how we need to communicate and interact effectively," she said.
The simulated patient session was the first full-scale interprofessional education experience offered to students at UK, but faculty plan for it to become a traditional part of the curriculum, said Donna Weber, assistant professor in the Department of Molecular and Biomedical Pharmacology at the UK College of Medicine.
"It is our hope in the future to add other patient care providers to the team, such as students from nursing, nutrition, social work, dentistry, physical therapy and physician assistant programs at the medical center," she said.  "UK is very fortunate to have all of our health professions programs in one place on campus – another feature that makes us unique and that makes this training program successful."