New Lung Nodule Clinic Helps Patients Navigate Tough Situations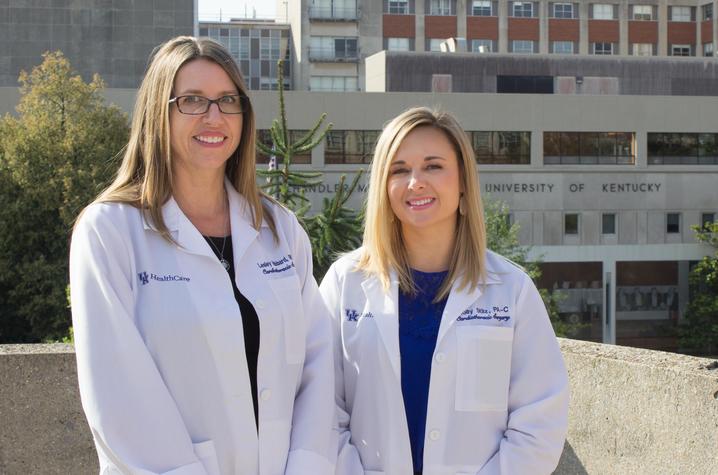 LEXINGTON, Ky. (Aug. 16, 2019) — When Nick Nolen went to his urologist for a routine follow-up appointment, he mentioned he had a pain in his side. A series of CT scans revealed an unwelcome sight – nodules on his lungs. Both his urologist and his primary care provider didn't think the nodules were cancer, so they advised him to come back in a few months for another scan.
A survivor of bladder cancer, Nick knows early detection makes a big difference in cancer survival rates. He made an appointment at UK HealthCare's Lung Nodule Clinic, and quickly got the answers he needed.
"My wife and I wanted to be sure that waiting was the best thing to do, so we researched and figured out that UK is a National Cancer Institute, the only one in the state," said Nick. "We requested an appointment and had my records sent in. We wanted to establish care there in case the nodules do end up being cancer."
"Most lung nodules are incidental findings, like Nick's," said Holly Stilz, physician assistant and the clinic's Lung Nodule Coordinator. "People are evaluated by a medical provider for a symptom that may or may not be related, and a nodule is found on some type of imaging." 
Unlike Nick, many people with incidental findings don't always receive the follow-up needed for their nodules. Kentucky has the second-highest rate of lung cancer in the country, but when detected at an early stage, such as an incidental finding or through the Lung Cancer Screening program, lung cancer is very treatable.
"Before our lung nodule program existed, if a patient was found to have a lung nodule in the emergency room, it was listed on the patient's discharge summary. From there, they were advised to follow up with their primary care provider or a pulmonologist. Patients are in a stressful situation when they're in the emergency room; they may miss the diagnosis of a lung nodule, not understand what a lung nodule is, or they may not have a medical provider to follow up with."
And from there, where do patients go? Do they make an appointment with a pulmonologist, thoracic surgeon or oncologist?  For many patients, that means taking time off work and traveling some distance to see multiple specialists for the same diagnosis. The Comprehensive Lung Nodule Clinic was created by Stilz to streamline the workup of an incidental lung nodule finding, and is one of the first of its kind in Kentucky. The program is facilitated by Stilz and Nurse Navigator Lesley Hubbard. They work closely with emergency department providers and radiologists throughout UK Healthcare to flag these incidental findings and work with patients on the next step. Stilz and Hubbard also serve as liaisons to other medical providers involved in the patients care. 
When a patient is referred, Hubbard helps patients navigate the health care system, schedule appointments and is the contact for patients and referring providers when they have questions. During the office visit, Stilz will consult with the patients in a one-on-one evidence-based clinic visit, review records, imaging and offer long-term monitoring and scheduling of follow-ups. 
"An important part is the tracking, so no one gets lost in the shuffle," said Hubbard. "For example, someone gets in a car accident, they come in and the x-ray shows they have a lung nodule, our goal is to intervene so they don't come back four years later and find out they have lung cancer. We also ensure nobody is lost to follow up."
"We were very impressed with Ms. Stilz," said Nick. "She was extremely thorough and knowledgeable. She spent a lot of time discussing my history, family history and environmental exposure at work."
Stilz and Hubbard work quickly to ensure patients get a prompt evaluation and coordinate any additional diagnostic tests, imaging and referrals. Patients can be seen by them in as little as one week. The clinic also works closely with the multidisciplinary team including thoracic surgeons, pulmonologists, medical and radiation oncologists, radiologists and pathologists. Social workers and case managers are also available to help patients with transportation and other resources. And most importantly, Stilz and Hubbard are available every step of the way. 
"We're talking about a potential for cancer, so building a good relationship and having good communication is very important. The last thing patients need to worry about is how to navigate the system or if they're receiving the appropriate care." said Stilz. 
For Nick, the clinic was the right first step. His nodules are being monitored for growth, and he knows Stilz and Hubbard are on hand to answer any questions he might have along the way.
"We left feeling like we were in great hands and that everything that should be done was being done," said Nick. "We had definitely made the right decision in going to the lung module clinic."