New UK Chandler Emergency Department Opens July 14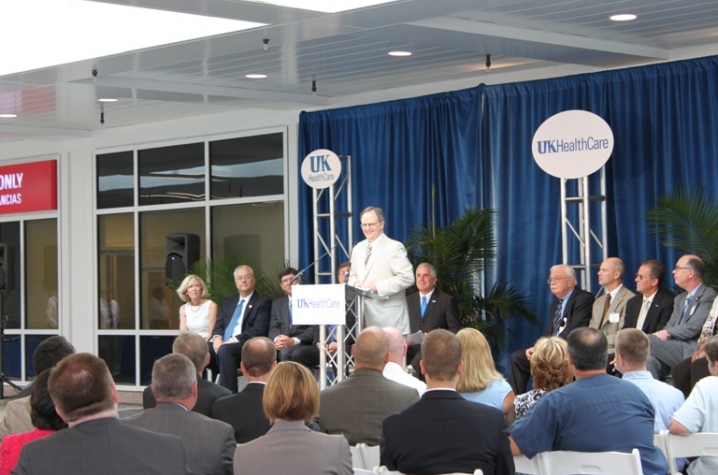 LEXINGTON, Ky. (July 12, 2010) − A ceremony celebrating the completion of the new emergency department at the University of Kentucky Chandler Hospital — Central and Eastern Kentucky's only Level 1 Trauma Center — was held today.
The new emergency department, which is twice as large as the previous facility (or roughly equivalent in size to a football field), opens to patients at 5 a.m. on July 14.
Congressman Ben Chandler, of Versailles, Lexington Mayor Jim Newberry and Kentucky State Senate President David Williams were among the local and national leaders who joined UK HealthCare administrators and patient-care providers in celebrating the new approximately 40,000-square-foot facility. In addition to being much larger, the new emergency department has been equipped with state-of-the art monitoring and life-support systems.
 
"There is not a more sophisticated facility in the world than our new emergency department at UK," said Dr. Michael Karpf, UK's executive vice president for health affairs. "In the event of a large-scale emergency, the UK Chandler Emergency Department and its highly trained professionals will prove invaluable for our entire community and this region."
 
The facility includes three centers: the Makenna David Pediatric Emergency Center, with a separate entrance, its own registration and waiting areas, and special treatment facilities for young patients; the Level 1 Trauma Center; and an Adult Emergency Center that includes Express Care, an area designed for patients with less serious needs including a "chair-centric" room where patients are quickly evaluated and treated while they rest in comfortable recliners.
UK President Lee T. Todd, Jr. heralded the completion of the new emergency department as an important marker of progress in the university's mission to serve the Commonwealth.     

"We should all be very proud, and find great peace of mind, in having one of the world's most advanced emergency care centers here in the Bluegrass," Todd said. "We see this as a milestone, as our new hospital takes shape and we continue to advance health care for Kentucky and beyond."
 
The emergency department includes the latest technological advances, including special wayfinding touch screen kiosks to help patients get where they need to go, electronic documentation of high-risk cases, computerized order entry, Wi-Fi coverage in waiting areas, and wireless and mobile x-ray and endoscopy carts to speed delivery of care to patients. In addition, the department incorporates the "Quiet ED" concept which reduces overhead announcements by using specialized communication devices.
 
"My family is very pleased to have our name associated with a hospital that provides the highest level of patient care to past, present and future generations of citizens of the Commonwealth," Rep. Ben Chandler said.  The hospital is named for Chandler's grandfather, Albert Benjamin "Happy" Chandler, Sr., who twice served as Kentucky's governor and also represented the Commonwealth as a U.S. senator.
 
"This is an important milestone for the university and UK HealthCare as we move toward Top 20 status," said Barbara Young, UK board of trustees member and chair of the University Health Care Committee. "It also provides an excellent working environment for our already high-caliber health professionals in the UK Emergency Department."
 
The emergency department is part of the first phase of UK HealthCare's $760 million expansion project. In 2011, the first two floors of a new 12-story patient care facility also will be completed.
 
"Everyone hopes they never need high-level trauma care and that a mass casualty situation will never occur in Lexington, but we are reassured in knowing that if the unexpected happens, our community is equipped and ready to handle any emergency situation because of the UK Chandler Emergency Department," said Lexington Mayor Jim Newberry. "Furthermore, this new facility will only enhance Lexington's growing reputation as a national center for quality health care."  
 
For more information about the UK Chandler Emergency Department, please go to http://www.ukhealthcare.uky.edu/new/ED/index.asp.