Newly Renovated Radiation Medicine Expansion at Markey Now Open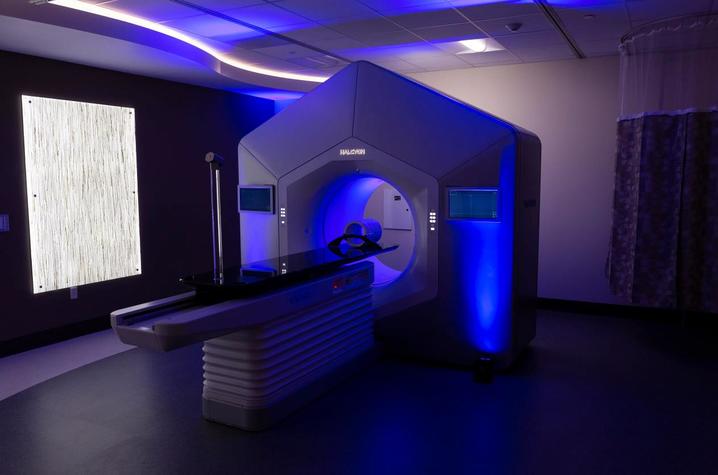 LEXINGTON, Ky. (Nov. 15, 2019) – The University of Kentucky Markey Cancer Center's Department of Radiation Medicine recently completed a major renovation, including the installation of new cutting-edge technology.
The renovation includes a new Halcyon treatment system (the latest Varian linear accelerator platform), computerized tomography scanning on rails integrated into a new centrally located brachytherapy suite, expanded conference room, and an expansion/redesign of the reception area.
The Halcyon treatment system is designed to deliver precise image-guided, intensity-modulated radiation therapy up to four times faster than standard technology. The Halcyon system is able to  acquire images to confirm treatment accuracy in less than 15 seconds. Treatment can be administered in about two minutes, minimizing the time the patient is on the table and optimizing the delivery of radiation by allowing for less motion and greater accuracy.
Brachytherapy is a type of internal radiation treatment in which radiation sources, either permanent or removable, are placed directly into or next to the tumor site. Brachytherapy only treats the specific part of the body where the tumor is located. It is often used to treat gynecologic, prostate, breast and eye cancers.
Centrally locating the brachytherapy suite minimizes patient travel in the hospital and creates a more efficient patient flow, decreasing transport time and increasing patient privacy.  The CT-on-rails allows immediate imaging to assess each implant and further improve accuracy.
The renovation reflects the commitment of UK HealthCare to provide the most advanced treatments for patients right here in Kentucky, without the need to cross state lines to receive the best care, says Dr. Marc Randall, radiation oncologist and chair of the Department of Radiation Medicine at UK HealthCare.
"The technology that we have installed and are now using allows us to continue to provide the most cutting-edge, sophisticated treatment virtually anywhere, now and into the foreseeable future," said Randall. "Whether we are delivering radiation therapy from the outside using the Halcyon linear accelerator, or from the inside, taking advantage of the image-guided capabilities of the integrated brachytherapy suite, we will take advantage of capabilities not available anywhere else in Kentucky, all under the experienced and talented direction of a phenomenal team of doctors, therapists, dosimetrists, nurses, and others."