Owensboro Health Joins UK Markey Research Network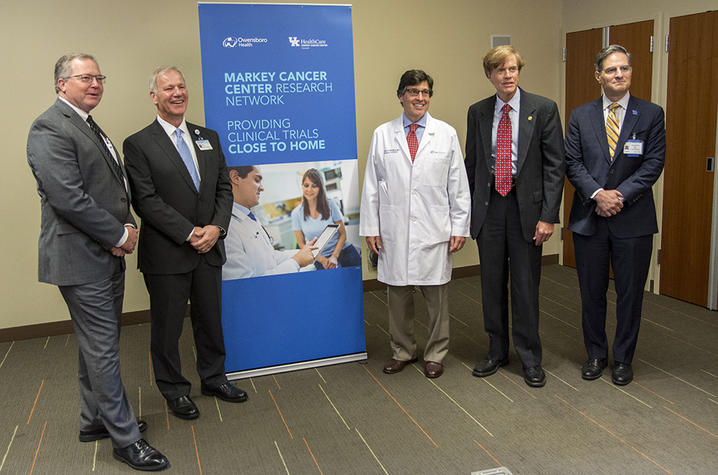 LEXINGTON, Ky. (July 20, 2017) – Owensboro Health has joined the University of Kentucky Markey Cancer Center Research Network (MCCRN).
With this new relationship, patients in Western Kentucky and Southern Indiana will have easier access to innovative clinical research studies. Areas of research will include epidemiology, prevention and early detection of cancer. Markey Cancer Center is a National Cancer Institute-designated cancer center, which will open up NCI-led trials in addition to MCCRN trials.
"Owensboro Health is proud to join the Markey Cancer Center Research Network, which is a distinguished and recognized name in cancer care and clinical research," said Owensboro Health President and CEO Greg Strahan. "Owensboro Health exists to heal the sick and to improve the health of the communities we serve, and this partnership is a demonstration of our commitment to both parts of that mission."
Owensboro Health was invited to participate in the Markey Research Network based on performance and achievements. Owensboro Health's Mitchell Memorial Cancer Center serves the health system's coverage area, a population of nearly 400,000 people across 14 counties in Western Kentucky and Southern Indiana. More than 1,000 patients are treated at the center annually.
"By becoming a member of the Markey Research Network, Owensboro Health is showing a commitment to helping us conquer cancer in the Commonwealth," said Dr. Mark Evers, director of the UK Markey Cancer Center. "Clinical trials represent the latest, best treatment options for most patients, and being able to participate in major national and regional clinical trials right here in Owensboro means that patients are able to stay close to their own support systems at home and under the direct care of their doctors here."
Mitchell Memorial Cancer Center also holds multiple accreditations and recognitions. These include accreditation from the American College of Surgeons Commission on Cancer and the CoC's gold award, the highest recognition that body offers. Mitchell Memorial Cancer Center is also accredited by the National Accreditation Program for Breast Centers, the American College of Radiology and is an ACR-designated lung cancer screening center.
Clinical trials are key to developing new methods to prevent, detect and treat cancer, and most treatments used today are the results of previous clinical studies. These may include studies in which patients who need cancer treatment receive their therapy under the observation of specially trained cancer doctors and staff. Patients who volunteer for cancer treatment studies will either receive standard therapy or a new treatment that represents the researchers' best new ideas for how to improve cancer care.
"Cancer care is constantly improving, due in part to the groundbreaking work being done in clinical research," said Dr. Tim Mullett, medical director of the UK Markey Cancer Center Research Network. "Our state has some of the worst cancer incidence and survival rates in the entire country, and we at Markey have an obligation to address this devastating disease. By increasing access to many of our current clinical trials through the Markey Research Network, we have an opportunity to make real progress in improving cancer statistics in Kentucky."
The portfolio of available clinical research studies is targeted, with clinical trials in the prevention, early detection and treatment of cancers with the highest incidence and mortality in Kentucky. These include lung, colorectal and cervical cancers. Owensboro Health is now one of six research sites in the UK MCCRN, and the first site in western Kentucky. The UK MCCRN now includes the following sites:
Hardin Memorial Hospital, Elizabethtown
King's Daughters Medical Center, Ashland
Owensboro Health
St. Claire Regional Medical Center, Morehead
St. Mary's Regional Cancer Center, Huntington, West Virginia
Tri-State Regional Cancer Center, Ashland