Sanders-Brown Research Presentation Garners Hirano Prize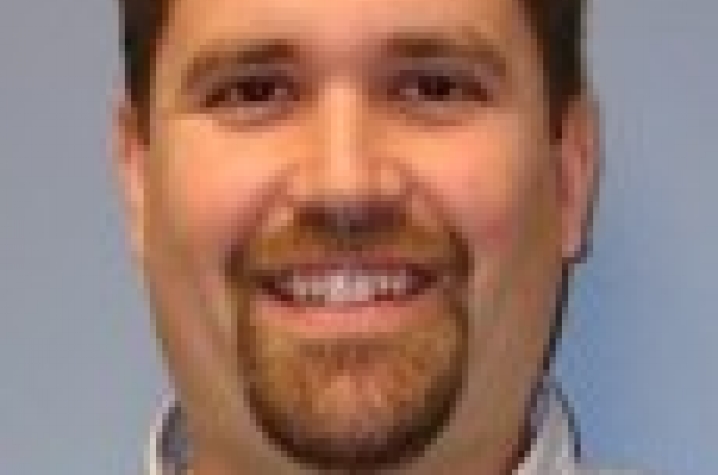 LEXINGTON, Ky. (July 22, 2014) — Dr. Peter T. Nelson of the Sanders-Brown Center on Aging (SBCoA) at the University of Kentucky, and David Fardo of UK's Department of Biostatistics, have been awarded the 2014 Asao Hirano Prize from the American Association of Neuropathologists (AANP) for the best paper presented on neurodegenerative diseases at its annual meeting in Portland, Oregon, last month.
The team's research, titled "Hippocampal Sclerosis of Aging (HS-A): Connecting Genomics and Other Risk Factor Data," compared 363 persons with autopsy-proven HS-A to a control group of 2,303 other individuals in an attempt to identify genetic predisposition to HS-A in what's called a genome-wide association study (GWAS).
GWA studies are a relatively new way to explore the linkage between any disease and the genetic factors that may contribute to them. Using the DNA of similar people with the target disease and without, millions of genetic variants are read and analyzed in an attempt to mark a region of the human genome that influences the risk of the target disease. In contrast to methods that specifically test one or a few genetic regions, the GWA studies investigate the entire genome.
Nelson and Fardo found that small changes in the ABCC9 gene — also known as Sulfonylurea Receptor 2 — strongly paralleled the incidence of HS-A.  Further statistical analysis indicated a link between the use of sulfonylurea, a medication commonly used to treat diabetes, and an increased risk for HS-A.  
"GWA studies require a lot of statistical firepower to tease out subtle relationships between gene mutations and disease, and Dave's expertise was essential to the project," Nelson said.
"While certainly there's a lot more work to be done to confirm the drug-disease interaction, this study nonetheless describes a novel dementia risk factor."
Hippocampal Sclerosis of Aging (HS-A) is a condition that affects up to 15 percent of individuals over age 85.  Its symptoms are so similar to those of Alzheimer's disease that patients are often misdiagnosed with the latter.  Currently, the only way to confirm a diagnosis of HS-A is by autopsy.
The Hirano Prize is a fitting acknowledgement of Sanders-Brown's research expertise in all areas of neurodegenerative disease, according to Dr. Linda Van Eldik, SBCoA director.
"When people think of Sanders-Brown, they think of Alzheimer's disease," Van Eldik said. "But we have people like Pete whose research is making a tangible impact on many other neurodegenerative diseases, including Parkinson's, HS-A, stroke and other dementias. We're delighted that Pete and Dave have been recognized for what is some statistically powerful work."
The Hirano prize is named for famed neuropathologist Asao Hirano, who first described the tell-tale structures in nerve cells that indicate the presence of certain neurodegenerative diseases such as Alzheimer's disease. 
Nelson wasn't the only one from UK participating at the meeting. Dr. Craig Horbinski delivered a talk and chaired a session on brain cancer and also gave input at the association's journal editorial board. Dr. Vanessa Smith, a pathology resident and future neuropathology fellow, gave a presentation about a patient at the University of Kentucky with a rare neurodegenerative disease. 
"These teams and individuals exemplify the world-beating standard that can be achieved in our clinical and research endeavors at SBCoA," Dr. Nelson said.  
The American Association of Neuropathologists (AANP) is a professional and educational organization representing more than 800 American neuropathologists. The AANP's purpose is to advance the science, teaching and training of the diseases of the nervous system and the practice of neuropathology.
The University of Kentucky's Sanders-Brown Center on Aging was established in 1979 and is one of the original 10 National Institutes of Health (NIH)-funded Alzheimer's disease research centers. The SBCoA is internationally acclaimed for its progress in the fight against illnesses facing the aging population.