Shriners and Patients Celebrate Topping Out of New Facility at UK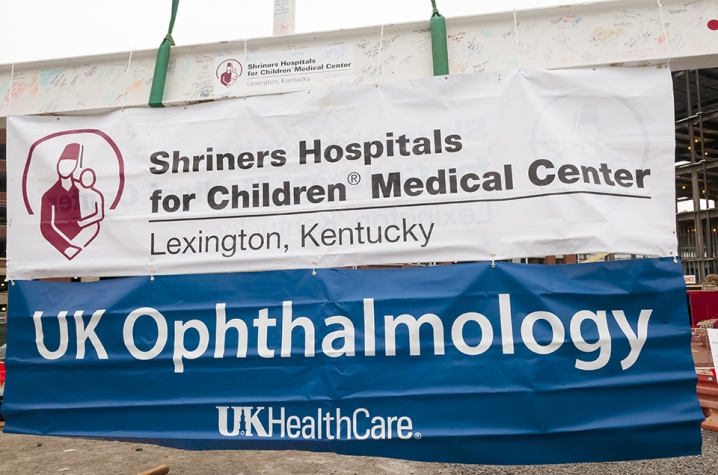 LEXINGTON, Ky. (Dec. 2, 2015) — Shriners Hospitals for Children and UK Healthcare celebrated an important milestone in the construction of the $47 million Shriners Hospitals for Children Medical Center (SHCMC) on Tuesday — the "topping out" of the new building.
Construction began March 9, 2015, on the five-story medical center located at the corner of Conn Terrace and South Limestone, on the UK HealthCare campus across from the University of Kentucky Albert B. Chandler Hospital. "Topping out" is the construction term used to indicate that the final steel beam is being placed on the building. Patients, caregivers, and Shriners signed the 30-foot, 1,200-lb steel beam before it was lifted into place at the ceremony held Dec. 1.
"It's exciting to see the new building coming together," said Jessica McPeters of Sevierville, Tenn. "Shriners Hospital has always provided amazing care for my daughter, Emma. I know moving to the new facility will be a big change, but I'm excited about the state-of-the-art equipment that will be available and how that will improve the level of care even more. The high level of technology and close proximity to other pediatric specialists at UK Children's Hospital will provide so many new opportunities, not only for treatment but also to reach even more kids who need help."
The facility, owned and operated by Shriners Hospitals for Children, will be a state-of-the-art ambulatory care center. Shriners will occupy 60,000 square feet of space on the bottom three floors for pediatric orthopaedic care. UK HealthCare will lease the top two floors for ophthalmology services.
"This state-of-the-art facility, designed to meet UK Ophthalmology's growing clinical needs, will provide 50,000 square feet on two dedicated floors, where our outstanding team will provide comprehensive vision care ranging from general eye exams to the latest and most advanced sub specialty treatment all in one location," said Dr. Andrew Pearson, chair of the UK Department of Ophthalmology, "as well as enable us to deliver the best, most innovative approaches in a personalized setting in this region and allow us to further accelerate our commitment to exceptional patient care, education, and clinical research."
The new medical center will include a motion analysis laboratory, an EOS Imaging Center (the first in Kentucky), 20 patient exam rooms, two surgical suites, a rehabilitation gymnasium and therapy rooms, and interactive artwork. Energy efficiency was a priority in the design stage. The building will have geothermal heating and cooling, LED lighting and occupancy sensors, and automated equipment and controls. Construction is expected to be complete in the spring of 2017.