St. Elizabeth Funds $2.5 Million Scholarship Program for College of Medicine - Northern Ky. Campus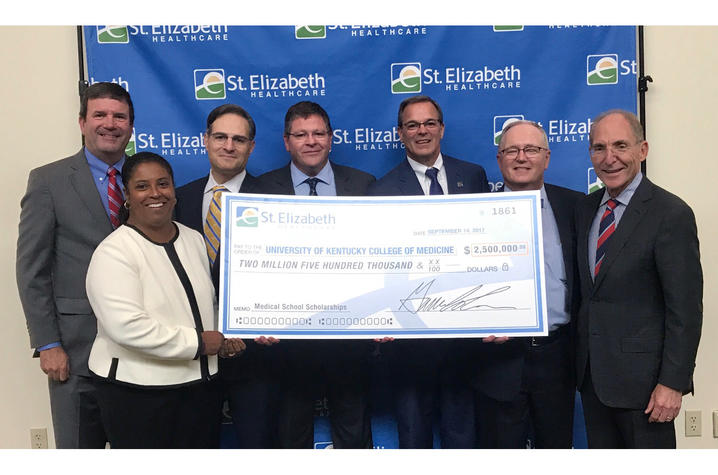 EDGEWOOD, Ky. (Sept. 15, 2017) — St. Elizabeth Healthcare has provided a gift of $2.5 million to support a tuition scholarship program for the University of Kentucky College of Medicine in Northern Kentucky. Through this gift, scholarships will be awarded to medical students enrolled at the Northern Kentucky campus, which is scheduled to open in the fall of 2019.
The affiliation between the University of Kentucky, Northern Kentucky University and St. Elizabeth Healthcare was announced in February. This scholarship program is the next step in the development of a regional medical college in Northern Kentucky.
"In providing these scholarships, we are making an enormous investment in the future of the health of our community," said Garren Colvin, St. Elizabeth President and CEO. "With our partnership with the University of Kentucky, we will be able to provide additional benefits to both organizations as well as the region and Commonwealth by directly assisting in medical school support and recruitment for the Northern Kentucky campus."
These scholarships will be provided to those medical students while enrolled at the Northern Kentucky campus, and while meeting the following criteria:
Enrolled as medical students at the University of Kentucky Northern Kentucky campus
Meet the college's financial need requirements
Remain in good academic standing and progress toward completion of the MD degree
Maintain continuous, full-time enrollment at the Northern Kentucky campus
"This scholarship program, seeds sown in ground made fertile by a willingness to care for others, will ripple through many generations of health practitioners," said University of Kentucky President Eli Capilouto. "We are grateful to St. Elizabeth's leadership and the donors who support this remarkable gift, one that will directly support medical students, and ultimately the patients whose names the donors may never know. That is the highest form of giving, and it is the highest honor we can receive as a partner in this endeavor."
Increasing the number of physicians in Kentucky will increase the healthcare access for residents, which will improve the health of Kentuckians. Kentucky leads the nation in cancer and chronic lower respiratory disease rates. Kentucky ranks 6th in heart disease, 7th in diabetes, and 8th in stroke.