Take safety seriously this summer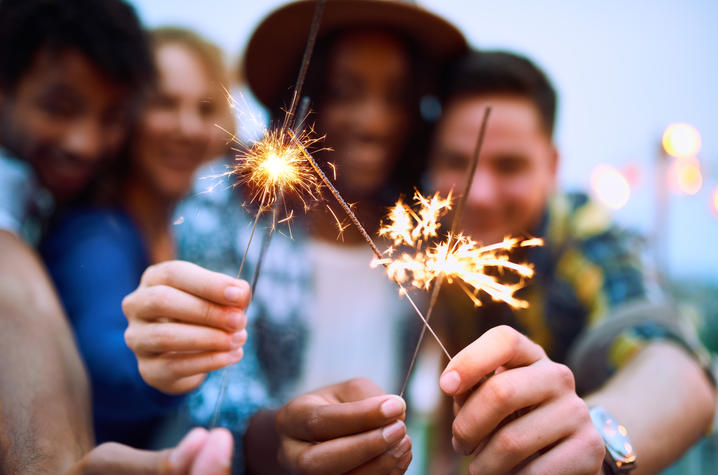 LEXINGTON, Ky. (June 27, 2023) — June is National Safety Month. While safety matters every day, during June it gets the extra recognition it deserves. 
To observe National Safety Month, the Kentucky Injury Prevention and Research Center (KIPRC), housed in the University of Kentucky College of Public Health, compiled these tips from its research and prevention efforts to help keep you safe at home, on vacation and anywhere else this summer. 
The warm, long days of summer are the perfect time to be outside. But summertime adventures come with risks, whether you're spending your summer by the water, at the playground, or setting off fireworks at your festivities. Knowing how to stay safe is vital for everyone. 
Water Safety
Being in the water is a great way to cool down in the summer. However, safety precautions are imperative for everyone's wellbeing. Remember, drowning can happen in a matter of seconds.
From 2016 through 2021, there were 543 emergency department (ED) visits by Kentucky residents for unintentional drowning injuries. Most were kids under the age of 5.
Before you take a dip in the water or go out on a boat with your loved ones, review these water safety tips:
Learn how to be safe around water by taking water safety, rescue and swimming lessons.
Lock and fence off swimming pools and ponds completely.
Use life jackets in and around lakes, ponds, rivers and other water bodies.
Choose the right life jacket for the activities you will be doing. Double check to make sure the life jackets are U.S. Coast Guard approved and fit correctly.
Never leave kids alone and unsupervised when around water.
Check weather and water conditions before you go.
For more information, read the full Drowning Prevention Brief.  For more KSPAN prevention briefs, visit the KSPAN website.
Fireworks Safety
Many celebrate the Fourth of July with barbecues and fireworks. Fireworks may be a fun spectacle, but setting them off yourself is risky.
In 2020, there were 18 deaths and over 15,000 injuries related to fireworks nationally, according to the Consumer Product Safety Commission.
Follow these tips for a safe celebration:
Never let kids use fireworks (including sparklers, which are dangerous if someone is poked with one).
Keep a bucket of water or a garden hose handy to extinguish any unexpected fires.
If a firework fuse burns down but the firework doesn't detonate, leave it alone for at least 10 minutes and then put it in water.
Never point a firework at another person, animal, or property.
Have a designated adult shooter for fireworks, as alcohol and fireworks don't mix.
Obey all local laws.
For more firework safety tips visit the KIPRC website.  
Playground safety
Playgrounds are a great way to let kids let off some steam and get exercise in the summertime. But youths aged 17 and younger are at particular risk for falls on playgrounds.
Kentucky youth averaged 2,069 visits to an emergency department due to playground falls annually from 2016–2021. 
Keeping track of kids on the playground can be difficult. Use the following checklist to keep your children protected:
Does the surface surrounding the playground equipment have at least a foot of materials (mulch, sand, wood chips, etc.) to protect against injuries from falls?
Make sure the protective surfaces you just checked off the list extend at least 6 feet in all directions from the playground equipment.
Look for protruding fasteners (bolts), sharp points and edges, and other hardware that can pose dangers to kids.
Look for tripping hazards. These can include raised surfaces, exposed concrete footings, rocks and tree roots.
Make sure all elevated surfaces have guardrails to help prevent falls and injuries.
Regularly check playground equipment and surfaces.
Supervise your kids when they are on the playground.
Teach kids to safely and properly use playground equipment.
To read the full playground fall-related prevention brief, click here.
KIPRC is a unique partnership between the Kentucky Department for Public Health (DPH) and the University of Kentucky's College of Public Health. KIPRC serves both as an academic injury prevention research center and as the DPH's designee or "bona fide agent" for statewide injury prevention and control.
UK HealthCare is the hospitals and clinics of the University of Kentucky. But it is so much more. It is more than 10,000 dedicated health care professionals committed to providing advanced subspecialty care for the most critically injured and ill patients from the Commonwealth and beyond. It also is the home of the state's only National Cancer Institute (NCI)-designated cancer center, a Level IV Neonatal Intensive Care Unit that cares for the tiniest and sickest newborns, the region's only Level 1 trauma center and Kentucky's top hospital ranked by U.S. News & World Report.  
As an academic research institution, we are continuously pursuing the next generation of cures, treatments, protocols and policies. Our discoveries have the potential to change what's medically possible within our lifetimes. Our educators and thought leaders are transforming the health care landscape as our six health professions colleges teach the next generation of doctors, nurses, pharmacists and other health care professionals, spreading the highest standards of care. UK HealthCare is the power of advanced medicine committed to creating a healthier Kentucky, now and for generations to come.