Through Their Eyes: UKHC COVID-19 ICU Staff Reflect on One-Year Anniversary
LEXINGTON, Ky. (March 31, 2021) – For the past year, hospital staff on the 10th floor of the University of Kentucky Albert B. Chandler Hospital have worked on the frontline of the COVID-19 pandemic, tirelessly treating COVID-positive patients.
A handful of these employees work in the COVID-19 Medical ICU (MICU), where the sickest of patients are fighting for their lives. Even prior to COVID, the MICU team was all too familiar with heartache because they work with chronically ill patients. But most of them would agree that the weight of the COVID-19 pandemic has broken their hearts wide open – beyond any measure they could have ever imagined.
*****
As the number of COVID-positive patients being treated at UK HealthCare dwindles, Jennifer Alonso feels cautiously optimistic.
"For the past year, I have felt a constant sense of anxiety as we have experienced an ebb and flow of COVID-19 ICU patients," she said. "Thankfully, over the past few weeks, my anxiety has subsided. I see hope in the vaccine. I finally feel like we can see the light at the end of this dark tunnel, and I truly hope this means there are better days ahead for all of us."
Alonso is a UK HealthCare MICU nurse who was one of the original 10th floor nurses assigned to treat patients in the COVID-19 MICU unit after the first few cases came into the hospital. She helped treat UK HealthCare's first COVID-positive patient.
"COVID broke us in a way that I have never seen us broken in the seven years I have been a MICU nurse," she said. "Many of these patients were not chronically ill patients. They were walking and talking, doing normal day-to-day tasks prior to getting COVID."
Looking through the glass doors of the MICU today, you would see Alonso and her colleagues in what can only be described as a perfectly synchronized dance – the calculated, effortlessly seamless task of dressing in head-to-toe personal protective equipment (PPE) before entering a COVID patient's room. There are spotters looking on, whose sole job is to make sure that the nurses and doctors entering these rooms are properly protected, and to bring them whatever supplies and equipment they need to treat their patient.
Tasks that are normally a two- or three-person job are now squarely on the shoulders of an individual nurse to help minimize the risk of exposure. Alonso remembers coming out of patients' rooms drenched in sweat from wearing her PPE for so long. She said they had to remind each other to stay hydrated.
"The process now seems almost natural, but it was far from it in those first few weeks," Alonso recalls. "We were nervous and anxious. There was so much unknown to all of us, and we were constantly worried, questioning how we would be able to handle getting overwhelmed, and what would happen if one of us became the patient."
She remembers the day things hit home.
"I was helping my co-worker with his patient, a Hispanic woman in her 30's," Alonso said. "And I remember saying out loud, 'This is me.' This could be me right here."
Alonso and her colleagues have witnessed countless heartbreaking goodbyes. Some patients' families have not made it to the hospital in time. Others are not able to bear watching their loved one die. Despite the grief they endure alongside their patients' families, these nurses make sure nobody dies alone – and they make sure each other are supported, too.
"The family of one of my colleague's patients could not bear to see him pass, so they left after saying their goodbyes," she said. "I could see the heartache in my co-worker's eyes. We could not let her go through this alone, so three of us joined her and each one of us had a hand on the patient as he passed away. My heart ached for my co-worker, for her patient and his family."
These memories will stay with Alonso forever.
*****
Adam Gould remembers his first day working as a nurse at UK HealthCare in 2009.
"It was the opportunity of a lifetime," Gould said. "Like many Kentuckians, I bleed blue. And having grown up in the Lexington area, I knew if I had the chance to work for UK HealthCare one day, I would take it."
Gould says he was drawn to UK HealthCare for its prestige and reputation for having brilliant, innovative and hard-working professionals from all around the world and all walks of life, focused on the common goal of providing care for patients in their greatest time of need.
"Working at UK HealthCare over the past decade, I have experienced these amazing qualities firsthand," he said. "Over the last year, I have seen these attributes in so many of my colleagues increase ten-fold."
He tears up when he recalls the first time he put on the extensive PPE before entering a COVID-19 patient's room last spring.
"The fear of the unknown and the uncertainty was absolutely terrifying," Gould said. "It is a fear that I have never faced before and I hope to never face again."
There were multiple conversations with his wife, he said, about where she and their children would stay if the hospital was overrun with patients.
Gould took on a leadership role for the MICU leadership team in July 2020, so he has had the opportunity to take a step back and watch the compassionate care their team delivers every day. He has also seen the physical and mental toll that the pandemic has taken on his friends and colleagues.
"We have seen the true horrors of this virus up close and personal, day in and day out, and yet our team still shows up every day to provide care with grace, compassion and professionalism," Gould said. "To my friends and colleagues, your care matters. What you do matters. In the dark face of death, you are a shining light, and I am thankful for your resiliency."
*****
Kimberly Winn has worked for UK HealthCare for more than two decades as a rehabilitation department tech, assisting physical and occupational therapists in patient care. Last March, her role changed in a way she could have never anticipated, as she took on the role of a spotter in the COVID-19 MICU.
"My job is to make sure all medical staff entering the COVID patient's room have on their PPE correctly, and I make sure they take it off properly when they come back outside," she said. She also watches staff inside the patient's room at all times to make sure they stay safe and bring them supplies.
The role comes with great responsibility.
"I feel as if I have taken on the role of a therapist, too," Winn said. "There is so much anxiety among staff on this floor, so I try to give them pep talks before they go in to see the patient."
Winn recalls the countless tough conversations she has heard between nurses and their patients' families over the phone. So many questions about a virus that has taken the lives of people – healthy and unhealthy, young and old – so quickly.
"I have gained even more respect for our staff's tremendous compassion and patience," she said. "They have stayed strong through so many heartbreaking conversations where it seems like the questions never end."
And Winn understands both sides of those conversations, having experienced them from each perspective. The fight against COVID-19 took a personal turn for her family last April.
"I had it, one of my twin daughters had it, my father was hospitalized for about a week with it," she said. "I also had an aunt who was treated in the ICU."
Sadly, Winn's uncle and mother-in-law also contracted the virus and neither survived. Her voice cracks as she describes her family's last conversation with her husband's mom.
"My husband was once that family member on the phone asking tons of questions," she said. "We had to say our goodbyes over the phone because we were all quarantined at home. I will never forget listening to the last words my husband told his mom."
Winn is thankful for the new friendships that she has gained with medical staff on the COVID floors, including with Shelby Martin, a UK HealthCare registered respiratory therapist. Martin was helping to treat Winn's mother-in-law.
"I did not know it at the time, but Shelby was in the room during that final phone call with my mother-in-law," Winn said. "A few days later, Shelby told me that she held my mother-in-law's hand when she passed."
Winn finds solace in her faith. Every morning as she walks to work, she takes the time to pray – to ask God to watch over her and the other spotters as they watch over the staff. She also uses this quiet time to reflect on the lessons she has learned over the last year.
"I have felt a fear that I have never felt before. Fear for myself, for my family and for the world," she said. "Life can be taken in the blink of an eye. We desperately need to learn to love one another, to stop taking family, friends and life for granted."
*****
Dr. Anna Kalema is one of the medical directors of the UK HealthCare COVID-19 MICU, and an assistant professor in the Division of Pulmonary, Critical Care and Sleep Medicine. She will be the first to tell you that this year has changed who she is as a person and as a doctor.
"This change goes beyond the daily use of a face mask, increased use of hand sanitizer and disinfectant wipes," she said. "I now have a deeper understanding of myself. Even in the great darkness, I find kindness and goodness, and in my moments of vulnerability, I find purpose."
Part of that purpose is helping post-COVID patients who have recovered and are being treated in the post-ICU clinic. While most of these patients are happy to have survived a difficult battle with COVID-19, many are still struggling with the "long-hauler" symptoms, like lingering fatigue, headaches, brain fog, and lack of concentration and coordination.
"These patients feel defeated, like they are stuck in this never-ending bad dream," Kalema said. "I have learned that for them, quality of life is equally as important as surviving COVID-19."
Despite being physically, emotionally and spiritually exhausted, Kalema and her colleagues show up because they have hope.
"We continue to hear 'thank you' and expressions of gratitude from patients for the extraordinary care they have received at UK HealthCare. Their kind words keep us going."
Kalema feels encouraged to see UK HealhCare's declining COVID-19 patient numbers but understands that getting back to pre-pandemic "normalcy" is going to take time.
"It is not an on-off light switch. It is more like turning up the light on a dimmer switch. It has been really dark, and as more and more people get vaccinated, it gets lighter and lighter," she said. "Take care of yourself and each other. We will get through this together."
*****
Each of these employees shared their experiences and thoughts during a remembrance ceremony, "To Heal, We Must Remember: UK HealthCare Marks One Year of Living with COVID-19."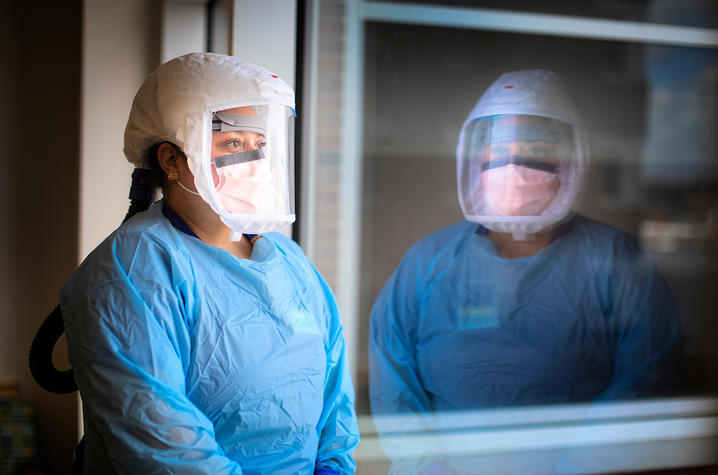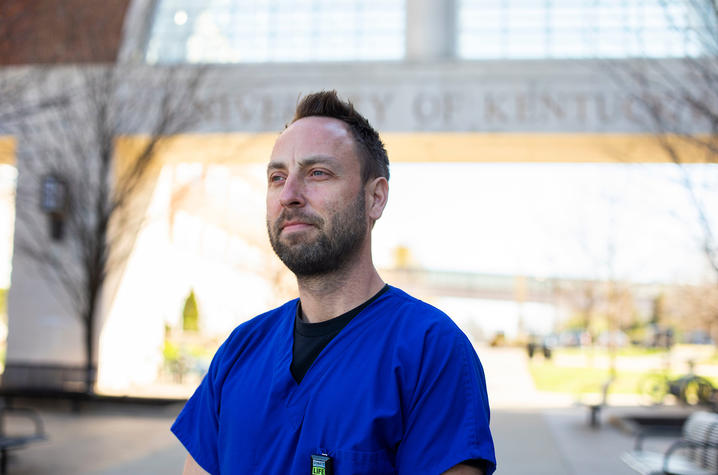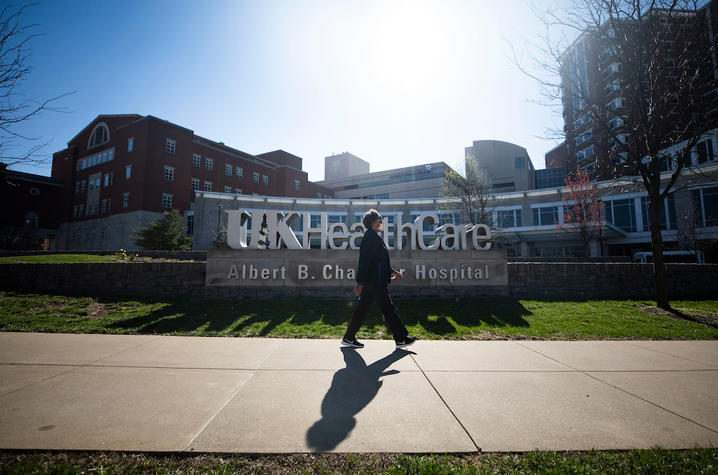 As the University of Kentucky commemorates one year of battling COVID-19, we're reminded of our promise to the Commonwealth and each other.  Every corner of our campus — from UK HealthCare to Athletics, from our Emergency Operations Center to volunteers in our health colleges and across this university — has united for a common purpose. And, when members of our community come together with the heart to step up, there is almost no challenge too large, no obstacle too daunting, to overcome. Because of this community – its resilience, compassion and expertise – we have experienced, even in the face of a global pandemic, what is wildly possible.