UK HealthCare Celebrates Kentucky's Longest "Kidney Donor Chain"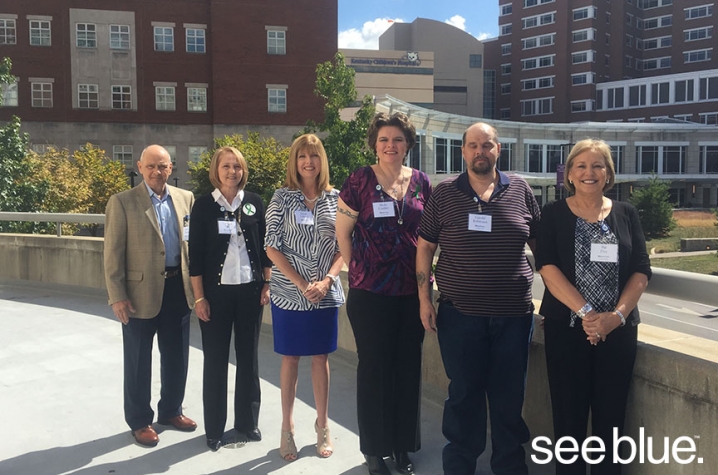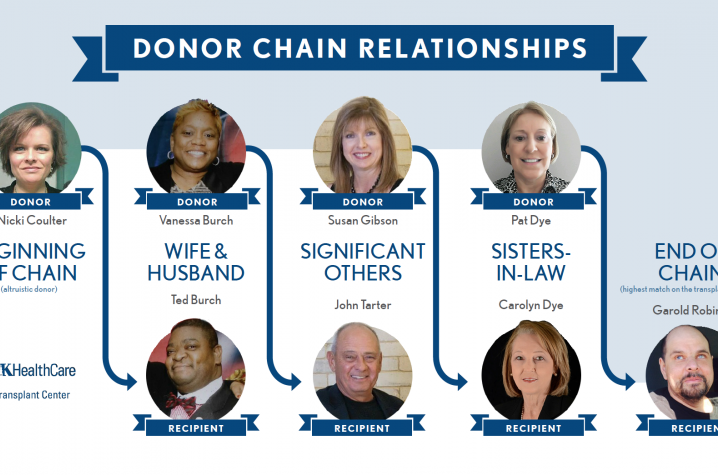 LEXINGTON, Ky. (Sept. 24, 2015) – Six of the eight patients who recently took part in UK HealthCare's first kidney donor chain learned who their respective recipients or donors were for the first time yesterday. The kidney donor chain was the first of its kind performed at UK HealthCare and the longest donor chain to date in Kentucky.
"UK HealthCare has been performing kidney transplants since 1964, but this is really a milestone for us and for the Commonwealth," said Dr. Roberto Gedaly, chief of Abdominal Transplant Surgery at UK HealthCare. "We're thrilled to come together today to celebrate our first successful kidney donor chain with donors, recipients, and many of the staff who made this complicated series of procedures possible."
Kidney donor chains, also called kidney paired exchanges, occur when a living kidney donor is incompatible with their intended recipient. The donor may agree to donate their kidney to a different patient, provided that their loved one receives a kidney from someone else. When multiple pairs are involved, this causes a domino effect, with each recipient receiving a matched kidney from a stranger.
While patients will be placed on the transplant list to receive a donor kidney, it may take weeks, months, or even years for an appropriately matched kidney to be found. While waiting for a match, patients may undergo dialysis multiple times a week, but their health usually continues to decline, leading to renal failure and eventually to death.
By participating in the donor chain, patients are likely to receive a kidney much sooner than if they had waited for one to become available via the transplant list. They also have the benefit of receiving a kidney from a live donor.
"Research shows that patients who are able to receive a kidney from a live donor have much better outcomes than those who receive a kidney from a deceased donor," said Dr. Stephen Strup, chief of the UK Division of Urological Surgery. "That's not always a possibility for many patients, and even if they have a willing donor, they're not always a good match. But with kidney donor chains gaining in popularity, it opens up a lot of doors for these patients."
Finding the appropriate patients for the donor chain was made possible with assistance from Nephrology Associates of Kentuckiana and the UK Transplant and Specialty Clinic at Norton Audubon Hospital in Louisville, Ky., who both refer patients for transplant and provide pre- and post-op care to patients in the region.
UK HealthCare performed the 8-person chain in-house over the course of two days, backed by a team of surgeons, nephrologists, nurses, pathologists, lab technicians, and many other staff from the UK Transplant Center and the UK Albert B. Chandler Hospital.
Four donors and four recipients participated, hailing from central and eastern Kentucky, Louisville, and southern Indiana. The chain was initiated by one altruistic donor who was willing to give her kidney to anyone who needed it: Nicki Coulter, a former nurse from Bloomfield, Ky.
"I used to be a nurse, and I just felt like this was something I needed to do," Coulter said. "I was blessed with good health and a good support system in my family. So I decided to do it!"
Altruistic donors are rare, though they have become more frequent in recent years. As kidney donor chains gain popularity in the U.S., these donors now have the potential to save multiple lives through the donation of a single kidney.
"With a kidney chain, the altruistic donor then benefits not just one person, but a whole group of people," Strup said. "Having that one person step up and offer to donate a kidney anonymously to anyone who needs it allows us to start matching incompatible pairs through the chain."
UK HealthCare performed 90 kidney transplants last year, with 26 of those coming from living donors. Though most people are born with two kidneys, many people can live a normal, healthy life with one kidney. When donors give away their second kidney, the remaining kidney can increase in size and become more efficient to return the donor to normal renal function.
To perform the kidney donor chain procedures, the UK Transplant Center joined the United Network for Organ Sharing (UNOS) Kidney paired donation program and created new policies at UK HealthCare that were modeled after UNOS guidelines. With one successful kidney donor chain under their belt, the UK Transplant Center staff is already working on connecting the next chain.
"The gathering of these patients, donors and their families demonstrates the true depth and breadth of advanced subspecialty services at UK HealthCare," said Dr. Michael Karpf, UK executive vice president for health affairs. "Caring for highly complex patients who come to UK from across the Commonwealth and beyond to provide the most advanced treatment and procedures by our specialized, expert team of health care providers is not only our mission, but our promise and commitment to the region we serve." 
MEDIA CONTACT: Allison Perry, (859) 323-2399 or allison.perry@uky.edu