Two Strokes and Three Surgeries Later, Lexington Teen Set to Graduate High School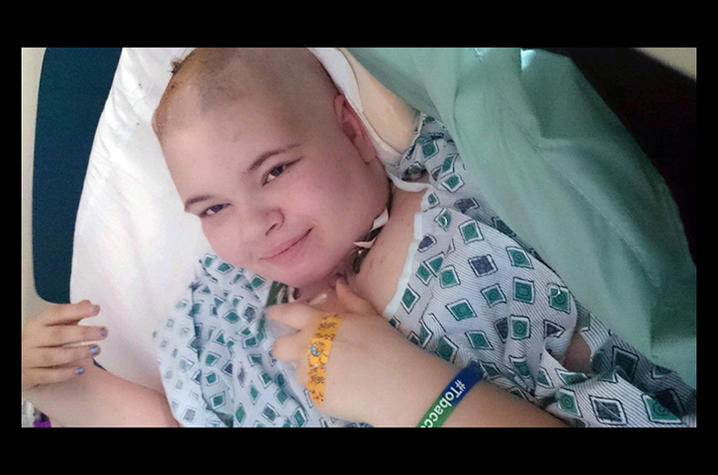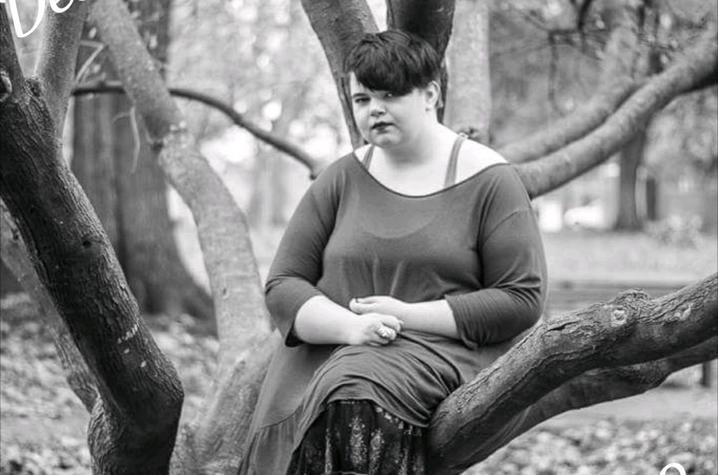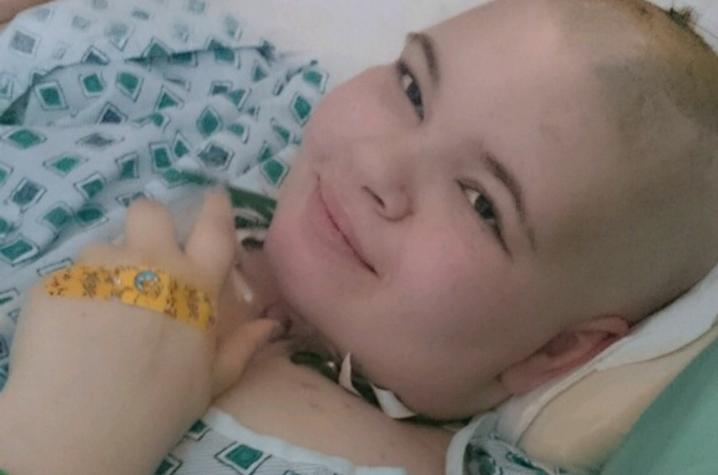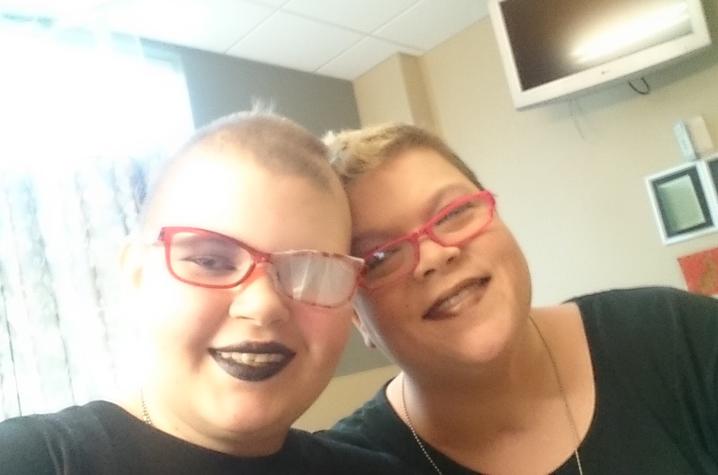 LEXINGTON, Ky. (May 9, 2018) — "Cerebral Venous Sinus Thrombosis" didn't show up as a question on Destiny Taschner's ACT test.  But if it had, this high schooler would have been able to give its definition.
As any neurologist knows, those 29 letters spell serious trouble, and Taschner was in it.
In June 2016, Destiny had just begun summer school when she came home with a headache that just wouldn't go away. Her doctor diagnosed a sinus infection, but after several days Destiny's mother Christina Bowen knew something was seriously wrong. 
"She's very peaceful by nature," said Bowen. "But suddenly she was acting weird, almost like a caged animal." 
Bowen took Destiny to the nearest emergency room. Based on initial tests, doctors there wanted her to see a pediatric neurologist and sent her to UK HealthCare, where neurosurgeon Dr. Justin Fraser and his team took over her care.
Initial scans showed a large amount of fluid around Destiny's brain. Almost all of the major veins that drain from the brain to the heart were clotted off. Destiny was on the precipice of a massive stroke. 
Fraser had to tell Christina Bowen what those 29 dreaded letters meant. Of his last six patients with such a severe case of Cerebral Venous Sinus Thrombosis, only two had survived.
Fraser's team sprang into action, inserting a drain in Destiny's skull that siphoned off almost a quart of fluid, relieving the pressure on Destiny's brain. Then she was rushed to surgery, where they snaked a catheter up through blood vessels to physically remove the clots that were causing Destiny's stroke, a procedure called mechanical thrombectomy. 
After 40 days in the hospital, Destiny was well enough to be discharged to Cardinal Hill Hospital for stroke rehabilitation. She was such a good student that a predicted 12-18 month recovery only took about three weeks. She has minimal residual effects from the stroke that nearly killed her, and on June 1, Destiny will celebrate another milestone as she walks with her classmates at Tates Creek High School's graduation.
This scenario is the reason why UK HealthCare's Kentucky Neuroscience Institute(KNI) has been re-designated a Comprehensive Stroke Center by The Joint Commission(TJC).  In 2014, KNI was the first in Lexington to receive this designation, widely considered the gold standard for stroke care. There are only 162 such centers in the U.S.
To be eligible for Comprehensive Stroke status, organizations must meet rigorous standards of care, including having advanced imaging capabilities, round the clock availability of specialized treatments, and unique competencies to care for complex stroke patients like Destiny. 
The Comprehensive Stroke designation was accompanied by two other top awards from the American Heart Association/American Stroke Association: Get with the Guidelines Gold Plus and Target Stroke Honor Roll Elite Plus,both of which acknowledge KNI's ability to respond quickly to a stroke emergency and to provide the highest possible level of evidence-based care.
"The Target Stroke Honor Roll Elite Plus designation means that at UK HealthCare, we treat more than 75 percent of appropriate patients with clot busting drugs within 60 minutes of arrival and more than 50 percent within 45 minutes," said Dr. Larry Goldstein, KNI co-director and a national expert in stroke care. "Immediate intervention is crucial to long term survival and quality of life for stroke patients, and these designations by The Joint Commission and the American Heart Association are intended to reflect a high level of care and recognize healthcare institutions that meet those goals." 
Goldstein came to UK three years ago in part for the saddest of reasons: Kentucky has one of the highest rates of stroke in the country.  Stroke is the third leading cause of death in Kentucky (compared to fifth nationally) and a leading cause of adult disability, according to the American Heart Association/American Stroke Association. 
"For the past 30 years, we've seen a rapid decline in stroke-related death in America, probably due to a reduction in the prevalence of risk factors such as smoking and obesity combined with advances in stroke treatment," Goldstein said. "Lately, however, our progress has leveled out, and in Kentucky we're actually losing ground.  That's why having a Comprehensive Stroke Center — and all that it brings — is so important to the state." 
Bowen gets teary as she counts off the reasons why her beloved only child might not be here today. "I thought I couldn't get pregnant, and then I did.  When Destiny was born, her pancreas wasn't working right and she had to be in the NICU. And now this…." she trails off, voice breaking.
"Every day I look at her and I'm amazed that she's here."
The Joint Commission
Founded in 1951, The Joint Commission seeks to continuously improve health care for the public, in collaboration with other stakeholders, by evaluating health care organizations and inspiring them to excel in providing safe and effective care of the highest quality and value. The Joint Commission accredits and certifies more than 21,000 health care organizations and programs in the United States. An independent, nonprofit organization, The Joint Commission is the nation's oldest and largest standards-setting and accrediting body in health care. Learn more about The Joint Commission at www.jointcommission.org.
The American Heart Association/American Stroke Association
The American Heart Association and the American Stroke Association are devoted to saving people from heart disease and stroke – America's No. 1 and No. 5 killers. We team with millions of volunteers to fund innovative research, fight for stronger public health policies, and provide lifesaving tools and information to prevent and treat these diseases. The Dallas-based American Heart Association is the nation's oldest and largest voluntary organization dedicated to fighting heart disease and stroke. The American Stroke Association is a division of the American Heart Association. To learn more or to get involved, call 1-800-AHA-USA1, visit heart.org or call any of our offices around the country. Follow us on Facebook and Twitter.
The familiar Heart-Check mark now helps consumers evaluate their choices in hospital care. Each mark given to a hospital is earned by meeting specific standards for the care of patients with heart disease and/or stroke. The Heart-Check mark can only be displayed by hospitals that have achieved and defined requirements set by the American Heart Association/American Stroke Association. For more information on the American Heart Association/American Stroke Association Hospital Accreditation Program visit www.heart.org/myhospital. 
UK is the University for Kentucky. At UK, we are educating more students, treating more patients with complex illnesses and conducting more research and service than at any time in our 150-year history. To read more about the UK story and how you can support continued investment in your university and the Commonwealth, go to: uky.edu/uk4ky. #uk4ky #seeblue