UK Chandler Hospital Pavilion Honored for Architectural Design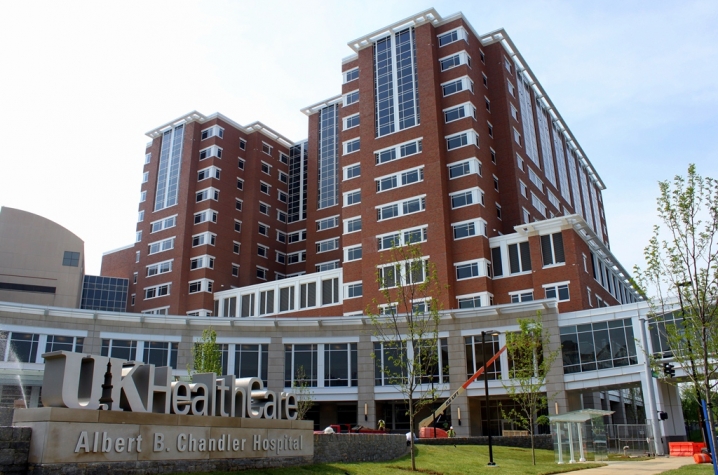 LEXINGTON, KY (Sept. 16, 2011) -- The University of Kentucky Albert B. Chandler Hospital's new patient care pavilion has been honored at the annual Excellence in Architectural Design Awards by the Kentucky Society of Architects, a chapter of the American Institute of Architects (AIA).
 
The hospital pavilion, with AECOM (Ellerbe Becket) of Minneapolis as the design architect and GBBN Architects Inc. of Lexington as the architect of record, received one of five Honor Awards for high artistic achievement and groundbreaking design at the Architects' Ohio Valley Region Convention in Dayton.
 
The first phase of the 12-story patient care pavilion at the UK Albert B. Chandler Hospital opened to patients on May 22 with two patient care floors with 128 intensive care and acute care beds. The space also includes a light-filled atrium, chapel, surgical waiting room and a 305-seat auditorium.
 
According to AIA jury comments, "This large medical complex manages to both create a sequence of human scale urban spaces and a sense of civic monumentality. The well composed, beautiful facades with large windows contribute to the building's humane quality, which is so unusual for such a large scale institutional complex. These qualities are especially evident in the well-lit and comfortable interior spaces."
 
For visitors entering the new patient care pavilion, the hospital's design inspires a sense of calm and comfort in a place that bridges the art and science of medicine.
 
"GBBN is a very proud member of the UK architectural team responsible for designing this state-of-the-art hospital which will provide excellent care to the Commonwealth well into the future," said Robert Gramann, FAIA Healthcare Director, GBBN Architects.
 
Media Contact:  Kristi Lopez, (859) 323-6363 or kristi.lopez@uky.edu.