UK College of Medicine-Bowling Green Prepping for Inaugural Class of 2018
LEXINGTON, Ky. (July 28, 2017) – This time next year, the inaugural class of medical students at the new University of Kentucky College of Medicine-Bowling Green Campus will be attending their very first course, kicking off an exciting new opportunity for future Kentucky clinicians.
In June, officials broke ground on a new facility at The Medical Center in Bowling Green, which will be used for the satellite program. This four-year, regional campus medical school is the first of its kind in Kentucky and is a partnership between the University of Kentucky, The Medical Center at Bowling Green and Western Kentucky University.
For students, the program in Bowling Green offers many benefits: scholarships; smaller class sizes; and the opportunity to live, work and learn in an up-and-coming Kentucky community.
"I think the regional medical campus in Bowling Green offers a really exciting opportunity for a batch of young students to come in and essentially lay the groundwork for everything that campus does going forward," said Austin Webb, a WKU graduate currently in his third year of medical school at UK. "They are also going to be directly shaping the health care in that region for years to come."
The UK College of Medicine-Bowling Green Campus will be a fully functioning campus, utilizing the exact curriculum and assessments as UK's Lexington campus. Through the partnership with WKU, basic science and early didactic training will be taught in conjunction with faculty at WKU through both onsite classes and distance education methods in accordance with UK College of Medicine curricular protocols. 
The onsite faculty will have UK College of Medicine appointments and teach in small groups, and they will provide simulation/standardized patient experiences with lectures delivered on-site from Lexington utilizing educational technology.
In 2008, Bowling Green community and business leaders worked in conjunction with WKU faculty and staff to identify health care as one of four regional priorities for south-central Kentucky. Doug McElroy, WKU's associate vice president for enrichment and effectiveness, says this new partnership benefits not just students, but faculty as well.
"The UK College of Medicine – Bowling Green Campus represents a potentially transformative step in addressing the identified health care needs in this part of the Commonwealth, and WKU is excited to be a partner in this initiative," McElroy said. "Students can come to WKU knowing the opportunity exists for them to earn their baccalaureate degree, undertake medical education, and pursue their careers as medical professionals all within south-central Kentucky.  Our faculty will have the opportunity to deploy their expertise in new and exciting ways, while contributing to improving to access to health care and quality of life in the communities in which they live. I personally look forward to assisting Dr. Cheever and Dr. Brown and as they make the Bowling Green Campus a reality, and to watching its impact continue to grow over time."
Additionally, clinical experiences will occur at Med Center Health facilities, which span six hospitals, including its flagship hospital The Medical Center at Bowling Green, and more than 30 other entities.  With more than 300 physicians on The Medical Center staff, the hospital provides patients with access to more than 50 specialties, meaning students will have the opportunity to learn about a wide range of specialty medical care through daily interactions.
"As a teaching hospital, The Medical Center has a strong commitment to providing the best healthcare in our region," said Connie Smith, president and chief executive officer of Med Center Health. "This medical school is going to raise the bar even higher, placing us at the forefront of medical education and research innovations as we adhere to the latest in evidence-based practice."
For students from the western half of the state, the new program also means the opportunity to remain close to home.
"I think there are a lot of reasons that future students should be excited about the Bowling Green campus," said Dr. Todd Cheever, associate dean for the UK College of Medicine-Bowling Green campus. "The biggest is students from that particular part of the state will be able to go to medical school and hopefully practice medicine in their communities without having to leave where they're from."
Facing a shortage of physicians across the state, particularly in rural areas of Kentucky, the Bowling Green satellite campus was designed to both grow the medical school class size and increase the number of physicians in the Commonwealth, while also teaching them more specifically how to care for their own.
"We're training people in Kentucky, for Kentucky, that's the plan," said Dr. Don Brown, assistant dean for the UK College of Medicine-Bowling Green campus. "It's been a dream for a few; now it's a dream of many people, and to see it actually come to fruition is very exciting."
The UK College of Medicine-Bowling Green Campus will accept 30 students per year. For more information, including details on how to apply, visit meded.med.uky.edu/bowling-green. 
Special thanks to Western Kentucky University, WKYU-TV, Bowling Green Chamber of Commerce and Bowling Green Convention & Visitors Bureau for photos and footage used in the accompanying video.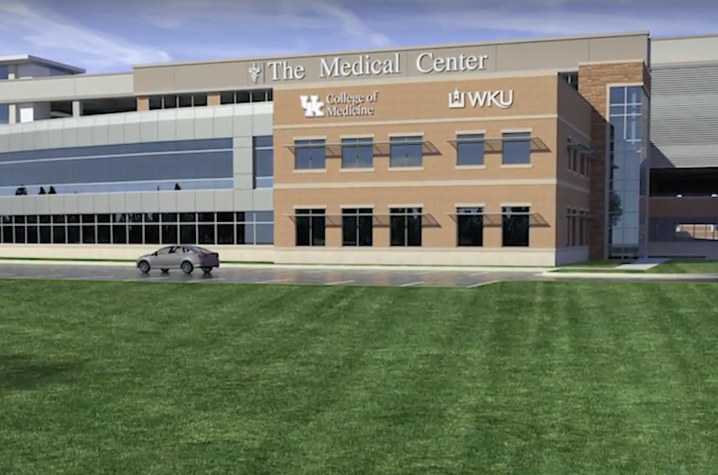 UK is the University for Kentucky. At UK, we are educating more students, treating more patients with complex illnesses and conducting more research and service than at any time in our 150-year history. To read more about the UK story and how you can support continued investment in your university and the Commonwealth, go to: uky.edu/uk4ky. #uk4ky #seeblue